Mig Welders are essential to support and maintain the equipment in an industry. Their responsibilities include inspecting materials to be welded, studying sketches, calculating dimensions of materials to be welded, using start power supplies, monitoring the welding process, maintaining equipment and machinery. To work as a Mig Welder, a high school diploma with on the job training is required. To succeed as a Mig Welder, it is important to have manual dexterity, physical stamina, physical strength, technical skills, spatial orientation skills, problem-solving skills, and detail-oriented skills.
A good resume is well-written and concise. It should be neat and easy to read, listing previous experience in a logical order.
Our resume samples will provide you with multiple examples of what you can include when writing your resume.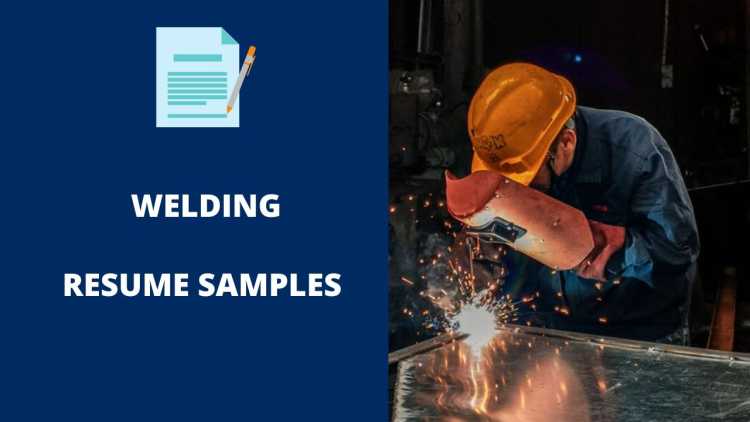 The Best Welding Resume Samples
These are some examples of accomplishments we have handpicked from real Welding resumes for your reference.
Welder
Consult job orders to comprehend assigned welding work.
Weld components and assemblies using welding equipment and tools.
Handle metal reshaping, straightening, and bending machines.
Repair workpieces by dismantling, reshaping, straightening, and reassembling parts.
Maintained a daily maintenance checklist to ensure proper safety standards according to OSHA.
Welder
Weld metal parts or components together, using brazing, gas, or arc welding equipment.
Repair broken or cracked parts, fill holes and increase the size of metal parts, using welding equipment.
Weld in the flat, horizontal, vertical, or overhead position.
Review layouts, blueprints, diagrams, or work orders in preparation for welding or cutting metal components.
Welded structural steel and metal products in a commercial setting through the use of oxyacetylene, MIG, and TIG welding equipment.
Welder
Detected faulty operation of equipment and defective materials and promptly resolved issues.
Skilled with gas tungsten arc, gas metal arc, flux-cored arc, robotic welding.
Interpreted verbal and written instructions from work orders and welding blueprints.
Inspected welds and checked that critical measurements met specifications upon completion.
Trained employees to operate new manufacturing and assembly lines for steel-framed windows.
Welder
Prepared & Cut Metal with Plate & Pipe Beveling Machines, Hand Torches & Grinders, Air Carbon Arc Gouging, and Plasma Arc.
3 years of welding experience in addition to attending Tulsa Welding School.
Strong attention to detail and ability to exceed expectations while maintaining company standards.
Motivated, hardworking, and results-driven team player.
Determined specifications for metal roofing material; sold, installed, and maintained roofs over major office buildings throughout the state to include Morton's Inc.
Welder
Review layouts, blueprints, diagrams, or work orders in preparation for welding or cutting metal components.
Cuts workpiece, using powered saws, hand shears, or chipping knife.
Repair broken or cracked parts, fill holes and increase the size of metal parts, using welding equipment.
Inspects grooves, angles, or gap allowances, using micrometer, caliper, and precision measuring instruments.
Aided in the design of a prototype, retractable awning system for an international hotel chain franchise; later hired by a competitor who also used my design.
Welder
Inspected all work for defects, dimensions, alignment, and end preparations; reported discrepancies to engineer and design teams to sustain quality assurance standards and requirements.
Operated and maintained shop hand tools and equipment, including grinder, drill, bandsaw, and plasma cutter.
Completed electronic processes paperwork such as checklists, stamping, blueprints, barcoding, and shipping documentation.
Upheld and reinforced standards and procedures outlined in safety manuals and occupational health and safety regulations.
Maintained an A+ average on all assignments, earning a job share at a large construction company.
Welder
Worked in the overhaul and production of many types of heat exchangers and cooling systems for different types of air-crafts, both commercial and military.
Verified measurements and dimensions using jigs and fixtures in addition to using measuring instruments and tools.
Set up equipment and welded parts according to blueprints and welding chart specifications.
Researched and developed new welding processes for use in construction projects.
Developed relationships with entrepreneurs and other contractors for future business opportunities.
Welder
Working on aluminum gates, fences, and miscellaneous parts.
Accomplished at removing rough spots on workpieces with a portable grinder, hand file, and scraper.
Clamped, held, tack-welded, and bolted parts to appropriate position.
Skilled with tungsten ark, gas metal ark, and flux-cored welding.
Assisted in the development of safety programs that are standard procedure at both public and private worksites.
Welder
Welds or cuts metallic articles, parts, or materials to include structural load-bearing welding.
Dismantles, refurbishes, and remounts bodies and accessories of vehicles.
Reads and interprets blueprints and sketches and lays out work.
Designed, built out of necessity, and installed scaffolding to provide temporary workspace to employees of a one million sq ft facility.
Welder
Verified vertical and horizontal alignment of structural steel members, using plumb bobs, laser equipment, transits, or levels.
Connected columns, beams, and girders with bolts, following blueprints and instructions from supervisors.
Hosted steel beam, girders, and columns into place, using cranes or signals hoisting equipment, transistor levels.
Bolted aligned structural steel members in position for permanent riveting, bolting, or welding into place.
Repaired, installed, and replaced metal machine parts to maintain production standards for automotive manufacturers.
Welder
Precision to cut materials with power saws and hand shears.
Set and verify measurements and dimensions using jigs and fixtures in addition to using measuring instruments and tools.
Identify, record, and communicate problems relating to the product, process, and/or Quality System, and initiate actions by providing solutions or recommendations.
Fabricated, welded, and assembled structural steel to ensure quality products were produced in commercial warehouses.
Worked with a team of five other welders repairing and making connections on police equipment vehicles on the assembly line.
Welder
Working with flame cutting equipment and hand welding techniques.
Expertise with any metal frames, filling gaps, or holes, and repairing mechanical parts.
Experienced in reading and comprehending detailed written work instructions, complex blueprints, and other printed or graphical instructions.
Demonstrated advanced professionalism and skills while supervising three other welders rebuilding essential farm machinery; farming company recognized my leadership by giving me overall responsibility for production deadlines.
Manufactured latticed footings for new buildings by designing the required tools; awarded points under the safety award program for wearing steel-toed boots during construction site visits.
Wrap Up
You need to make sure your resume stands out amongst the other candidates. It is the first impression that employers have of your work experience and skills. Use the samples above to put together a resume that best suits your needs and helps you get the job you want.