Paramedics respond to emergencies and provide on-site medical care. Their duties include preparing medical equipment in an ambulance, responding to an emergency, determining proper care for a patient, providing initial medical care, establishing patient priorities and providing transportation to an emergency room or hospital. To work as a Paramedic you must have a high school degree and be certified by completing an EMT/Paramedic course. Paramedics must demonstrate effective communication, critical thinking, reasoning, empathy, the ability to stay calm in a stressful situation, a strong stomach and physical ability.
A good resume is well-written and concise. It should be neat and easy to read, listing previous experience in a logical order.
Our resume samples will provide you with multiple examples of what you can include when writing your resume.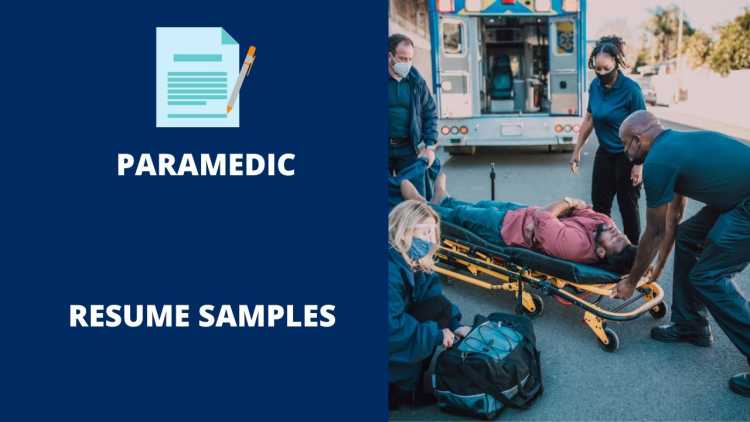 The Best Paramedic Resume Samples
These are some examples of accomplishments we have handpicked from real Paramedic resumes for your reference.
Paramedic
Responding to emergency and nonemergency request and providing basic life support and advanced life support as needed, transporting sick and injured to appropriate medical facility.
Using the equipment provided such as lifepak, pump, Pdmate, and medicine to take care of patient to best of abilities.
Acting in a professional manner, adhering to standard operating procedures and medical protocols, providing great customer service to all patients, family members, and civilians.
Sustained life of a cardiac arrest patient through physical treatment, medication administration, CPR, and other techniques for 45 minutes until the EMTs arrived; credited with saving a life.
Recognized by co-workers and supervisors for competency in the use of AED (Automated External Defibrillator); maintained 100% effectiveness in first response to anaphylaxis.
Paramedic
Duties include (but are not limited to) fire suppression in structural/wild land environments and advanced medical procedures in high volume 911 FIRE/EMS system.
Also provide fire prevention, public education, vehicle/station maintenance under the supervision of a Lieutenant, always focusing on providing high quality customer service.
Also act as an EMS instructor/evaluator for new recruits.
Reviewed and revised medical records, including blood pressure readings and vital signs, to ensure accuracy of documentation.
Recovered vital signs within seconds of entering emergency situations; dispensed critical care medications when needed.
Paramedic
Hemodynamic monitoring of patients undergoing vascular catheterization procedures.
Preparing patients to undergo cardiac and other vascular cathertizations.
Under the direction of the Physician and/or RN, provide patient care in the out patient cath lab, utilizing the full.
paramedic scope of practice, which includes patient care and observation, and specified treatments and procedures.
Established and maintained a breeding program for 4 legged animals.
Paramedic
Provided basic and advanced life support, including comprehensive patient assessment, invasive airway management, cardiac monitoring and medication administration.
Experience with multiple ICU medication drips, HT70 transport Ventilator and BiPap.
Provides care for patients in accordance with policies, procedures, established standards and administrative policies.
Developed an educational video for children about the importance of responsible pet ownership; awarded for excellence in teaching.
Trained in cardiac assessment, CPR, blood pressure, and respiratory safety; earned 2 e-Safety Awards from the American Heart Association.
Paramedic
Assessed and treated adult and pediatric patients within scope of practice including medical, trauma, psych patients.
Performed venipuncture, blood draws, EKG's, splinting, intubation, drug administration and any other life saving techniques necessary to stabilize patients per county protocols.
Ongoing monitoring of patient airways and performed interventions as needed.
Inspected equipment and medical supplies prior to shift and during shift in order assure proper function of equipment and sufficient supplies.
Served as a field medic in several states, rescuing and transporting patients to hospitals.
Paramedic
Function as an integral part of the emergency care team during traumas and codes.
Responsible for triage of new patients to ascertain and record accurate vital signs while reporting any abnormal findings to primary care nurse or charge nurse.
Assisted nursing staff in gathering information pertinent to the patient's care including the patient's physical needs and functional status.
Accurately perform twelve lead EKG tracings per physician order.
Performed duties as delegated by the primary care nurse or charge nurse in accordance with certification and hospital policy, e.g., initiating IV/IO cannulation, phlebotomy, pulse oximetry, orthostatic vital signs, specimen collection with appropriate labeling/recording and insertion of Foley catheters and NG tubes as needed.
Paramedic
Assisted with assessment, treatment, instruction of patients under supervision of the nurses, nurse practitioners, physicians, and physicians' assistants.
Assisted in receiving new patients, Perform phlebotomy, cpr, acls skills, splinting, and electrocardiograms.
Assisted in specimen collection and exams. Take vitals; transport patients on monitors.
Received commendation from the Governor of California for treating a victim of gunshot wounds.
Were able to immediately assess and deliver appropriate care to community members who had fallen, broken legs, suffered heart attacks or strokes, or been involved in car accidents.
Paramedic
Duties include the transportation of pediatric emergencies to the appropriate facility.
Responsibilities include IV establishment, medication administration, medication monitoring, EKG monitoring, maintain patent airway, and overall emergency patient care.
Other responsibilities include interviewing potential candidates, and training new employees.
Incorporated knowledge of anatomy and physiology into their treatment during CPR procedures, drug injections, and administration of antidote injections.
Promoted the best medical practices through maintaining records of diagnostic tests, vital signs readings, patient responses, therapeutic interventions; and also reporting changes in a patient's condition.
Paramedic
Recognized a medical emergency and made reasonable and acceptable differential diagnosis.
Anticipated potentially life-threatening occurrences of non-cardiac emergencies and instituted appropriate emergency therapy where essential for the preservation of life.
Dealt with medical and emotional needs of any victim of acute illness or injury with the goal of reducing mortality.
Trained and supervised medical care services in the emergency room, surgical room, physician's office, and ground ambulance.
Performed over one hundred job-related activities in an ever-changing environment.
Paramedic
Performs emergency rescue of entrapped patients and medical procedures with skill and sound judgment and meets challenges and adapts to unusual situations.
Inserts intravenous catheters into peripheral veins to include but not limited to the hand, forearm, ante-cubital and external jugular.
Accurately obtains patient vital signs including pulse, respirations, and auscultated blood pressure; ability to determine skin conditions and colors and treat accordingly.
Systematically performs a patient assessment (head-to-toe) and treats according to medical director approved protocol.
Educated and counseled over one hundred employees on personal problems, behavioral adjustments, and employee rights.
Paramedic
Determine appropriate facility to which patient will be transported; report nature and extent of injuries or illness to that facility; request instructions/directions from hospital physician or emergency department.
Assisted in lifting, carrying, and transporting patient to ambulance and on to a medical facility.
Report verbally and in writing observations about and care of patient at the scene and in-route to facility; provide assistance to emergency staff as required; document all activity conducted in assigned position.
Directed employee relations to optimally control the flow of information within the organization by presenting annual training programs which included laws on discrimination; work ethics; drug & alcohol abuse; sexual harassment prevention; employee relations.
Earned a 5 on the National EMT Exam. Achieved a high level of performance within the field of Emergency Medical Care under the direct supervision of a highly respected, nationally certified Paramedic.
Paramedic
Interpreted ECG readings/strips and provided MICU/ ACLS care and treatment for patients that require short and long distance transport.
Safely transported emergent and non-emergent patients via ground Ambulance.
Assisted El Paso Fire Medical Services with emergency 911 calls and provided pre-hospital care.
Graduated with honors as a member of the National Honor Society and as salutatorian of my high school class.
Completed more than 1200 patient care sessions from admin, through ED, to ICU and surgical arena.
Wrap Up
You need to make sure your resume stands out amongst the other candidates. It is the first impression that employers have of your work experience and skills. Use the samples above to put together a resume that best suits your needs and helps you get the job you want.