Medical Scribes provide administrative support to physicians. Their duties include documenting medical visits and examinations, updating electronic medical records, preparing office notes for appointments, documenting phone calls, proofreading the physician's documents, and informing the physician of important lab results. A high school diploma is required to work as a Medical Scribe. Medical Scribes must demonstrate responsibility, good communication, excellent writing skills, a comfort with computers, an attention to detail, the ability to work under pressure, and excellent listening abilities.
A good resume is well-written and concise. It should be neat and easy to read, listing previous experience in a logical order.
Our resume samples will provide you with multiple examples of what you can include when writing your resume.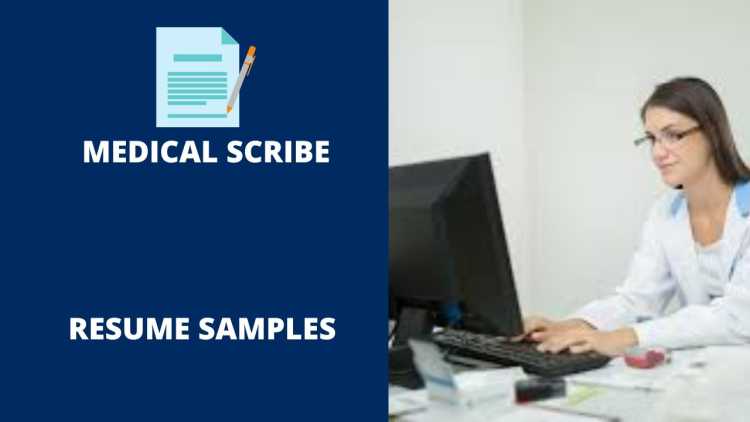 The Best Medical Scribe Resume Samples
These are some examples of accomplishments we have handpicked from real Medical Scribe resumes for your reference.
Medical Scribe
Accompany the physician in exam rooms in order to transcribe the history of a patient's illness as well as their treatment plan.
The transcription is treated as a legal medical document in the patient's chart and therefore accuracy and completeness is vital.
Able to assist the physicians in locating required information in a patient's chart due to familiarity of the EMR.
Worked with multiple physicians within Family Medicine that had different treatment and charting styles and was successfully able to adapt to each individual.
Handled patient charts, performance notes, and laboratory reports according to standard protocols.
Medical Scribe
Spent 500+ clinical hours observing direct patient care, including physical examination, patient interviews, and different medical procedures.
Helped physicians in charting history, physical examination findings, pertinent results, and medications for each individual patient.
Alleviated physicians from charting time, allotting them more time for active medical decision making and direct patient care.
Expedited patients' visits by updating physicians on recent imaging studies, lab results, or physical progress while in the ER.
Communicated effectively with physicians, nurses, and other staff members; called patients daily to verify all was well and to ensure they had returned as scheduled.
Medical Scribe
Responsible for the accurate documentation of patient charts in EHR systems.
Collaborated with medical providers and medical assistants to provide quality patient care.
Assisted medical assistants with their duties including writing prescriptions and organizing treatment materials for patients.
Maintained a 50% call volume rate at 100% productivity.
Studied the anatomy of musculature and nerve system by observing the world's strongest man, Louis Cyr.
Medical Scribe
Complete medical documentation for physicians and mid level providers accordingly with every patient visit.
Ensure more accurate reimbursements, records, and more time for physicians to see patients.
Learn how to maintain professionalism during potentially difficult or aggressive encounters to those truly vital to a patients well being.
Achieved award for meeting customer satisfaction guidelines based on customer survey ratings from customers who had applied for a medical scribe position.
Completed and submitted proper documentation for appointments, surgeries, and other procedures.
Medical Scribe
Accompany physician during patient consultations and meticulously document all diagnoses, treatment plans, prescriptions, labs, imaging, and follow-up information to improve consistency, quality and completeness of chart.
Alongside numerous physicians, learned critical medical decision-making in determining cause of patient ailments.
Fulfilled 60 hours of training program that included but not limited to: medical terminology, pathophysiology of general medical illnesses, clinical exam findings specific to hips and knees, and appropriate medical testing.
Maintained efficient working relationships with physicians, nurses, and staff by consistently maintaining accurate time clocks for patient openings and closings.
Performed routine tasks such as obtaining daily lab reports from nurses or compiling physician's dictated notes from dictation into an organized file system.
Medical Scribe
Reviewed established patients' charts in preparation for visits.
Brought patients to exam room where I took all vitals, and asked and recorded electronically the patient's comprehensive history, including history of present illness, medical/family histories, allergies, and surgeries.
Relayed all information verbally to the Doctor or Physician Assistant.
Led a weekly office of women physicians on topics related to their particular health concerns by utilizing interactive discussion with the group.
Capitalized on one-on-one consulting sessions with physicians and medical professionals by developing customized marketing materials to be used in professional and retail markets.
Medical Scribe
Effectively documented the physician dictated patient history in a time-saving manner to help in making patient care more efficient by transcribing patient orders including history and physical exam as well as laboratory tests, radiology tests, medications, etc.
Exceeded in performing all clerical and information technology functions for a physician in a fast paced, Emergency Room setting.
Established and maintained effective working relationships with physicians, staff and managements.
Accurately and expeditiously filled out patient health history forms based on physician dictated guidelines.
Acquired skills in maintaining accurate medical charts, using proper terminology, and conveying information to peers and physicians.
Medical Scribe
Trained in medical abbreviations and electronic patient charts.
Document patient history, symptoms, review of systems, diagnosis, lab and imaging results under physician supervision.
Provided accurate patient chart documentation in the fast-paced, professional environment of the emergency room.
Supported physician's practice by maintaining confidential medical records for patients, assisting in communication between patient, doctor, and hospital staff.
Demonstrated excellent communication skills with patients prior to their appointments as well as during patient examinations.
Medical Scribe
Utilized EMR system to keep detailed medical records and patient-care information.
Translate dictated medical jargon into expanded form; ensuring accuracy of health records.
Return dictated reports in electronic form for physician review and inclusion into patient medical records.
Edited patient records to reflect accurate data that was documented by the physicians' nurse's aides.
Scribed over 700 orders and refills.
Medical Scribe
Increase the efficiency of emergency attending physicians by performing rapid and accurate completion of medical documentation such as histories, physical exams, reassessment notes, results, procedures, and consults in real-time.
Notify physician of lab, radiology, and electrocardiogram findings and record their interpretations.
Electronically write and submit prescriptions to pharmacies, verbally dictated by the physician.
Proficient in the use of an electronic medical documentation system and medical terminology.
Reduced incident rates by increasing efficiency of keyboarding, word processing, and transcription.
Medical Scribe
Assisted physician record patient history and physical exam findings into electronic medical record system.
Document visit, including all diagnoses, treatment plans, prescriptions, and discharge/follow-up information.
Document procedures completed and recorded diagnostic test results.
Improved the efficiency of medical record-keeping while decreasing the amount of time spent transcribing.
Learned how to present information in a clear and concise manner to physicians.
Medical Scribe
Accompany physician into the patient examination room in order to transcribe a history and physical exam, and document accurately the physician's encounter with the patient and others present.
List all proper diagnoses and symptoms as well as follow up instructions and prescriptions as dictated by the physician.
Transcribe patient orders including laboratory tests, radiology tests, medications, etc.
Performed a multi-disciplinary surgery under general anesthesia at Penn Presbyterian Medical Center with an appropriate control group for follow-up surgery outcomes performed by other surgeons in an operating room with full staff on call.
Processed orders, intake information, and documented clinical visits of up to five patients per day.
Wrap Up
You need to make sure your resume stands out amongst the other candidates. It is the first impression that employers have of your work experience and skills. Use the samples above to put together a resume that best suits your needs and helps you get the job you want.