Medical laboratory technologists perform tests to help other healthcare professionals detect, diagnose, and treat diseases. Their duties include collecting samples, performing lab procedures on biological fluids like blood and urine, collecting data, analyzing data, cleaning and maintaining equipment, and keeping supplies stocked. To work as a medical laboratory technologist, you need a bachelor's degree in medical laboratory science, biomedical science, or any equivalent degree, and a certification from the American Society for Clinical Pathology (ASCP) is preferred. Medical laboratory technologists must demonstrate medical, biological, and testing knowledge, computer skills, organizational skills, problem-solving, follow lab safety, and interpret data.
A good resume is well-written and concise. It should be neat and easy to read, listing previous experience in a logical order.
Our resume samples will provide you with multiple examples of what you can include when writing your resume.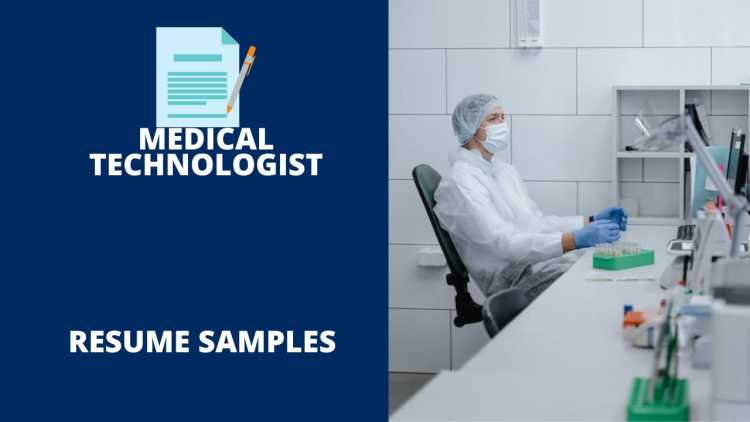 The Best Medical Technologist Resume Samples
These are some examples of accomplishments we have handpicked from real Medical Technologist resumes for your reference.
Medical Technologist
Executed and analyzed routine and complex tests in areas including urinalysis, hematology, coagulation, and chemistry in the core laboratory.
Performed preventative maintenance, quality control and troubleshoots when necessary on laboratory equipment and instruments.
Communicated critical test results effectively to nurses and physicians.
Participated in clinical trials for a new medical device approved by the FDA.
Correctly labeled specimens for analysis on a daily basis; handled hazardous materials in a caring manner with no injuries to patients or facility staff.
Medical Technologist
Generalist position functioning in the areas of hematology, coagulation, chemistry, microbiology, mycology, parasitology, and water analysis for the animals of SeaWorld.
Special jobs include: writing procedures, assisting with SeaWorld's Artificial Insemination program and dolphin paternity testing, safety officer, compiling data for quality control monitoring program.
Special Training and Awards – completed Olympus school for the au400e, employee of the month.
Cooperated with staff in the creation of a more time-effective specimen handling process, increasing patient flow and reducing wait time by 25%.
Increased patient satisfaction after perfecting an anal swab technique that makes procedures more comfortable.
Medical Technologist
Collects blood sample from neonates, geriatric and ambulatory patients.
Follows standard operating procedures (SOP) developed to produce accurate, reproducible results.
Operates laboratory equipment/instrumentation (e.g., Blood Cell Counters, Chemistry Analyzers, Automated Microbiology Analyzers, and Blood Bank Cell processing equipment) consistent with standard operating procedures and manufacturer's instruction manuals.
Met all customer service goals while maintaining the required number of customer contacts per shift; maintained positive attitude and disposition during peak activity times in ER department and during examinations.
Performed physical evaluations of patients for total joint, vertebral column, foot/ankle, and eye/ear/head injuries.
Medical Technologist
Major responsibilities include patient testing, quality control, instrument maintenance, trouble- shooting, and reporting test results.
Teaching responsibilities have included training of medical technology interns, new technologists, pathology residents and blood gas analysis to laboratory phlebotomists in the neonatal intensive care unit.
Method development included implementation of the Gibson and Cook quantitative pilocarpine iontophoretic technique of sweat chloride analysis.
Hematology Department which also included Coagulation, Urinalysis and other body fluid testing.
Performed the necessary surgical procedures in order to free a patient from paralysis.
Medical Technologist
Performed other related tasks required by the project and other related works assigned by the CMSAF PPM-DOTS Unit such as Community Medical Mission.
Correctly prepared laboratory equipment and instrumentation required for tests, research, process or quality control.
Created detailed reports summarizing data collected in the laboratory for the research and development, regulatory affairs and marketing teams.
Maintained a clean and orderly work environment.
Demonstrated understanding of the role of a medical technologist.
Medical Technologist
Specialists in blood bank technology demonstrate a superior level of technical proficiency and problem-solving ability in such areas as: testing for blood group antigens, compatibility, and antibody identification; investigating abnormalities such as hemolytic diseases of the newborn, hemolytic anemias, and adverse reactions to transfusion.
Supporting physicians in transfusion therapy for patients with coagulopathies, for example, or candidates for organ and cellular transplantation/therapy; and performing blood collection and processing, including selecting donors, collecting blood, typing blood, and performing viral marker testing to ensure the safety of the patient.
Basic computer knowledge and skill in the use of Microsoft Office applications.
Possesses strong leadership skills demonstrating excellence in interpersonal skills to promote, and develop teambuilding; leadership ability, demonstrating excellence in interpersonal relationships.
Demonstrated knowledge of medical theory, techniques, diagnosis, and treatment by performing required duties as an experienced professional medical technologist.
Medical Technologist
Generalist: Maintain and troubleshoot instruments and equipment and document according to policies and procedures.
Performed daily, weekly, and monthly quality control on instruments and calibration to verify the reliability of results.
I recorded data and created daily reports for quality management.
Performed blood bank procedures such as crossmatches, DAT, and antibody screens.
Performed chemical, hematological, serological, immunological tests using instrumentation and manual means on body fluids and exudates as needed.
Medical Technologist
Operated an assortment of laboratory/testing equipment and performed various chemical, microscopic and bacteriologic procedures and tests.
Quickly mastered important laboratory procedures and usage of laboratory tools and machines.
Proficiency at observing safety precautions and handling of infectious specimens; remembering principles involved in biochemical reactions; and understanding laboratory procedures.
Superb analytical ability and judgment to relate test results to normal or pathological states, to resolve technical equipment problems, and interpret quality control data.
Interfaced with patients, physicians, and insurance companies to ensure that the patient was not erroneously denied care, received on-time treatment, or had their medication administered in a timely manner; expedited scheduling for the physician's visit.
Medical Technologist
Maintains high-level of accuracy and efficiency while operating several analyzers and performing manual tests.
Well versed in Clinical Microscopy and interpretation of Microbiology biochemicals.
Experienced writing and revising standard operating procedures (SOP) that satisfy CAP checklists.
Monitor technologist-pathologist communication of critical results; compile and report data regarding communications to view progress in meeting goal of 100% completion of critical calls.
Implemented turn around time (TAT) log book to document time delays for STAT specimens.
Medical Technologist
Assists Section supervisor in the appropriate dissemination of information in intershift departmental communication.
Assists in the evaluation of new methodologies and equipment's.
Performs and analyzes tests and procedures and maintain records as per established KFSHRC Medical Laboratory Standards.
Maintains quality control programs of the section and in the Quality Assurance programs of the department.
Assisted with the development of a marketing strategy for new parents of preterm infants.
Medical Technologist
Collect and study blood samples to determine the number of cells, their morphology, or their blood group, blood type, or compatibility for transfusion purposes, using microscopic techniques.
Conduct chemical analysis of body fluids, including blood, urine, or spinal fluid, to determine presence of normal or abnormal components.
Cultivate, isolate, or assist in identifying microbial organisms or perform various tests on these microorganisms.
Obtain, cut, stain, and mount biological material on slides for microscopic study and diagnosis, following standard laboratory procedures.
Coordinated the child abuse prevention program for pediatrics by establishing new partnerships with local hospitals.
Medical Technologist
Performs manual and automated procedures in laboratory tests in different areas in Hematology, Blood Bank, Clinical Chemistry, Clinical Microscopy, Parasitology, Microbiology, Serology and Immunology and Histopathology.
Responsible for inventory of laboratory materials and reagents and placing orders.
Responsible for providing high quality of service to patients in accordance to the Standard Operating Procedures.
Educated staff regarding AIDS testing methods and statistics; assisted in the creation and integration of the computerized system for clinical laboratory data collection and analysis.
Learned to establish and maintain a sterile, non-contaminating environment during biopsy procedures.
Wrap Up
You need to make sure your resume stands out amongst the other candidates. It is the first impression that employers have of your work experience and skills. Use the samples above to put together a resume that best suits your needs and helps you get the job you want.