Medical Coders assist medical offices by assigning a code to each medical procedure performed. Duties include reviewing medical charts, assigning codes for all procedures performed, working with insurance companies, filing claims on time, and obtaining pre-authorizations. Educational requirements are a two-year program in medical coding or equivalent. Skills needed are mathematical skills, ability to read and analyze, ability to learn common codes and procedure, and keen attention to detail.
A good resume is well-written and concise. It should be neat and easy to read, listing previous experience in a logical order.
Our resume samples will provide you with multiple examples of what you can include when writing your resume.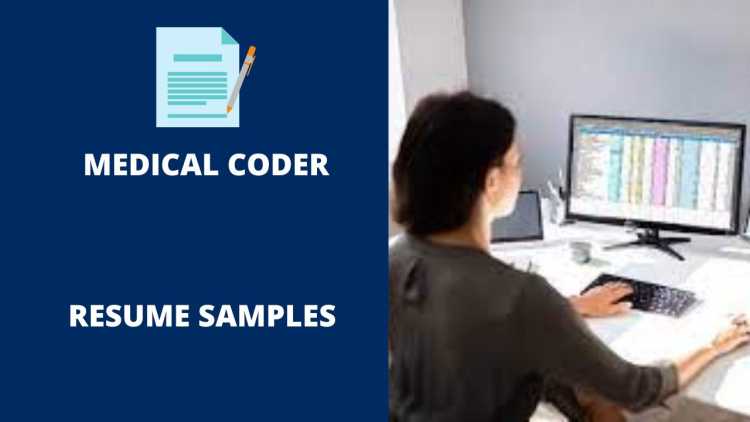 The Best Medical Coder Resume Samples
These are some examples of accomplishments we have handpicked from real Medical Coder resumes for your reference.
Medical Coder
Coding lower extremity revascularization, heart catheterization, EP studies, cardiac interventions, pacemaker and defibrillator procedures.
Coder liaison billing between the billing and the coding department.
Educating the billers on coding procedures and the coders on billing policies.
Educating the medical coding team on correct Medical policies and coding.
Created and maintained original medical coding documentation.
Medical Coder
Code medical records utilizing ICD-10-CM, as appropriate and CPT-4 coding conventions.
Review medical records to ensure specificity of diagnosis, procedures, and appropriate/optimal reimbursement for facility and/or professional charges.
Review complex medical records and accurately code primary/secondary diagnosis and procedures using ICD-10-CM and or CPT/HCPS coding conventions.
Resolved numerous complex medical billing, collection, and reconciliation issues.
Demonstrated exceptional problem-solving skills while properly reviewing and processing corrective action requests, coding documentation entries, and other related documentation tasks.
Medical Coder
Coded all outpatient medical records capturing all relevant coding data and ensuring that it is being coded to the highest level of specificity and compliant with CMS coding guidelines.
Responsible for running daily reports for multiple hospitals and reviewing them as well as auditing accounts for errors.
Participated in the implementation, training and utilization of Intelligent Coding for ER and Observation billing.
Interact with a variety of internal and external health care executives, physicians, provider office personnel and hospital staff.\
Specifically addressed the need for a third-party payer to accept two different types of insurance for an outpatient provider in order to increase payment amounts.
Medical Coder
Coding for outpatient and inpatient medical services with the appropriate CPTs, modifiers, and diagnosis codes.
Resolving coding edits and educating providers on coding- and payer-related guidelines.
Identifying documentation deficiencies and requesting corrections from providers.
Informing senior administrators regarding problematic trends and providing recommendations to resolve these issues.
Successfully demonstrated leadership through the development of an innovative solution for a patient who was denied care after showing up with a status of "pending" from the hospital.
Medical Coder
Ensure patient diagnosis is updated in accordance with standard ICD-9 Diagnostic Coding.
Ensure all assigned coding is completed in the appropriate time frame to ensure a seven working day month-end close.
Meeting daily production goal and quality goal of averaging 95% accuracy rate on a consistent basis.
Completed a review of each assigned claim for compliance with national and local guidelines.
Delivered comprehensive reports that greatly eased the burden of the Regional Medical Director, who had the responsibility for reviewing over 3000 cases.
Medical Coder
Elected as trainer for new team members as well as for the company's new coding software and outsource companies.
Consistently audit provider documentation of services to ensure provider compliance in reporting.
Managed caseload of approximately 60+ anesthesiologists and 300 accounts per day.
Exhibited exceptional initiative by initiating monthly review summaries and monthly meeting attendance without ever being asked to do so.
Demonstrated excellent resourcefulness while working under tight deadlines; furnished customers with valuable information within 24 hours after calls were placed.
Medical Coder
Hands on training coding multispecialty and professional fee actual physician documentation.
Processed a total of 600 exercises within three different training modules.
Assigned ICD 10/CPT/HCPCS and modifiers to different medical records.
Coded emergency department services, outpatient services, surgeries, radiology services and medicine.
Proved to be an asset in team meetings by offering alternative solutions that allowed the team to complete projects on time and under budget.
Medical Coder
Review medical records to determine the accuracy of coding, billing and supporting clinical documentation.
Communicates effectively with providers concerning diagnoses and procedure(s) to assure proper coding and reimbursement.
Assess diagnostic and procedural coding for accuracy and optimal reimbursement.
Maintains complete knowledge of coding and claims submission as it relates to Government, Managed Care and commercial plans.
Supervised 3 medical coders and 2 administrative assistants to ensure efficient, accurate, and timely procedures.
Generated proposals for new coding and volume increases from increasing medical clinic population.
Medical Coder
Generated an excel sheet to track the temporary charges that have been keyed into the system, so we will have an accurate account of the charges at the end of the month.
Assisted business office management with any special projects related to coding issues or questions that may include medical records audits and other coding issues, and consulted with the business office management for assistance with resolving issues, as needed.
Tracked and collected data and prepared reports for cases that were waiting on other pertinent information (pathology, supply invoices), and shared knowledge of the reports and the disposition of medical records (statistical reports) with my immediate supervisor.
Maintained data integrity by submitting all files promptly to the appropriate department.
Correctly analyzed all codes entered in the ISAC database to create a report at end of the month.
Medical Coder
Review and analyzes patient medical record according to current compliant policies.
Responsible for abstracting clinical data from the medical record and assign codes for diagnoses, treatments, and procedures using standard classification systems.
Selecting and sequencing principal diagnosis, secondary conditions and surgical procedures to optimize reimbursement using ICD 10 CM, IC 10 PCS and CPT.
Reliably observed work schedule; scheduled employees appropriately; utilized management tools to monitor performance.
Met clients' documentation requirements by cross-referencing information with medical and insurance records.
Medical Coder
Accurately assign ICD-9-CM and/or CPT-4 code(s) and sequence diagnosis and procedures per patient medical record.
Follow coding guidelines and regulatory rules in governing corresponding coding decisions.
Review and abstract relevant clinical data/medical records to select and sequence the appropriate ICD-9-CM diagnosis.
Conformed to payer guidelines for medical codes using the latest version of MS-DRGs, ICD-9, and CPT manuals.
Provided recommendations to physicians for coding choices based on diagnoses and procedures.
Medical Coder
Accurately assign ICD-10-CM and/or CPT-4 code(s) and sequence diagnosis and procedures per patient medical record.
Performs targeted coding and documentation record and claim reviews; correct any deficiencies and prepare report on findings and recommendations.
Ensure that all reviews and audits are based on current federal regulatory guidelines.
Successful track record of analyzing and problem solving complicated assignments and complex coding errors.
Minimized cost of medical care by developing appropriate reimbursement strategies based on interactions with insurance companies.
Wrap Up
You need to make sure your resume stands out amongst the other candidates. It is the first impression that employers have of your work experience and skills. Use the samples above to put together a resume that best suits your needs and helps you get the job you want.