A clinical nurse manager is responsible for organizing and supervising the duties of other nurses. Their duties include staff management, case management, treatment planning, recruitment, budgeting, mentoring, etc. To become a clinical nurse manager, you need to obtain a certification, an RN license, a BSN degree or higher, and two or more years of experience. A good clinical nurse manager must demonstrate goal achievement skills, motivation, planning skills, delegation skills, conflict management skills, and communication skills.
A good resume is well-written and concise. It should be neat and easy to read, listing previous experience in a logical order.
Our resume samples will provide you with multiple examples of what you can include when writing your resume.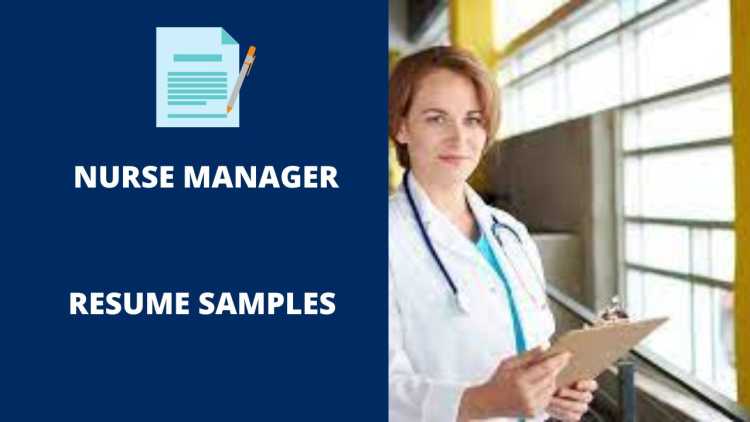 The Best Nurse Manager Resume Samples
These are some examples of accomplishments we have handpicked from real Nurse Manager resumes for your reference.
Nurse Manager
Nurse Manager of acute dialysis unit contracted to hospital, 90 patient chronic dialysis unit, and peritoneal dialysis program.
Effectively facilitated the transformation of a 21 station facility with state mandated corrective action plan to patient centered quality care.
Maintained quality care as evidenced by re survey in 2014.
Negotiated the terms and conditions of employment between local authorities, medical facilities, and collective bargaining.
Supervised staff to ensure operating standards were met by reviewing log sheets and daily reports.
Nurse Manager
Trained 36 unit staff and ensured compliance with State, Facility and Federal guidelines of care, resulting in improved patient clinical outcomes, reduction in hospitalizations (37% over 1 year), and increased fiscal accountability of supports used.
Serve on the positioning, nutrition, and management of treatment committee to address hospitalizations, and modify plans of care for recurrent illness, and hospitalizations.
Empower direct care nurses to take initiative and drive outcomes for individuals through advocacy, and maximization of nursing practice within their scope.
Presented communication skills training to paraprofessionals in an effort to facilitate a clear understanding of hospital policies.
Researched conditions of employees' compensation and insurance provided by medical facilities as well as financial needs for retirement.
Nurse Manager
Resolves patient needs by utilizing multidisciplinary team strategies.
Maintains safe and clean working environment by designing and implementing procedures, rules and regulations; calling for assistance from other health care professionals.
Maintains a cooperative relationship among health care teams by communicating information; responding to requests; building rapport; participating in team problem-solving methods.
Commented on organizational changes required to improve productivity and profitability for multiple divisions in company's administrative structure.
Organized patient charts and schedules, with an emphasis on efficiency.
Nurse Manager
Directed or supervise less-skilled nursing or health care personnel on the medical surgical and clinical decision units.
Observe nurses and visit patients to ensure proper nursing care.
Performed administrative or managerial functions, such as taking responsibility for a unit's staff, budget, planning, or long-range goals.
Supervised clerical personnel in the provision of exceptional information services and quality record keeping.
Assisted in the development of a document control program which was later used by other nurses.
Nurse Manager
Coordinates and participates in health challenges, outreach and health fairs.
Performs administrative duties such as reviewing invoices, monthly reports, budgets, etc.
Coordinates educational programs with a focus on health issues, risk assessment and research.
Managed a group of 5 nurses to achieve a 98% improvement in patient satisfaction over 4 years.
Established and maintained excellent working relationships with physicians and patients in a highly competitive market area.
Nurse Manager
Assists with developing and implementing performance initiatives to ensure optimal patient safety and outcomes and customer satisfaction.
Demonstrates leadership qualities and critical thinking through self-direction, initiative, effective interpersonal skills and oral/written communications skills.
Participates in Housewide committees, representing unit and Nursing in a positive manner.
Providing leadership to staff and serves as a mentor in preparation for upcoming Magnet redesignation.
Led the Nursing Staff of a Primary Care Office.
Nurse Manager
Nurse manager for busy specialty clinic with four physicians and one nurse practitioner.
Managed staff of nine, including nurses, medical assistants, and administrative personnel.
Provided nursing care to a large pulmonary patient base, including in-office procedures, face to face patient visits and extensive telephone triage.
Patient triage includes medication education and refills, disease process education and symptom management as well as acute illness management and scheduling.
Created and administered the program for computer training, phlebotomy certification, and competency testing for two hundred employees.
Nurse Manager
Managing, organizing and facilitating change for the 2 units in the Community Living Center.
The hospice unit and the rehab units consist of 75 staff members and 45 combined beds.
Two geographically separated units with both short stay and long stay veterans.
Facilitating change within the unit for the staff to move forward and progressively achieve excellent patient and staff satisfaction.
Coordinated office computer upgrade and associated software installation.
Nurse Manager
Responsible for tracking staff licensing, credentialing, competency, and productivity.
In coordination with Operations Managers and Medical Directors intermittently reviews facility usage and space in a manner that improves efficiency and patient care.
Works with Anesthesia Assessment Center, P-3 Non-OR Anesthesia Services, and Pain Management Center leadership teams to develop and implement strategies to improve patient flow and patient care.
Enrolled an average of one hundred fifty new students per month in our college's nursing program.
Recognized as a "Top Performer" by both organization and peer review; demonstrating goal-orientation, behavior modification strategies, skilled decision making, and excellent work ethic.
Nurse Manager
Follow Nurse Practice Act, all policies, procedures and protocols. Manage Medical Assistants and Nurses.
Participate in writing policies, procedures and protocols for the clinical area.
Supervision of all aspects of clinic operation and employees including the Nursing Staff, Medical Assistants, Phlebotomists, Radiology Technicians, Ultrasound Technicians, Nursing Students and volunteers including scheduling.
Responsible for hiring, performance appraisals, disciplinary actions, terminations, and other related activities.
Increased clinic patient base by 50%.
Nurse Manager
Preparing syllabus at the beginning of semester and explaining it to the students on the first day of the class.
After completing classroom teaching related to each unit lessons, preparing questions for exams in the software, Par testing.
Administering student counselling when required, especially for the students who are not meeting the course objectives.
Achieved highest quality score; coordinated with hospital staff to ensure professional and timely treatment for patients.
Hired, trained, supervised, and motivated three nurse aides to provide care at the patient's side during extended periods of illness.
Nurse Manager
Critical thinking, within RN parameters, based on patient signs and symptoms and nursing assessments.
Acted as a resource nurse for Medical Assistants and Licensed Vocational Nurses, training and educating on common childhood illnesses, testing and treatment procedures.
Maintain Supplies, equipment and clinic resources throughout multiple locations.
Achieved highest quality score; coordinated with hospital staff to ensure professional and timely treatment for patients.
Collaborated with doctors to investigate the root cause of patient deaths; empowered doctorial staff to serve patients more effectively by restructuring the administrative office system.
Wrap Up
You need to make sure your resume stands out amongst the other candidates. It is the first impression that employers have of your work experience and skills. Use the samples above to put together a resume that best suits your needs and helps you get the job you want.