Chemical Engineers develop and produce chemicals and products through chemical processes. Duties include refining chemical processes, conducting research and tests, entering data into a computer, data analyzation, plan correction, and ensuring that all organization goals are being met. As for education, one must complete a Bachelor's, Master's, and/or Ph. D. in chemical engineering, with some positions requiring licensure. Chemical Engineers must be excellent at chemistry, be commercially aware, know IT and numeracy, and be skilled at problem-solving. They are analytical, adaptable, creative, and team players.
A good resume is well-written and concise. It should be neat and easy to read, listing previous experience in a logical order.
Our resume samples will provide you with multiple examples of what you can include when writing your resume.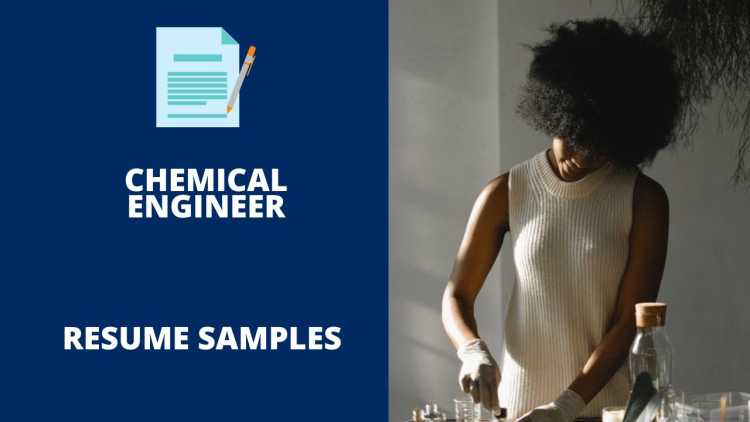 The Best Chemical Engineer Resume Samples
These are some examples of accomplishments we have handpicked from real Chemical Engineer resumes for your reference.
Chemical Engineer
Gained technical knowledge and skills in optimization by implementing improvements to water treatment processes and boiler chemistry for three 600MW coal-fired turbines.
Optimized boiler chemistry procedures resulting in a 20% reduction on the unit start-ups length.
Optimized water treatment plant procedures so that water parameters would reduce chemical and potential maintenance costs.
Engineered an elaborate coal process procedure improving efficiency and reducing run time on conveyor systems in order to decrease risk of injury, dusting, and run time on operating equipment.
Proposed a new processing method for elemental fluorine during twenty-seven months of research.
Chemical Engineer
Responsible for planning, drafting, executing, maintaining and improving water facilities in accordance with TCEQ practices and safety standards.
Support regulatory permitting and authorizing technical documents while working on multiple, unique assignments simultaneously.
Prepared and implement effective presentations and participate in client meetings and regular interactions with clients, subcontractors and other stakeholders in both field and office settings.
Recovered from experimental data variance to predict material yield, purity, and production efficiency based on process variables.
Accurately projected the resulting profit per ton of chemically produced; recognized by superiors for superior results.
Chemical Engineer
Prepared the first dispersion & radiation analysis using FlareSim and generated the first report for these studies in the company.
Developed the first guidelines on how to perform radiation and dispersion analysis using FlareSim.
Performed hydraulics analysis as required by project needs using PipeSim.
Provided support to mechanical engineering group in completion of mechanical eng. activities & P&ID.
Selected to work in a diverse team on an engineering project; boosted morale and productivity by coaching staff during challenging times.
Chemical Engineer
Implemented automatic dust discharge system with continuous N2 flow to avoid explosive atmosphere and reduce manipulation for operators, improving personal, and industrial safety.
Increased operator effectiveness by reducing the overall number of alarms using Matrikon (Alarm Manager).
Established protocols and collaborated with multiple departments (quality, environment, safety, engineering and production) to develop a Chemical Plant certification Audit ISO 9001.
Improved the safety of the plant by performing JSBO's (Job Safety Behavior Observation).
Compiled research reports, led discussions, and presented regularly at department conferences.
Chemical Engineer
Planned and conducted research for design and development of desulfurization of fuel oil technology.
Carried out parametric and feasibility experiments while generating reports and graphs.
Computed design for packed bed adsorber by determining Liquid Space Hourly Velocity (LHSV) of catalyst.
Performed design calculations for installation of equipment like Pump, PFR, rotary filter.
Developed new ways to analyze and design processes for improving the use of water.
Chemical Engineer
Provided engineering supports to 18+ operators, troubleshoot biodiesel production issues, optimized existing processes and improved production safety.
Conducted experiments using an array of lab instrumentation to investigate production issues.
Collected and analyzed samples using titration, GC, and other lab equipment according to CNS (similar to ASTM Standers) to ensured ASTM Standards and customer specifications were met.
Prepared documents to comply with safety and local environmental regulations (similar to EPA and OSHA regulations in the U.S.).
Structured and optimized a quality assurance program based on statistical techniques.
Chemical Engineer
Worked extensively out in the field to troubleshoot water wells suffering from corrosion and a decrease in production.
Researched the corrosive nature of Iron-Related Bacteria and Sulfate-Reducing Bacteria.
Assessed the effectiveness of dry ice to agitate chemicals and break down encrustation within the well.
Implemented many material science concepts to consult on the correct components of well systems.
Initiated a project to install, maintain, and document quality assurance procedures.
Chemical Engineer
Managed day-to-day operation of oil and gas processing, LNG extraction and fractionation units.
Operated DCS and PLC system to monitor process plant and took corrective actions.
Extracted process information from CAD drawings and prepared/modified PFD, and P&ID.
Prepared daily/monthly and project report, SOP, and detailed requisitions for equipment/material.
Participated in HAZOP, pre-startup safety review, and in the behavior based safety program.
Chemical Engineer
Data collection for Environmental Audit of industries. Mass balance & water balance for the production process. Member of Four Person audit team for this organization under Audit scheme as chemical Engineer.
Preparation & submission of Analysis report under water act & Air act for client industries as a Statutory compliance.
Data collection for preparation of NOC and CCA application of client Industries, follow up with state Pollution control Board.
Accurately designed concrete bridge structures for a highway department.
Designed instrumentation for advanced methods in a chemistry lab.
Chemical Engineer
Costing of products by identifying cost effective, commercially viable and environmentally safe routes for bulk production.
Developed a cost effective process through lab experiments and pilot studies for manufacturing LAE.
Providing technical support, training employees on lean manufacturing and safety topics.
Responsible for internal audits to assure quality system compliance and developing quality plans.
Built chemical reactor networks, designed and built purification systems, and analyzed the use of reagent water.
Chemical Engineer
Sized Pressure Relief Valves, Separators and prepared datasheets and specifications for equipments.
Provided engineering support for the Manufacture of Urea and Ammonia synthesis.
Involved in trouble shooting of Overpressure Scenarios, and gained exposure to the design guidelines for Pressure Vessels and Heat Exchangers.
Implemented process development design for the chemical recovery of platinum.
Completed research project in combustion analysis with a focus on flame propagation and pollutant biotransformation.
Chemical Engineer
Researched on unconventional oil & gas production related environmental problems, focusing on water quality and management.
Investigated the efficiencies of hydrofracking process applied chemicals, such as friction reducers, scale and corrosion inhibitors, etc.
Flow assurance research on the chemical additive compatibility under downhole conditions.
Interaction of shale formation with brine at high temperature high pressure environment.
Responsible for designing, constructing, and testing a model bioreactor system, which was used to study the effects of temperature and culture time on the growth of bacteria within a culture medium.
Wrap Up
You need to make sure your resume stands out amongst the other candidates. It is the first impression that employers have of your work experience and skills. Use the samples above to put together a resume that best suits your needs and helps you get the job you want.