Construction project managers oversee the building process from concept to finished product. Their tasks include working with architects, working with engineers, managing subcontractors, developing timelines, setting goals and inspecting work. This role requires a bachelor's degree. A construction project manager must demonstrate excellent communication skills, strong leadership, adaptability, patience, critical thinking skills, problem-solving skills and a high level of collaboration.
A good resume is well-written and concise. It should be neat and easy to read, listing previous experience in a logical order.
Our resume samples will provide you with multiple examples of what you can include when writing your resume.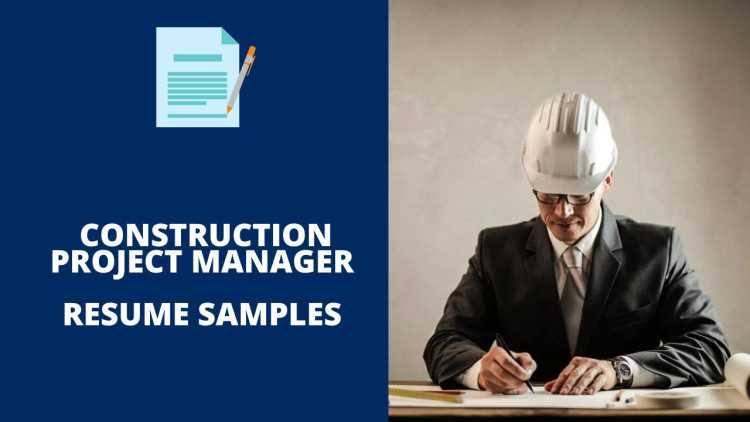 The Best Construction Project Manager Resume Samples
These are some examples of accomplishments we have handpicked from real Construction Project Manager resumes for your reference.
Construction Project Manager
Oversaw the renovation and remodeling of two self owned homes. Increased values of homes after renovations from $350,000 to $450,000 after $40,000 in renovation costs and $140,000 to $220,000 after $30,000 in renovation costs respectively.
Created and managed scope of work, cost projections, budgets, project plans, permits, schedules and contracts.
Oversaw and managed subcontractors work and schedules.
Construction Project Manager
Instrumental in managing large-scale construction projects which requires identifying project requirements, devising detailed timelines, and supervising cross-functional teams.
Successfully negotiated agreements/contracts with clients, vendors, and subcontractors in addition to creating project budgets valued at over $10 million.
Ensured project metrics were met in a timely manner, ensured regulatory requirements were adhered to, obtained building permits, and monitored construction quality levels.
Significant experience in managing several projects simultaneously along with a demonstrated background in fostering positive relationships with key clients.
Construction Project Manager
Worked with the client from the start of each project to ensure you understand the project scope and vision.
Oversee the beginning of each turn-key project, including details like permit submission and design evaluations.
Collaborate with the architect and construction crew to ensure feasibility of each project.
Construction Project Manager
Oversee and provide project management for new construction, remodeling and multi-family apartment/condo make-readies.
Monitor day-to-day fiscal operations relative to the annual budget and work plan.
Managed and maintain all field personnel conducting weekly meetings while overseeing, planning, coaching and administering day-to-day activities.
Verify the completion of change orders, contract options and special changes from work tickets.
Construction Project Manager
Responsible for preconstruction duties by estimating projects requirements, reviewing drawings and manage subcontractors.
Responsible for maintaining technical records, and a safe work environment.
Customer management, by generating request for proposals, site visits to establish logistics, solicits and review quotation from vendors.
Ensure subcontractors are in compliance with terms, quality standards.
Construction Project Manager
Worked as Project Manager to supervise construction project from beginning to end, ensuring that projects are completed within time and budgetary constraints.
Directed planning, budgeting, vendor selection and quality assurance efforts.
Supervised the work of 15 team members, offering constructive feedback on their work performance.
Served as the single point of contact for project scheduling and changes.
Construction Project Manager
Oversee multiple projects to ensure all specifications and budgets are met.
Maintain professional environment while completing all projects on schedule.
Ensure all safety guidelines are met and maintained with equipment and construction site.
Construction Project Manager
Managed commercial retail capital projects including: relocations, remodels and new store projects.
Partnered with Real Estate and Finance on ROM (Rough order of Magnitude) budgeting on potential Dal-Tile, Stone Center, Builder Distribution Center and American Olean/Marazzi store locations.
Coordinated executive approval on all projects based on initial budgeting.
Construction Project Manager
Estimate, plan and manage construction, renovation and upgrade of new and existing multi-million dollar high end residential homes and tenant improvement commercial projects in the Bay Area.
Successfully managed multiple projects concurrently and completed on time and within/under budget.
Negotiate sub-agreement contracts, manage payment schedules and purchase orders.
Prepared cost estimates at various stages of design from schematic and budget to detailed take-off and pricing.
Construction Project Manager
Coordinate daily construction activities associated with project assignments.
Interfaced with owner/client representatives, inspectors, and contractors via progress meetings to assure contract work meets all design, engineering, safety, and code requirements, including resolving open design issues and amendments.
Assisted the project executive and senior project manager in working with all departments including estimating scheduling, procurement, labor relations, finance, accounting and other services required.
Supervise, train, develop, and evaluate project team members at various levels within the organization/team on the skills and understanding of firm procedures, methodology, and practices expected for a successful project implementation.
Construction Project Manager
Experienced descoping, negotiating and managing General Contractors, Subcontractors & Equipment Vendors of all disciplines to perform the full intent of the Construction Documents, with field adjustments and modifications to build each unique project to the Company's design intent.
Responsibilities include interacting with Local Planning, Zoning, Building and Health Departments to perform necessary Due Diligence to address any specific project requirements. This includes variances for building use, signage adjustments, and associated exterior property modifications.
Previously responsible for Store, Regional and Central Initiatives in regards to Equipment Replacement, Refrigeration, Casework, BMS Controls, Generator Support and Energy Incentive Upgrades ranging in scope from $1,000 to $300,000 with an average workload of 150 projects per year.
Construction Project Manager
Prepared & manage capex projects including boiler conversions, roof replacements, elevator modernizations, environmental remediation, utility upgrades.
Develop & execute renovation projects including apartment renovations, lobby upgrades, corridor remodeling, amenity reconfiguration.
Communicate & collect project specific input from operations, leasing, accounting teams within company.
Wrap Up
You need to make sure your resume stands out amongst the other candidates. It is the first impression that employers have of your work experience and skills. Use the samples above to put together a resume that best suits your needs and helps you get the job you want.