Manufacturing Engineers created systems that created different types of products. Their job duties are designing systems, installation, diagnosing issues, repair, supervising system operators, and doing system maintenance. Manufacturing Engineers need a Bachelor's degree in manufacturing engineering. Manufacturing Engineers need to be self-motivated, have problem-solving skills, be detail-oriented, be skilled in quality control, have excellent communication skills, know finances, and be creative to be successful.
A good resume is well-written and concise. It should be neat and easy to read, listing previous experience in a logical order.
Our resume samples will provide you with multiple examples of what you can include when writing your resume.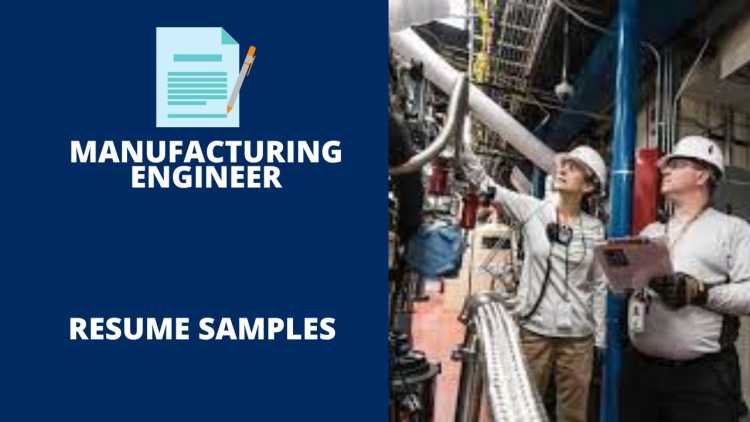 The Best Manufacturing Engineer Resume Samples
These are some examples of accomplishments we have handpicked from real Manufacturing Engineer resumes for your reference.
Manufacturing Engineer
Serve as lead engineer of operation for all manufacturing activities to ensure products are being designed, manufactured and assembled per product specifications.
Utilized 3D Solid works and Autodesk Fusion 360 to design new and existing products and test fixtures.
Develop technical documents to train operators and technicians to properly and safely use manufacturing equipment which includes: CNC Lasers, Vacuum Metallizers, Clam Shell Die Cutters and UV Print Beds.
Proven ability to increase productivity and decrease material costs through efficiency improvement.
Implemented workflow process in the manufacturing environment that increases worker safety, improved quality, and increased profitability of the product being manufactured.
Manufacturing Engineer
Organize and lead technical discussions with Systems and Mechanical Engineers to investigate root cause and corrective action related to Electro-Optic Targeting System (EOTS) failures weekly.
Proactively saved the EOTS program 1 Hour per Unit (HPU) by collaborating with Materials Engineer to incorporate a faster cure Room-Temperature-Vulcanization silicone (RTV) adhesive to a variety of EOTS subassemblies.
Proactively saved the EOTS program 0.5 HPU by incorporating Standard Rework Instructions (SWI) to the dispositioning process of nonconforming hardware for all EOTS assembly and subassemblies.
Recognized for being able to quickly establish a process for manufacturing the new product; tracked start-up costs and maintained budget within parameters set by upper management.
Conception of a new product launch resulted in 20% increase in sales of newly introduced products. Recognized as one of top three salespeople within market division during fiscal year.
Manufacturing Engineer
Train production operators on overcoming manufacturing obstacles.
Address all corrective actions assigned to the Engineering department.
Address all CAPAs assigned to Engineering using 5 why/fishbone and 8D practices.
Prepared Non-Recurring Engineering (NRE) labor and tooling estimates for new assemblies.
Established, implemented, and supervised the design and installation of critical safety systems, including Pneumatic Tools, Forming Ways, and Machining Centers that resulted in significant production increases as well as improved product quality.
Manufacturing Engineer
Support new launch and existing production of extruded aluminum OEM Automotive roof rails and running board accessories using visual work instructions, 5S, time study, PFMEA and control plans.
Developed and implemented safe & efficient material flow, staging and delivery strategies.
Implemented continuous improvement and corrective action initiatives using smart (PLC) tooling modifications, 8D, 5 why and root cause analysis tools to reduce manufacturing defects & scrap.
Designed and developed computer-controlled instruments for inputting data from machines to create documentation for the machine operation.
Demonstrated ability to adapt to new situations through the ability to think clearly under pressure by quickly learning new concepts.
Manufacturing Engineer
Communicate design requirement and technical information to operators and develop standard work for new products.
Assisted with order entry to establish tooling, personnel and time requirements for first time builds.
Assisted with fixtiring and jigs to assist with manufacturing and reduce scrap.
Performed various duties such as applying preventative measures against machinery failures through routine maintenance, analyzing problems in order to make recommendations for remedy; instruct personnel on how best to minimize machine problems.
Assisted in the lean design of several assembly lines and the identification of waste; cut costs by 1.3 million dollars with zero negative effect on productivity.
Manufacturing Engineer
Acted as Primary Engineer and provided continuity for 3-person redesign project as part of $57M government contract with US Defense Logistics Agency (DLA) to update military aircraft components.
Improved quality, safety, and maximized profit through Kaizen continuous improvement processes while balancing client needs and company standards.
Redesigned production process, including extensive manual welding operations, tooling, gages, and fixtures.
Handled the development of a new tooling design that increased productivity by 66 percent while maintaining quality standards.
Directly oversaw constructing and installing a new robotic welding system, yielding an increase in production speed and efficiency.
Manufacturing Engineer
As a Manufacturing Engineer, I am responsible for creating all the processes for all new product that is run through the SMT (surface mount technology) and selective soldering areas in the facility.
I am also responsible for making adjustments and improvements to all legacy product that we build.
I design and order all of the stencils and tooling required for the assembly of the circuit boards as well as created work instructions and proper oven profiles used to melt the different solder chemistries.
Educated team members regarding proper assembly release procedures to ensure efficient line operation which ultimately resulted in 600% production capacity growth.
Utilized engineering principles to prevent power outages and identify faulty components resulting in a reduction of downtime by 73 percent.
Manufacturing Engineer
Managed new development projects, designed working holding fixtures, utilized machining process, and created process operations.
Programmed CNC machines using Gibbscam 2016 and Mastercam version 9.1 software.
Created a process drawing using Cad Program Master Cam 9.1 and Cad key Creator 19, Key Creator 2016.
Programmed and setup horizontal milling Kitamura, Mori Sh500, SH40, and SH50, Mori M-300, OKK, NHX4000, and NH4000.
Was selected by management to be cross-trained on machine cutting and programming.
Manufacturing Engineer
Managed production and machining processes in order to assure minimum line and equipment downtime.
Validate laser welding equipment and processes for endoscopic Forceps assembly.
Participate in 3+ production Lean Six Sigma initiatives for production flow streamlining.
Prepared or modify 10+ installation (IQ), operational (OQ) and performance (PQ) qualifications for new and existing production machines/processes.
Demonstrated ability to work independently prior to being promoted to Machine Operator.
Manufacturing Engineer
Implement and refine manufacturing process by applying continuous improvement and lean manufacturing principles to all areas of production.
Implemented ergonomic solution which improved safety.
Supported space planning projects with analysis.
Received appreciation award for exceeding production quotas by .5% of annual quota due to the realization of $200,000 in savings in annual operating cost.
Mentored two newer employees and two interns on how to improve job performance through continuous improvement and quality improvement techniques.
Manufacturing Engineer
Leads the NPI and transition for new products from other L3 divisions to the Linkabit division from a manufacturing standpoint.
Creates, evaluates and standardizes all MAPS (Manufacturing Assembly Processes) and routers for production.
Develops manufacturing operations including production floor layouts and workflow intended for a lean production area.
Developed over 20 new safety procedures for machines that reduced production costs without reducing output quality or safety concerns for employees.
Collaborated and learned from a diverse group of professionals for over four years.
Manufacturing Engineer
Produce parts that are made from aluminum, 300 series stainless, steel and plastic using CNC milling machines and lathes.
Analyze blueprints for parts to ensure the part can be properly made and the tolerances are to specifications.
Created blueprints and G Code programs for the parts that need to be produced.
Drilled and blueprinted in-process 3D-printed parts for manufacturing.
Accomplished training to learn the skills needed to move up in position due to the opportunity for increased responsibility.
Wrap Up
You need to make sure your resume stands out amongst the other candidates. It is the first impression that employers have of your work experience and skills. Use the samples above to put together a resume that best suits your needs and helps you get the job you want.