Junior Electrical Engineers assist in the design, development and implementation of electrical systems. Their duties include designing products, communicating between various teams, monitoring projects, determining and executing solutions, identifying requirements and deficiencies and conducting research. To work as a Junior Electrical Engineer you need a Bachelor's in electrical engineering. Junior Electrical Engineers must demonstrate team work, written and oral communication, the ability to independently test and design, work in a fast paced environment, problem-solving skills and the ability to be a self starter.
A good resume is well-written and concise. It should be neat and easy to read, listing previous experience in a logical order.
Our resume samples will provide you with multiple examples of what you can include when writing your resume.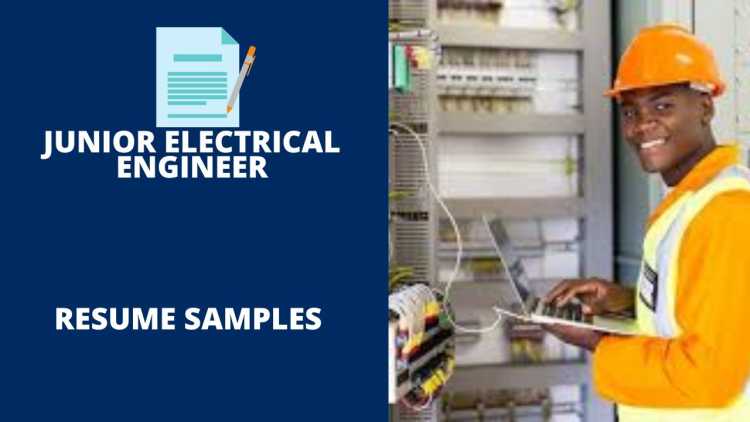 The Best Junior Electrical Engineer Resume Samples
These are some examples of accomplishments we have handpicked from real Junior Electrical Engineer resumes for your reference.
Electrical Engineer
Provided electrical power (normal and emergency power) and lighting layout for commercial, residential, and airport projects.
Ensure design to comply with NEC code and Energy Conservation Code.
Designed Fire Alarm System layout according to design guide NFPA 72.
Provided heating and cooling load calculation, foot-candle calculation, and analysis for commercial, residential and airport projects.
Developed a mathematical model to analyze voltage distribution through the processing of current in seven parallel string inverters.
Electrical Engineer
Designed a car seat detection device which will be used to notify caregivers of child presence in the car.
Involves the development of a smartphone application that connects to a sensor system attached onto a standard car seat.
The Car Seat Detection Device placed in the Top Ten group senior engineering design projects, out of a total of 67 group senior engineering projects.
Recognized by the Director of Research and Development for a vast improvement in the efficiency and reliability of power factor regulation using software, network, and hardware designs.
Awarded a patent for the invention of a new electrical transceiver circuit filed with the U.S. Patent Office; designed to integrate electronically-based signals on high-speed lines; yielding faster results with lower energy consumption within systems.
Electrical Engineer
Coordinated multiple electrical and engineering projects as a project lead to ensure on-time within the budget completion.
Responsibility encompassed; contractor oversight, project development and scheduling, consultation, research, documentation submittals approval, design and construction.
Developed primary distribution utility plans (12.47kV) as well as single lines diagrams for the Joint Base McGuire-Dix-Lakehurst (JBMDL) as well as multiple facilities within JBMDL.
Derived and developed conceptual models of fluid transport, with emphasis on slugging flow, and viscous flow processes.
Developed quantitative analysis methods for investigating four related problems in the identification of minimum-flow velocity measurements.
Electrical Engineer
Wrote technical modification design reports, provide new drawings as well as markup drawings, prepare Acceptance Testing Criteria, perform walkdowns, write walkdown report.
Cable sizing, voltage drop, breaker sizing, Electrical and Heat Loading Calculations, Cable – Conduit scheduling.
Fiber Evaluation, EMI / RFI Evaluation, (Critical Digital Asset) CDA Determination.
Understand and Implement codes, write to Client database, update or created drawings for the client, use of INPO and NEI inputs.
Performed research on the subject of "vicious mixing" in the development of a procedure for elucidating the stability and instabilities of geometric shapes that are subject to maximum-disturbance flows.
Electrical Engineer
Revised and edited electrical power and lighting plans using AutoCAD and Revit Software.
Performed short circuit and Arc-Flash studies using SKM and ETAP software.
Calculated duct bank heating to determine cable ampacity.
Produced interesting results regarding the effectivity of different types of extruded aluminum cold-ends to work with 1″) holes, 2″) holes, and 3″) holes.
Developed methods for determining the soil's electrical resistivity, and tested them to confirm results.
Electrical Engineer
Designed one line, 120V power panel, and three line diagram generator drawings using MicroStation.
Designed working drawings, wiring diagrams, wiring connection specifications or cross- sections of underground cables.
Find coordinates for the equipment's and instruments in the plant using smart Plant review software.
Route cables for Moxie-Freedom generation plant using Cable Matic plus and Try Matic software's.
Designed a device to measure the electrical resistance of materials using an ultrasonic sensor.
Electrical Engineer
Electrical design, implementation, and build of lyophilization machines for research and development.
Function and performance testing of completed machines and logging all data for analysis.
Verified all CE and RoHS compliance in electrical component selection for new product design where needed.
Conducted research to develop an electronic square wave generator based on van de Graaff generator principles.
Researched and reported on a variety of engineering applications of magneto-resistive sensing technology to develop new circuits and circuit components. This research was ultimately published in the Journal of Analog Integrated Circuits & Signal Processing, Vol. 5 No. 2, pg. 509-517 (August 1986).
Junior Electrical Engineer
Designed Electrical wiring for the access control system to be implemented by the electricians.
Diagnosed malfunctioning systems, equipment, and electrical parts, via using test equipment to identify the cause of breakdown; fix the problems and aided installers in implementing the solution.
Was in charge of Hardware R&D to design, draft, and implement new ways to improve the system and product; used CAD software to design and produce parts for the product.
Collaborated with principals in electrical engineering, mechanical engineering, project management, and quality assurance to manage and complete projects for the development of a new power plant.
Designed a custom alignment strategy for the National Nuclear Security Administration's (NNSA) first large-scale nuclear system to meet an extremely tight schedule.
Junior Electrical Engineer
Assisted research and development towards custom LED lighting boards and custom power supply circuitry.
Tested and analyzed power characteristics of prototype power supply design and LED driver circuitry using electrical troubleshooting tools.
Managed inventory of discrete electronic components for use in prototype assembly.
Performed as Senior Technical Project Engineer on numerous grants related to research and development of nuclear engineering systems.
Received recognition as a senior engineer who exhibited superior leadership abilities while leading his team of twelve engineers through technical design and functional testing phases of a large-scale research project involving computer simulations, facilities planning and construction, and testing procedures.
Junior Electrical Engineer
Directed 5-person team supporting comprehensive electrical engineering design projects for residential buildings.
Increased 1st-pass project approvals by 5% in only 5 months by ensuring consistency and eliminating redundancies.
Supported 5% increase in customer inquiries since joining the organization by building repeat and referral business with reduced permitting timelines.
Successfully completed a Master's degree in electrical engineering at Georgia Institute of Technology.
Achieved high marks while solving complex electrical problems, including partial discharge and short circuit analysis.
Electrical Engineer
Led electrical renovation projects, calculated power loads, and upgraded electrical systems to be energy efficient.
Power: installed meters, disconnect switches, and power panels; knowledge of transformers, generators, and motors.
Conduit and Cable: bent and installed electrical conduit from 1/2inch to 4inch; pulled wire, bx cable and service cable.
Completed multiple projects within the time frame required; worked with multiple disciplines in simultaneous efforts to deliver effective components on time.
Developed tools to gather, organize and analyze engineering data to produce meaningful results that affected operations and quality of work.
Electrical Engineer
Assisted in the analysis of reports, drawings, blueprints, tests, pictures, and site survey data to plan and design project in accordance with the standards of electrical engineering design.
Assisted in the preparation or modification of reports, specifications, calculations, plans, construction schedules, permits and designs.
Prepared design computations, quantity estimates and of probable construction cost estimates.
Assisted in client contact and communication pertaining to specific project and Serve as on-site project representative.
Provided direct supervision for a crew of four engineers in full confidence that the responsibilities for results would be met; demonstrated significant skills to supervise both independently and as part of an organized team.
Wrap Up
You need to make sure your resume stands out amongst the other candidates. It is the first impression that employers have of your work experience and skills. Use the samples above to put together a resume that best suits your needs and helps you get the job you want.