Help Desk Support assists customers with help and advice with software and hardware of computers. Their responsibilities include providing technical assistance, responding to inquiries, maintaining computer systems, installing computer software, running diagnostic programs on computers, and resolving technical problems with the system. To work as Help Desk Support, requirements may vary. Most jobs require a high school diploma, and some require an associate's degree or bachelor's degree in computer science or equivalent. To succeed as Help Desk Support, it is essential to have excellent analytical skills, organizational skills, customer service skills, multitasking skills, communication skills, problem-solving skills, and listening skills.
A good resume is well-written and concise. It should be neat and easy to read, listing previous experience in a logical order.
Our resume samples will provide you with multiple examples of what you can include when writing your resume.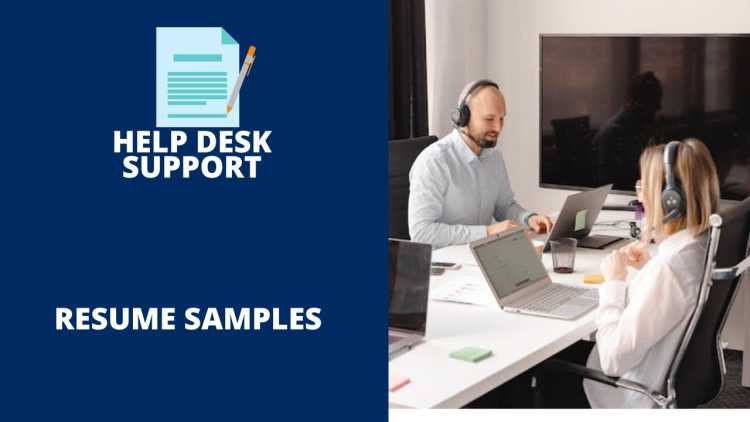 The Best Help Desk Support Resume Samples
These are some examples of accomplishments we have handpicked from real Help Desk Support resumes for your reference.
Help Desk Support Technician
Performed remote troubleshooting through diagnostic techniques and pertinent questions.
Follow-up and update customer status and information.
Assisted and participate in small projects or projects that are specific to the tech's assigned department.
Participates in testing and evaluating new software, hardware, systems.
Aided the Information Technology Department to support the business operations of an international corporation with more than 100 branches in sixteen countries.
Help Desk Manager
Supervise the Helpdesk support staff by defining and establishing schedules, setting priorities, providing support/direction and dealing with administrative issues as needed.
Gather and analyze metrics to benchmark the helpdesk workload/performance issues. Help Desk support for up to 1000-2000 users.
Ensure that staff provides timely and considerate customer service to end users by fielding Helpdesk calls and resolving technical issues.
Ensured continued profitability of an online help desk by reducing the time required to resolve customer support requests from seven hours per quarter to two and a half hours, resulting in increased customer satisfaction and retention.
Reduced technical support calls by 20% while shutting down and reinstating a live Web site without affecting critical business services or negatively affecting staff morale.
Help Desk Associate
Support hospital staff through upgrades, system changes enhancements and optimization activities related to CPOE and advanced clinical applications tools.
Provided ongoing system maintenance, troubleshooting, and issue management.
Tasked with training new hires on internal systems and procedures. Trained 3 new hires in 4-month period as company rapidly expanded.
Earned three awards for service excellence, accuracy, speed, and completeness in resolving complex problems related to network security and information exchange.
Trained in advanced computer technology and networks, so that I possess a working knowledge of Windows XP and Windows 7 operating systems.
Help Desk Associate
Enrolled patients in insurance copay system and answered questions in professional and courteous manner.
Handled system troubleshooting for pharmacies, hospitals & insurance companies.
Facilitated patient check reimbursements, general patient outreach, and customer service.
Assisted in the installation, testing, and network support of LAN servers.
 System administrators requested my assistance to troubleshoot a problem with the Microsoft Exchange Server 2000 server.
Help Desk Manager
Obtained and maintained thorough understanding of applications, equipment, and software used by company.
Ensured compliance with best practices regarding process development and implementation.
Served as System Administrator of Numara Footprints ticketing system.
Provided technical support for computer users on a daily basis by assisting them in establishing their PC's functionality.
Provided technical support for the IT department by assisting them with performance monitoring for servers, desktops, and printers.
Help Desk Support
Assisting in setting up University Wi-Fi Settings and resetting password using Active Directory group policy.
Serving as the first point of contact for customers seeking technical assistance over the phone or email.
Answered Help Desk Level 1-2 phone calls, created tickets for those issues, and resolved them efficiently and effectively.
Resolved daily help desk tickets and issues in the office, printer, fax, OS (Windows NT/XP/7/10), and update drivers.
Assuring proper disposal of obsolete or defective equipment.
Help Desk Analyst
Managed the help desk inbox/ticket queue and provided onsite and remote support to over 1,000 GfK employees (approx. 120 onsite).
Used active directory to create/remove user accounts, email addresses, and distribution/security groups.
Became familiar with and used McAfee ePolicy Orchestrator to manage laptops, force policy changes (encryption service), and unlock accounts.
Served as the office receptionist; scheduled appointments and unified incoming mail into designated filing areas.
Continuously provided first-line technical support for a network of clients, including customer service, computer troubleshooting, and training for program and hardware upgrades.
Help Desk Support Associate
Utilized Active Directory to unlock accounts, reset password, add users to groups, and add computer to proper organizational unit before joining them to the domain.
Managed mobile phone two-factor authentication setups and accounts via WebADM administrator portal.
Provided support to a user environment that uses Citrix Desktop, which includes session resets and profile rebuilds.
Provided remote support via DameWare Mini Remote Control and log tickets via Manage Engine Service Desk Plus portal.
Focused customer satisfaction by exceeding customer expectations as a customer service representative.
Help Desk Support
Investigate end user issues, identify the cause, determine possible resolutions, and test and implement solutions.
Worked with vendor support contacts to resolve technical issues with desktop hardware and software.
Key contributor in the implementation of a ticket system workflow for better tracking of issues reported.
Assisted with the documentation of current procedures and troubleshooting of applications.
Defined requirements pertaining to the completion of projects in a timely manner in order to achieve client satisfaction.
Help Desk Manager
Responsible for managing the banking helpdesk for top level support on a 24/7 basis.
Full responsibility of the help desk staff including performance evaluations, promotions, hiring and disciplinary action.
Maintained awareness and education of changing trends in technology and regulations in the banking industry.
Worked with clients to define the objectives necessary for the completion of those projects in an efficient manner by coordinating efforts with client personnel.
Fulfilled IAAN Task Force requirements.
Help Desk Analyst
Setup new user accounts and exchange emails with the use of Active Directory and Exchange Server.
Filed incoming help desk tickets using Help Desk Authority, logged resolution of issues, and informed the users.
Managed, setup and configured laptops, iPads and iPhones for all field nurses.
Advised customers on how to resolve their own computer problems.
Responded to calls for assistance from customers and most of the time found a resolution for the customer's problem.
Help Desk Assistant
Trained news student employees, ensuring they are apprised of daily office operations.
Managed IT office openings and closings; reconciled rental equipment inventory.
Maintained the confidentiality of the campus users through SASS system.
Qualified as a Certified Desktop Support Technician through Knowledge Quest and Cisco Certification Institute bypassing both exams.
Followed all guidelines in maintaining documentation, documentation backups, and document retention policies.
Wrap Up
You need to make sure your resume stands out amongst the other candidates. It is the first impression that employers have of your work experience and skills. Use the samples above to put together a resume that best suits your needs and helps you get the job you want.