A Director of Information Technology (IT) has experience leading the IT department of a company. Their duties include maintaining computer systems, networks, and software; overseeing information security; identifying resources; managing projects; overseeing staff to make sure work tasks are completed on time; supervising IT personnel; analyzing trends to anticipate future needs; etc. To become a director of IT, you typically need at least 8 years of professional experience in information technology management along with an MBA or master's degree. Directors of IT must have knowledge of hardware and software systems, be knowledgeable about emerging technologies, possess strong communication skills, be intellectually curious and creative problem solvers, and exhibit leadership abilities by mentoring team members.
A good resume is well-written and concise. It should be neat and easy to read, listing previous experience in a logical order.
Our resume samples will provide you with multiple examples of what you can include when writing your resume.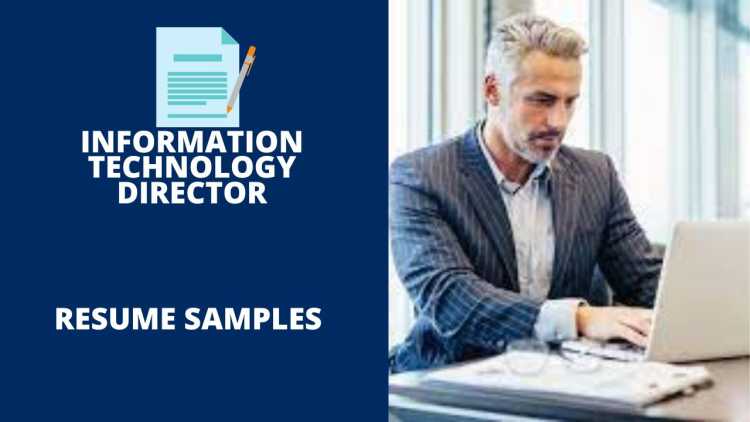 The Best Information Technology Director Resume Samples
These are some examples of accomplishments we have handpicked from real Information Technology Director resumes for your reference.
Director Of Information Technology
Completed a network infrastructure migration of a busy call center from legacy switches to new Cisco 3850 switches with VLANs optimized for VOIP and Video conferencing. The client experienced zero down time.
Worked in conjunction with Cisco voice engineers from GDT to deploy a new call center using the Cisco UCS solution.
Replaced legacy firewalls with Cisco ASA 5525 firewalls configured as a High Availability pair for fault tolerance.
Deployed a new Cisco remote VPN solution integrated with Windows AD for SSO for all remote users.
Managed the day-to-day operations of the organization's network infrastructure, including a design and implementation of a custom Web site.
Director Information Technology
Directed information technology and security strategy and operations of a large regional bank.
Developed and executed an organization wide infrastructure upgrade program that increased availability and security of information processing and assets.
Achieving 5 9's availability in all critical technology categories over a 2 year period.
Scored highest composite FDIC examination scores for the 2 years on staff.
Responsible for all facets of information technology, including new hire training, systems development, and support, project management, electronic mail administration and management, network security/network administration.
Director Of Information Technology
Managed a project to successfully select a Construction Management ERP system for EPC Services Company then managed the project to implement the chosen Vista by Viewpoint ERP system dramatically improving the company's construction, project management, field reporting and business intelligence processes.
Managed a project to select an applicant tracking system for Electrical Consultants, Inc. Led the team through requirement gathering, RFP process, price negotiations and final selection.
Managed the project for the implementation of the chosen HRIS application.
Implemented a service desk platform for both companies greatly improving the capabilities of the IT department to accept, track and complete service requests with SLA reporting and customer surveys.
Handled daily activities in an office environment involving multiple-member teams.
Director Of Information Technology
Facilitated a system-wide technology purchase including, hardware, software licensing and vendor negotiations.
Solely responsible for managing a budget of over $1.5M.
Established an efficient, positive streamlined vendor invoice payment process by consolidating to an enterprise account for phone and data.
Managed two third-party help desk support teams, providing systems/administration, POS support and managed hardware services.
Developed demonstration/training support for an operating system that included installation and configuration procedures as well as suggested solutions to existing problems.
Director Of Information Technology
Directed the administration of the IT Department and daily operations including providing technical direction and strategic planning for development, design and systems integration.
Promoted awareness of security issues among management and users and ensured sound security principles were reflected in organizations' visions and goals.
Developed, tracked, and controlled the information technology annual operating and capital budgets.
Organized training sessions by determining instructor qualifications, scheduling venues, organizing food/beverages, and all other necessary details to make each session successful.
Provided leadership in planning, implementing and maintaining an enterprise-wide IT infrastructure to accomplish a goal of 10% growth per year.
Director Of Information Technology
Member of final budget development team responsible for preparing and presenting the budget to our Elected Officials for approval.
Developed Strategic Goals, works with the Board in the creation of a strategic plan to provide direction to the organization 5 and 15 years out.
Provided guidance and mentoring to my Supervisors and Managers.
Achieved new levels of performance by consistently delivering the highest level of quality through the use of appropriate tools and techniques.
Achieved a 90% annual staff satisfaction rate by establishing continued communication channels for knowledge exchange among staff members and management.
Director Of Information Technology
Managed team responsible for network, infrastructure and desktops for 100-bed hospital and business office.
Secured HIMSS stage 6 Electronic Medical Record Adoption Model (EMRAM).
Co-chaired Meaningful Use committee managed changes required for successful Meaningful Use 2015 and 2016 attestation.
Managed virtual environment that included 200 thin clients that utilized single sign on roaming profiles.
Impacted organizational processes by creating working environments that routinely achieved desired results in spite of multiple priorities on the agenda.
Director Of Information Technology
Accountable for end-to-end IT including operational availability, stability and performance of infrastructure.
Managed IT budgets, inventory, and desktop support (SLA's) and provide quarterly status reviews to senior partners.
Provided leadership and mentored team of IT professionals.
Communicate and govern IT standards, security, change management and quality assurance to comply with internal and external audits.
Assessed customer needs and provide customer support. Developed and managed an IT project for over 6 years.
Director Of Information Technology
Extended/maintain/manage all of the company's Shoretel VOIP System. (built/maintain workgroup and queue handler for 12 member support call center).
Developed regularly scheduled update/maintenance windows for local and cloud servers.
Developed regularly scheduled reviews of Firewall Analyzer reports, Server events/errors, and regularly run Microsoft Baseline Security Analyzer on all servers(local & cloud) to reveal and prevent potential vulnerabilities.
Designed and implemented a security process for the primary client's network.
Implemented a hardware penetration system to limit network access to critical applications.
Director Of Information Technology
Directed IT operations supporting global operations, delivering 24/7 access to ERP system and ancillary applications.
Managed all aspects of JD Edwards Enterprise One ERP implementation and upgrade, including direct CNC support.
Also supported Siebel CRM and Oracle DB integration.
Led improvements to IT supported warehouse operations, which provided efficiencies towards lower inventory overhead, and better estimated shipping dates.
Supported multi-vendor hardware with OS/software installation, configuration, and troubleshooting.
Director Of Information Technology
Supervise personnel on the installation, operation, deployment, provisioning, and maintenance of network switches, routers and firewalls.
Responsible for supporting all city applications and servers, laptops, desktops, mobile devices, radios, access control systems and cameras.
Responsible for overseeing and participating in an enterprise wide virtualization project utilizing VMWare vCenter Server.
Supported multi-vendor document management; configured print servers, printers, scanners remotely or on-site with appropriate security measures through printing applications (such as Adobe Acrobat).
Configured new equipment and maintained current systems.
Director Of Information Technology
Developed a network with data center co-location for 7 pharmacies, 325+ employees, 50+ remote field users, 100+ VMs. Previously sites had servers on site.
Worked with COO to develop and collect performance metrics and analyze revenue cycles, purchasing, inventory performance, and reimbursement from all sites.
Implemented VoIP solution within our infrastructure including co-location and redundant SIP trunking.
Improved overall performance of the department through focused attention on issues, requirements, support of infrastructure/distribution end-user level technologies.
Designed and implemented a computer system using Microsoft, Cisco, and VMware products.
Wrap Up
You need to make sure your resume stands out amongst the other candidates. It is the first impression that employers have of your work experience and skills. Use the samples above to put together a resume that best suits your needs and helps you get the job you want.