Computer Engineers design, maintain and improve computer systems. Their duties include designing hardware, developing software, analyzing operating systems, updating equipment, ensuring functionality and presenting blueprints. Computer engineers have a minimum bachelor's degree in computer engineering or a related discipline. They must understand programming languages, have excellent oral and written skills and be analytic, problem-solving, creative, innovative and efficient.
A good resume is well-written and concise. It should be neat and easy to read, listing previous experience in a logical order.
Our resume samples will provide you with multiple examples of what you can include when writing your resume.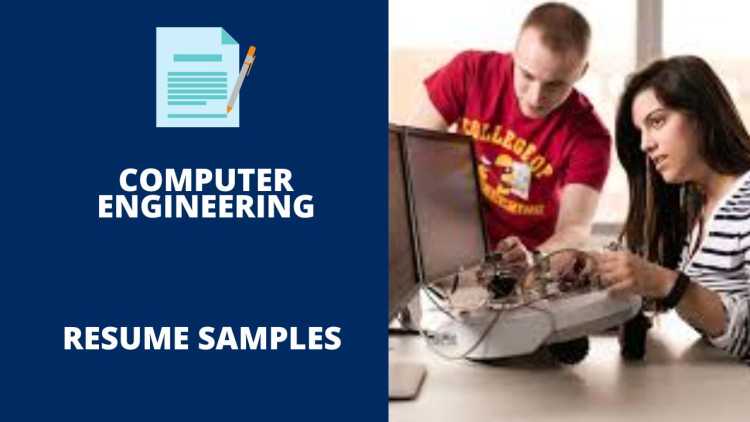 The Best Computer Engineering Resume Samples
These are some examples of accomplishments we have handpicked from real Computer Engineering resumes for your reference.
Computer Engineer
Working as a member of the Versat Sarasola 7.0 deployment team in the assigned companies.
Meeting the customers to evaluate the requirements, analyzing the compatibility of the system retrieving and analyzing the data.
Providing training and instruction for new users of management systems.
Solving hardware and software problems in cooperation with staff and between departments.
Improved, redesigned, and implemented a faster network for the marketing department.
Computer Engineer
Monitor and respond to help desk service requests by answering basic to advanced system and application questions and queries from end users.
Provided general support for Windows 10 and Macs.
Develop and conduct various training and instruction for system users on O365 services and other applications.
Designed a more efficient, faster system to input data for the servers.
Selected as a participant in a company-sponsored program that exposes engineers with outstanding innovations in technology to senior executives.
Computer Engineer
Develop and maintain system deployment automation processes to enable teams to deploy, manage, configure, scale and monitor their applications.
Build, configure and manage tools for fast and reliable deployments of software.
Install new software releases, server automation, system upgrades, evaluate and install patches, and resolve software related problems.
Established cutting-edge design and standards for global business communications protocols.
Extended an innovative computer architecture protocol across multiple departments and companies; received recognition during presentation to CEO, executive board members, and directors of operations.
Computer Engineer
Information Technology support responsible for enterprise wide services and connectivity to multiple end users.
Responds to customer requests, such as account issues, maintenance of accounts, patches, password requests and resets; short-duration, touch maintenance and fixes.
Maintains surveillance of network issues and customer problems, and directly problem-solves hardware and software to determine appropriate course of action.
Serves as Team Lead responsible for training and integration of newly acquired technicians.
Visualized theoretical and application engineering as a visual process requires that users make conscious and deliberate efforts to understand the principles behind their actions.
Computer Engineer
Managed the design, testing, and validation of proprietary hardware and software solutions for customers in military, government research, and university fields.
Worked collaboratively with customers to implement and deliver hardware and software solutions for their specific needs.
Experienced in software/hardware engineering from prototyping stages through product delivery.
Identified, researched, developed, and implemented software solutions for many distinct applications within the industrial areas of information technology.
Considered each task a problem to be solved with creative approaches; made it easier for users to retrieve the company's databases, resources, and service offerings.
Computer Engineer
Provided specialized knowledge of computer hardware, software integration, and computer systems administration to complete complex tasks.
Negotiated with Senior leadership to mitigate vulnerability findings to improve the security posture of the Organization.
Participated in application modernization, virtualization, and migration activities.
Used testing methods and procedures to determine if the system meets its intended goals; implemented extensive error checking routines in this software to guarantee high system reliability.
Invented new programs/tools as they were needed; developed a custom query tool which used an SQL API allowing external processes access to our database systems.
Computer Engineer
Established mapping algorithms to created knowledge constructs from non-relational databases.
Developed inference engine to aid in the identification and classification of intricate systems.
Worked with small team in an agile environment to develop multiplayer scenario simulation platform.
Developed database structure and related software systems; actively participated in the development of database systems, especially query and report generation software systems.
Was involved in the development of replacement systems for the production area with a focus on SQL server and application server solutions.
Computer Engineer
Created computer application videos for work staff within the company nationwide.
Added and converted proprietary data files to Document Management System.
Created instruction documents for new database modules.
Was responsible for the installation, configuration, and maintenance of network-related equipment.
Created database structures such as material sourcing, inventory, customer information and expense management system.
Computer Engineer
Service electromechanical equipment ATM's and self-checkout systems and computers.
Repair and Oversee hardware like peripherals, large system printers, plotters, enterprise level servers, communications equipment, networks, and item processing.
Provided maintenance for sorters, installation, network management, multi-vendor maintenance, and software support.
Updated databases against requirements of business partners to ensure data integrity.
Installed and maintained computer networks for small businesses based on multiple LAN and WAN technologies.
Computer Engineer
Worked in the field of Integrated Automation System using Programmable Logic Controller.
Designed PCB Layout using PCB Layout Software.
Theoretical Study on Telephone Exchange Information and Planning Systems.
Updated existing servers to handle changing needs of the company to increase efficiency and reliability.
Implemented a disaster recovery plan to ensure the safety of critical data in case of system failure or natural disaster.
Computer Engineer
Restored an endangered program by identifying opportunities to improve software development processes and ensuring appropriate courses of action were taken.
Oversee Software and Systems Engineering efforts on Research and Development (R&D) and Sustainment programs.
Review contracts for cost, schedule and technical requirements.
Determine necessary resources and risks, and develop appropriate risk mitigation strategies.
Kept tech-support costs to a minimum by troubleshooting problems utilizing technical reference books, online tools, and manufacturers' representatives.
Computer Engineer
Results-based strategic and technological support for higher education institutions.
Implemented and deployed security protocols and software for campus wide emergency response.
Managed, updated and controlled clusters of computer labs, faculty and staff systems across campus.
Troubleshooting (locally and remotely) computers, virtual machines, networks and servers using Enterprise software solutions.
Assisted in developing an online order entry system for several new products that now generates over $28,000 per month in sales through website alone.
Wrap Up
You need to make sure your resume stands out amongst the other candidates. It is the first impression that employers have of your work experience and skills. Use the samples above to put together a resume that best suits your needs and helps you get the job you want.