Automotive Technicians diagnose and repair vehicles. Their duties include installing and maintaining parts, conducting mechanical and electrical system tests, inspecting and adjusting equipment, and determining the cause of malfunctions in vehicles. Automotive Technicians typically need a high school diploma or equivalent along with certification from an automotive program. Automotive technicians need to have good eyesight, manual dexterity, physical strength, problem-solving skills, excellent communication skills, and teamwork skills.
A good resume is well-written and concise. It should be neat and easy to read, listing previous experience in a logical order.
Our resume samples will provide you with multiple examples of what you can include when writing your resume.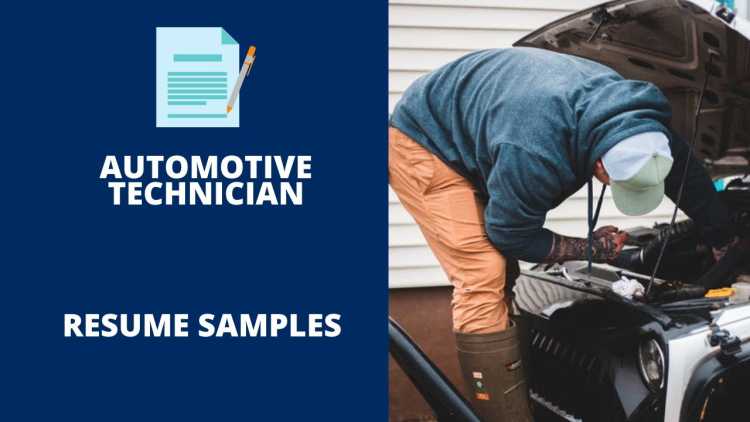 The Best Automotive Technician Resume Samples
These are some examples of accomplishments we have handpicked from real Automotive Technician resumes for your reference.
Automotive Technician
Examine vehicles to determine the extent of damage or malfunctions.
Communicate with customers regarding vehicle issues and potential repairs.
Performed the following: remove and replace tires, shocks, struts and brakes, etc.
Contribute to repeat and referral business by using strong customer service and problem solving skills.
Performed vehicle maintenance and repair for all types of domestic and foreign vehicles.
Automotive Technician
Skilled and dependable hands-on experience with diagnostics, and repairs on domestic and imported cars.
Demonstrated talent for quickly and accurately diagnosing mechanical issues and finding corrective actions.
Displayed solid commitment and loyalty to the company, often working overtime as needed.
Maintained constant dedication to quality, maximized accuracy, and ensured jobs were completed correctly the first time.
Maintained over 100 parts per location as well as 15 to 20 vehicles at a time in inventory.
Mayhem Auto Parts, Bellingham, WA November 2001-Current.
Automotive Technician
Performs Mercedes preventative and maintenance care, including services, tire rotations, transmission flushes, brake flushes, air conditioner re-charges, battery testing.
Test drives vehicles to verify customer compliaints, and upon completion of work to ensure customer safety.
Rebuilds, replace, or repair major vehicle components, assemblies, and systems including engines, transmissions, suspensions, etc.
Operates tools, equipment, and machinery according to prescribed safety procedures.
Tested and repaired automobiles, trucks, and heavy equipment.
Automotive Technician
Test drive vehicles, and test components and systems, using equipment such as infrared engine analyzers, compression gauges, and computerized diagnostic devices.
Examine vehicles to determine extent of damage or malfunctions.
Repair, reline, replace, and adjust brakes.
Follow checklists to ensure all important parts are examined, including belts, hoses, steering systems, spark plugs, brake and fuel systems, wheel bearings, and other potentially troublesome areas.
Installed, maintained, or repaired all types of lighting systems.
Automotive Technician
Diagnose vehicles by running short tests and test plans followed by repairing the vehicle.
Replace and balance tires, as well as replacing bent/cracked wheels.
Replace faulty computer modules and reprogram to the latest software integration date as per the manufacturer.
Complete maintenance repairs such as brake jobs, spark plugs, fuel filters, fuel lines, thermostats, radiator and hoses, engine mounts, tie rods, control arms, etc.
Replaced windshields and installed new lights; sold new tires; serviced brakes; replaced batteries in vehicles.
Automotive Technician
Identified mechanical problems of vehicles manually or by means of computerized diagnostic tools.
Replaced damage parts of vehicles including R/R differentials, transmissions, motors, suspension components.
Performed regular vehicle maintenance tasks; oil changes, lubrications, tune ups, brakes, exhaust systems.
Maintain vehicle functional condition by listening to operator complaints, conducting inspections, repairing engine failures, repairing mechanical and electrical systems malfunctions, replacing parts and component.
Repaired electrical wiring, circuits, and controls as required.
Automotive Technician
After mastering processes, trained new hires in many capacities.
Acted as a resource on roles such as wrecker operator and forklift operator; taking on a leadership role.
Consistently maintained excellent quality and high numbers in vehicular repair/maintenance.
Delivered quality maintenance and repairs on vehicles, tractors, and other heavy machinery.
Served apprenticeships to become a Certified Maintenance Technician for two different automobile companies.
Automotive Technician
Performed preventative maintenance on all makes and models of vehicles.
Performed small to large engine and drivetrain repair along with all other vehicle systems.
Experienced in Client Interactions involving a wide range of automotive related questions.
Evaluated vehicle difficulties for proper maintenance, which resulted in increased vehicle reliability.
Completed updated training and certifications in emissions testing ability through state-of-the-art electronic systems and methods; held automatic machine operator certification.
Automotive Technician
Diagnose vehicles issues and provide necessary mechanical repairs.
Provided detailed information to repair orders for better customer service experience and understanding.
Communicate with clients to build relationships and provide guidance with their automotive care.
Repaired electrical system malfunction with the help of advice from more than three dozen electronic parts books, owner's manuals, and specifications; developed technical skills to address regional calls for assistance with use of computer equipment.
Repaired and installed six different car models, as well as auto body repair of small/medium vehicles.
Automotive Technician
Performs work specified on the repair order with efficiency and in accordance with dealership standards.
Tests components and systems using diagnostic tools and special service equipment.
Diagnoses, maintains, and repairs vehicle automotive systems including engine, transmission, electrical steering, suspension, brakes, air conditioning.
Communicates directly with the Service Advisor so that customers can be informed if any additional service is needed.
Installed and repaired large custom auto body and fabrication projects.
Automotive Technician
Inspected and diagnosed mechanical defects in trucks, automobiles and other mechanical equipment.
Maintain records of repairs, parts used and names of suppliers, prepare and maintain records of work orders and work performed.
Reconditioned, adjusted ignition, carburetor systems, service and maintain fuel and cooling systems.
Developed proficiency in computer diagnostic testing and repair techniques.
Maintained professional appearance while performing multiple roles in a fast-paced environment with little supervision.
Automotive Technician
Specialized in repair of automotive and manual transmissions as well as repair, and replacement of brake system.
Assisted lead mechanics with diagnosis and repair of all units and systems.
Maintained constant dedication to quality, maximized accuracy, and ensured jobs were completed correctly the first time.
Display solid commitment and loyalty to the company, often working overtime as needed.
Correctly diagnosed problems identified their cause and correctly resolved them within a timely manner.
Wrap Up
You need to make sure your resume stands out amongst the other candidates. It is the first impression that employers have of your work experience and skills. Use the samples above to put together a resume that best suits your needs and helps you get the job you want.