Mechanic Helpers assist automotive mechanics. Their duties are performing oil changes, tire rotations, changing car fluids, repair/replace car parts under supervision, assist mechanic with diagnostics, and any other requested task. You need a diploma or GED to work as a Mechanic Helper. Mechanic Helpers need to be able to follow directions, be self-motivated, understand basic automobile knowledge, have problem-solving skills, excellent verbal communication, customer service skills, have teamwork skills, and work efficiently to be successful.
A good resume is well-written and concise. It should be neat and easy to read, listing previous experience in a logical order.
Our resume samples will provide you with multiple examples of what you can include when writing your resume.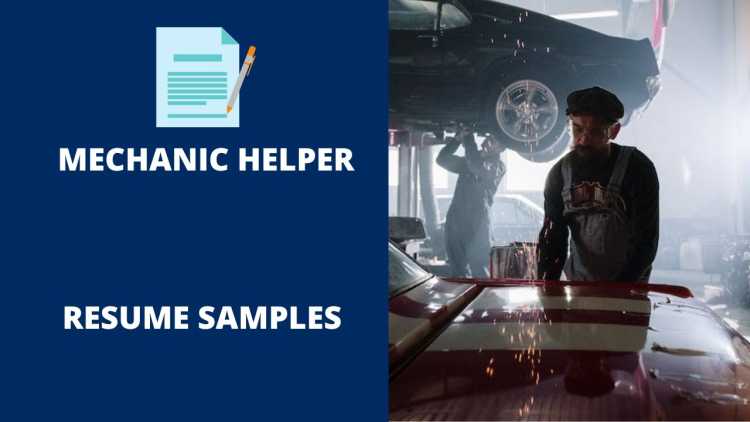 The Best Mechanic Helper Resume Samples
These are some examples of accomplishments we have handpicked from real Mechanic Helper resumes for your reference.
Mechanic Helper
Help mechanic switch out parts on machines such as turbo, tracks, tires, run diagnostics on machinery to see if they were running properly.
Help mechanic service air conditioning, heating engine-cooling and electrical systems.
Repaired and replaced belts, hoses and water pumps, radiators.
Responsible for developing, recommending and performing preventive maintenance procedures like cleaning, vacuuming equipment, changing filters and oiling parts.
Recognized for outstanding performance; exhibited the skills of a Certified Mechanic Helper within six months from entry into the Career.
Mechanic Helper
Repair and perform preventive maintenance on light and heavy duty diesel trucks.
Working with the electrical system, engine and all of its working parts, using diagnostic tools to identify issues with each vehicle.
Oil changes, tires, batteries, brakes, alignments and all aspects of pm's on trucks.
Commended for focusing on organizational skills, efficiency, and time management.
Identified as a role model by peers; was commended by Manager and co-workers for exceptional ability to work in a team environment.
Mechanic Helper
Transfer tools, parts, equipment, and supplies to and from work stations and other areas.
Disassemble broken or defective equipment to facilitate repair and reassemble equipment when repairs are complete.
Install or replace machinery, equipment, and new or replacement parts and instruments, using hand or power tools.
Examine and test machinery, equipment, components, and parts for defects to ensure proper functioning.
Received multiple "Employee of the Month" awards; recognized as an asset to the company through effective communication with company customers.
Mechanic Helper
Fire pump test also Repair leaks, changing painted or outdated heads, correcting any deficiencies found during test or inspection.
Organize, clean and joint material, also deliveries hang main pipes & brunches.
Make sure all sprinklers or pipes are leveled and straight also safe for testing for air pressure and water.
Accountable for initiating and completing urgent repairs within critical time frames; satisfied customer needs.
Puzzled over complex engine repair issues and taught fellow mechanics basic to advanced auto repair.
Mechanic Helper
Keep shop orderly and well stocked with parts and various fluids.
Transfer tools, parts, equipment, and supplies to and from work stations and other areas.
Hold or supply tools, parts, equipment, and supplies for other workers.
Prepared work stations for use by mechanics and repairers.
Analyzed engines at auto parts stores for leaks, overheating, and other technical issues.
Mechanic Helper
Using hand tools, schematics, gages, and mechanical aptitude to put accessories and parts on engines per customer specifications.
Running engines for specified amounts of time to check performance, diagnose problems, and set gages.
Making wiring harnesses according to schematics and customer specifications.
Performed basic diagnostics (involving spark plugs) and mechanical services (involving brakes, belts, water pumps) on a range of popular cars at home.
Contributed to the success of his company by developing a video library, regularly publishing instructional videos, articles, and blogs on topics including car repair/maintenance in his spare time.
Diesel Mechanic Helper
Learning to complete Diesel jobs on trucks on own with little to no supervision.
Analyze and trouble shoot problems on trucks to detect the problem to be fixed on trucks.
The use technical equipment to run diagnostic test on trucks and equipment.
Trained numerous technicians in the maintenance of industrial machines in multiple nations.
Quickly learned to efficiently fix, service, and maintain vehicle engines, machine tools, electrical systems, and other mechanical devices.
Mechanic Assistant
Duties include assisting in vehicle inspections looking for damages on the exterior, tire wear, leaks, loose hardware and working lights.
I have also performed oil changes, changing tires, replacing fuel filters, air filters, cabin filters, and oil filters.
Detail oriented in washing and polishing vehicles.
Utilized hydraulics to lift heavy weights for repair and assembly.
Recognized for actively participating in training on the job; demonstrated a willingness to learn new skills.
Mechanic/ Helper
Assisted mechanics with the rigging and mounting of the heat exchanges and chillers.
Test pipes or tubing joints, connections for leaks, using pressure gauge or soap and water solution.
Assisted mechanics with replacing compressors, condensate pumps, thermostats, and motors.
Test electric circuits and components for continuity using electrical test equipment.
Outstanding record in communicating with superiors and peers; demonstrated dependability in ensuring proper functioning of equipment.
Helper/ Junior Mechanic
Assisted in installing and maintaining plumbing systems.
Read blueprints and drawings to determine exact specifications and where plumbing system will be installed.
Determine water supply networks and waste drainage systems.
Promoted to a full-time Mechanic position after consistently producing high-quality results; praised by customers for efficiency and effectiveness.
Managed the facility's fleet, minimizing operating costs by maximizing utilization, exposure to the elements, and fuel economy.
Mechanic Helper
Fire sprinkler variety of testing service as of Hydrostatic test, Main drain test
Fire pump test also Repair leaks, changing painted or outdated heads, correcting any deficiencies found during test or inspection.
Organize, clean and joint material, also deliveries, hang main pipes & brunches.
make sure all sprinklers or pipes are leveled and straight also safe for testing for air pressure and water.
Performed preventive maintenance procedures, ensured equipment readiness, and adhered to company SOPs.
Jr Mechanic
High voltage and low voltage electrical Wiring and framing, pipe fitting and outlet and switches in commercial and residential buildings.
Continuous traveling to multiple locations.
Blueprint Layouts, running wire and piping for disconnect switches and panels.
Delivered dependable service in all weather conditions, gaining recognition from management as a solid contributor with a strong work ethic.
Served on the special response team for fire-related emergencies; performed tasks in a fast-paced environment under extraordinary stress.
Wrap Up
You need to make sure your resume stands out amongst the other candidates. It is the first impression that employers have of your work experience and skills. Use the samples above to put together a resume that best suits your needs and helps you get the job you want.