People managers oversee the day-to-day activities of team members and ensure that their needs are met. They must be able to plan, direct, and coordinate the activities of employees in their division. To be a people manager, you must have a degree in human resources or another related field with 1-3 years of experience in relevant work. You also need excellent communication skills (written and verbal), people management skills, organizational skills, self-management skills, problem-solving skills, creativity and innovation skills, judgment/decision-making skills, multitasking/time management skills, leadership capabilities, public speaking abilities, negotiation ability /conflict resolution ability, coaching ability/enablement/mentoring ability, service orientation.
A good resume is well-written and concise. It should be neat and easy to read, listing previous experience in a logical order.
Our resume samples will provide you with multiple examples of what you can include when writing your resume.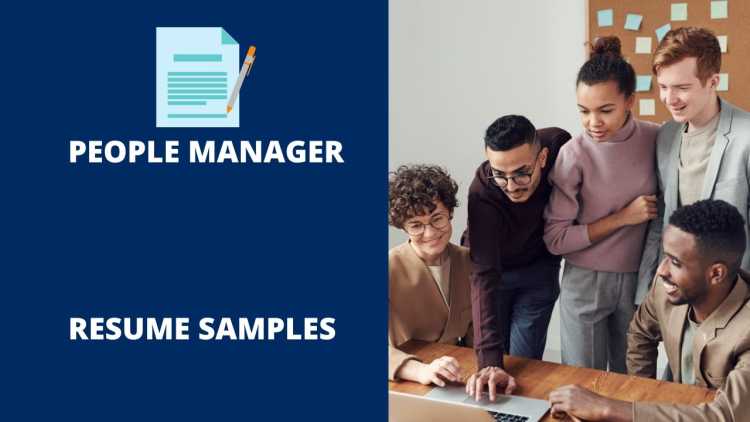 The Best People Manager Resume Samples
These are some examples of accomplishments we have handpicked from real People Manager resumes for your reference.
People Operations Manager
Transitioned to Canary's People Ops Manager role.
Continuing all of my generalist duties while taking on planning and decision making on a more independent and strategic level and also all recruiting duties.
Recent projects include implementing a PEO and re-leveling the organization.
Managed, supervised, and trained staff of five employees in the daily operations of the department.
Created weekly schedules for all employees; delegated and motivated staff to attain efficiency in daily operations through improvising, using resources thoughtfully, and maintaining a professional attitude.
Manager Of People
Overhauled billing and created a process document; currently training Benefits contact to start managing.
Panel presenter on Core Values/Recruiting and associated impacts, within 6 months of hire, for company-wide conference.
Interfaced with multiple levels of management, including Owner/President(s), National, Regional and Area Directors.
Successfully maintained department's efficiency during times of excessive workloads by delegating responsibilities to subordinates.
Provided excellent customer service by advising customers on their purchasing options while encouraging them to become familiar with merchandise by offering self-help options.
People Resources
In this tech start up, provided complete HR framework including leadership and coaching to managers and employees on all aspects of HR the organization.
Interpret and implement HR policies, practices and procedures to further the values and strategic vision of the business.
Managed key HR initiatives Create and promote a fun, positive, fast-paced, accountable culture.
Met sales goals by working effectively with other departments on cross-promotions.
Screened, selected, trained, and managed a team of 20 employees.
People Manager
Hiring: from interviewing to the orientation process, with an emphasis on team building.
Creating schedules that balances availability with the needs of the business.
Initiating payroll and managing time keeping for all employees.
Creating training plans according to the needs of the business but also to the individual.
Conflict resolution and counseling for employees including work-related issues as well as personal.
People Department Manager
Correctly receive orders, processed payments and respond appropriately to guest concerns.
Communicate clearly and positively with co-workers and management.
Resolve guest complaints promptly and professionally.
Maintain a neat, well groomed appearance including impeccable personal hygiene.
Accomplished mandated audits of department compliance with hospital standards.
Department Manager
Met all customer call guidelines including service levels, handle time and productivity.
Cross-trained and backed up other customer service managers.
Devised and published metrics to measure the organization's success in delivering world class customer service.
Handled an emergency situation correctly to avoid fines or lawsuits; instructed staff to report all unsafe environments and never tolerated nor overlooked any violations of safety protocol.
Staffed and scheduled three different shifts while maintaining quality service levels.
Department Manager
Responsible for department's daily operations, high-volume customer service as well as setting, monitoring and driving sales goals.
Maintained a high level of standards for employee service and knowledge.
Recruited, interviewed, hired, developed, evaluated, coached and counseled employees.
Completed 250+ personal training sessions by implementing 60+ new techniques to enhance health and wellness programs provided at the center.
Managed 28 employees, one department of a five-department chain of retail stores.
Department Manager
Company and departmental monitoring of various software that process ACH and Point of Sale products.
Evaluate and monitor calls to determine compliance standards and approved Quality Control.
Consumer/Customer and retail support.
Collaborated with management to save $60,000 in payroll and $7,500 in inventory while increasing the overall efficiency of operations by 14% during three years as manager.
Earned the "Employee Appreciation Award" by employee consensus for my guidance, discipline, and commitment in developing staff and maintaining employee morale.
Associate Manager Of People
Promotes and models legendary service; creates a culture of hospitality in the store and salon.
Understands, manages and executes the GEM Program in accordance with company standards.
Builds success through the development and optimization of people.
Promoted to management after demonstrating outstanding performance as a sales trainer; trained an entire staff on a new computer program within one hour and twenty minutes.
Developed work program and instituted effective management practices.
Assistant Store Manager – People
Utilizing Dayforce on a daily basis to write schedules based on planned efficiency, monthly incentive budget plans, and associate availability.
Managing payroll based on sales, hours, monitoring payroll, time edits, and payroll approval.
I also conduct monthly LP assessments, quarterly safety assessments, maintain an LP target store investigation, LP video review, and basic office and computer tasks.
I help maintain a positive customer service experience and going above and beyond to make customers happy trough being the customers hero.
Created a positive and professional work environment where employees consistently met high levels of productivity, quality, and customer service.
Manager
Customer loyalty through the courteous and efficient resolution of disputes, complaints, and discrepancies.
Motivated and enhanced employee morale which resulted in low turnover and progressive staff development.
Reputation as an efficient manager of people and resources with a record of integrity, dependability, and exceptional customer service.
Provided a motivating environment through active employee involvement in department decision-making.
Achieved record profits exceeding goals through innovative marketing strategies and targeted customer service.
Manager
Led and develop Film Crew and Supervisors to perform the "Essential Functions" of their positions.
Provided direct supervision and guidance to crew members.
Performed daily, opening, and closing operational, and administrative duties.
Recognized as a valuable member of the company's executive team when asked to assume additional responsibilities outside department manager position during the absence of others.
Managed and supervised professional staff while building a reputation in the industry through innovation and expediency.
Wrap Up
You need to make sure your resume stands out amongst the other candidates. It is the first impression that employers have of your work experience and skills. Use the samples above to put together a resume that best suits your needs and helps you get the job you want.