Restaurant General Managers provide supervision to a restaurant. Their duties include managing inventory, conducting staff meetings, recruiting and training employees, maintaining a budget, creating work schedules, and drafting recommendations for promotions. To become a restaurant general manager, you must obtain a degree in business management. Restaurant General Managers must demonstrate adaptability, customer service skills, organization skills, problem-solving skills, financial planning, professionalism, and communication skills.
A good resume is well-written and concise. It should be neat and easy to read, listing previous experience in a logical order.
Our resume samples will provide you with multiple examples of what you can include when writing your resume.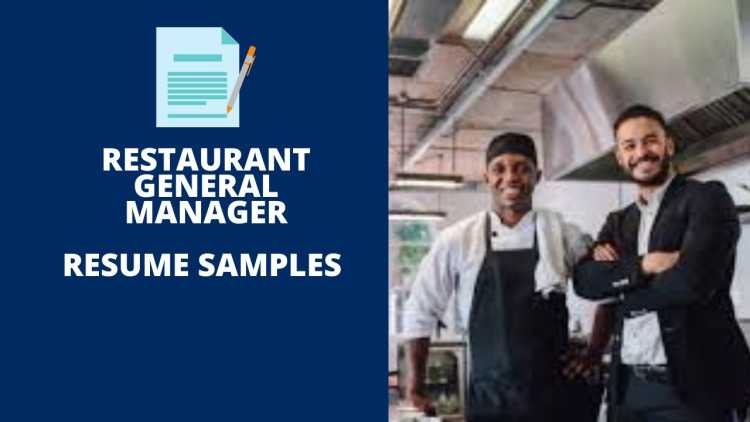 The Best Restaurant General Manager Resume Samples
These are some examples of accomplishments we have handpicked from real Restaurant General Manager resumes for your reference.
General Manager
General Manager and Executive Chef of new American restaurant.
Responsible for all restaurant operations excluding accounts payable.
Helped open restaurant starting with creation of all food and beverage menus, hiring and training of staff and implementation of all operating systems.
Hands on Executive Chef leads preparation and execution of all menu items and daily specials.
Supervised the daily operation of a 100,000 square foot building to provide excellent service, quality, and cleanliness.
General Manager
Responsible for managing the daily operations of our restaurant, including the selection, development and performance management of employees.
In addition, they oversee the inventory and ordering of food and supplies, optimize profits and ensure that guests are satisfied with their dining experience.
Managed shifts which include: daily decision making, scheduling, planning while upholding standards, product quality and cleanliness.
Organized daily staff fulfillment of all customer needs as well as employee issues.
Served on the Board of Directors for the Chamber of Commerce in the town I worked in.
General Manager
Worked throughout opening with chef/partner Trigg Brown and managing partner Joshua Ku, winners of Eater's 2017 Young Guns award, to open a full-service restaurant in East Williamsburg.
Proficient in a wide range of administrative and organizational duties with the purpose of constantly improving systems.
Responsible for all non-food inventory and product acquisition as well as cost, price, and sales analysis.
Sense of urgency, accountability, and the willingness to go the extra mile for all customers.
Instrumental in creation and enforcement of standards, procedures, and policies for all employees.
General Manager
Greeted guests and oversaw the front of house team while coordinating with the Chef and the back of house.
Curated a wine list of around 100 bottles featuring women in wine and comprising a wide array of varietals and appellations; developed relationships with wine makers, vineyard owners, distributors and other wine industry professionals and supervised bar manager on monthly beverage inventory.
Encouraged repeat diner ship by developing and nurturing relationships with new, repeat, and regular guests alike.
Led all hiring for front of house staff, supervised training of new employees, and maintained a professional demeanor even when handling conflict resolution, discipline, and termination.
Won awards and praises from Senior Management for leadership, productivity, communication skills, and increasing customer satisfaction.
General Manager
Areas Management, Food Safety, Customer satisfaction, Customer recovering and Assisting general manage in overall operation.
Projecting and controlling accurate profit & loss line items.
Administering all in-restaurants records and procedures including benefits, payroll, inventories, and security and employee personnel files.
Implementing and conducting in-restaurant new products and procedures.
Developed a growth plan that increased profits and maintained positive relationships between employees and customers by adjusting sales figures to match demand.
General Manager
Develop a pipeline to increase the management models of the restaurant.
Performed cash, food, and operations admit to make sure we were achieving excellent guest experience.
Made sure our management team was leading the crew member to achieve great customers experience.
Created a Club with 150 members, owning all assets and liabilities.
Managed the Hotel Restaurant Manager's staff of seven; gained and maintained quality service ratings.
Restaurant General Manager
Created and maintain a good relationship with customers to ensure business growth.
Managed the day to day operations, Hire, train and develop the staff.
Responsible for controllable profits (cost of labor, cost of food. etc.).
Established, staffed, and operated a café for travelers at an airport checkpoint, making a profit in three months.
Acquired new skills from other managers who had worked 80 hours per week and were devoted to their success.
Restaurant General Manager
Consistently top rated in customer feedback surveys for positive attitude and customer service.
Trained a team of 15 employees on proper customer service practices, script presentation, and fast-paced problem-solving.
Audit inventory levels to ensure product availability, created reports detailing annual revenues and expenses.
Implemented excellent conflict resolution skills in the event of a customer/employee dispute.
Experienced critical thinking as evidenced by practical use of methods from "Thought Processes" by R. Laughlin & W. Lowe.
Restaurant General Manager
Scheduled and directed staff in daily work assignments to maximize productivity
Worked with staff and management to provide excellence in customer services.
Efficiently resolved problems or concerns to the satisfaction of all involved parties.
Continually monitored restaurant and took appropriate action to ensure food quality and service standards were consistently met.
Minimized loss and misuse of equipment through proper restaurant supervision and staff training.
General Manager
Organized special events in the restaurant, including receptions, promotions and corporate luncheons.
Prepared and distributed payroll for staff of 75 employees.
Oversaw front of house personnel to maintain adequate staffing and minimize overtime.
Effectively managed payroll and timekeeping, including completion of the proper paperwork for new hires and terminations.
Took over, restructured, and expanded a 450-room Howard Johnson's Inn.
General Manager
Ensured compliance with company standards in all areas of operation, including product preparation and delivery, customer relations, restaurant maintenance and repair.
Responsible for Inventory management, team management, recruiting and retention of team members, hourly and salaried managers.
Insured that the highest quality products and services were delivered to each customer.
Led the successful opening of 500+ new rooms; secured bank financing for all five expansions in one year.
Organized day-to-day operations and 30 staff from managing over 60 employees, to managing 10 employees.
General Manager
Strategic manager and decision maker, including financial and operational leadership for 2 units and approximately $3M P&L.
Improved district performance against LY by 54% within the first year.
Set record for franchise sales and transaction counts for new store openings with AUV of 1.5M.
Decreased COG's by 24% by implementing an invoice and inventory tracking system.
Worked directly with CBTL Corporate to ensure the training material and guidelines are aligned with corporate standards.
Wrap Up
You need to make sure your resume stands out amongst the other candidates. It is the first impression that employers have of your work experience and skills. Use the samples above to put together a resume that best suits your needs and helps you get the job you want.