District managers are responsible for ensuring the efficient operation of their stores. This role includes tasks like hiring, training, and motivating employees; maintaining workplace safety; enforcing company policies; and creating budgets. To be a district manager, you must have a bachelor's degree in business, management, or a related field. District managers must be self-confident and comfortable working under pressure and with others.
A good resume is well-written and concise. It should be neat and easy to read, listing previous experience in a logical order.
Our resume samples will provide you with multiple examples of what you can include when writing your resume.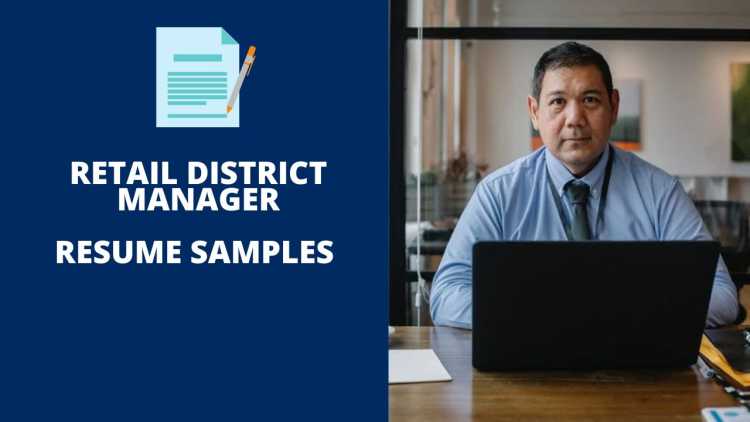 The Best Retail District Manager Resume Samples
These are some examples of accomplishments we have handpicked from real Retail District Manager resumes for your reference.
District Manager
Remained consistently in top 3rd of the company for sales and profit.
Charged with ensuring execution of company standards to drive an exceptional shopping experience.
Fostered partnerships to grow new businesses and support company strategy with restructuring needs to align with company goals.
Led district team in increasing sales.
Implemented retail sales policy by setting salaries and incentives, creating training programs, and monitoring the progress of employees.
District Manager
District Manager for 10 retail locations: 6,000-17,000 sq. Ft with per store revenue of $11-$13 million in annual sales.
Coordinating multi-store operations, Budgeting costs and monthly sales goals.
Supervised a team of 100+ including store managers, department managers and assistants manager.
Provided leadership and direction in all aspects of operations including staffing, team development, merchandising, loss prevention, and payroll control for the district.
Supervised daily operations including signage, lighting, store hours, and services.
District Manager
Responsible for the supervision of all stores within my specified district.
Spend a majority of time focusing on sales and operations at each of the assigned store locations.
Conduct weekly store visits to ensure adherence to in place policy and procedures.
Analyze and monitor sales & transactional data via daily sales reporting in order drive maximum sales results.
Earned respect as a successful leader with a high level of professionalism.
District Manager
Performed quarterly operational audits to ensure effectiveness and efficiency of operations/sales.
Interprets, clarifies, and ensures changes in policies and procedures are communicated.
Ability to highly motivate manager's performance through constant coaching and career development.
Demonstrated leadership skills to including the ability to think strategically and lead change.
Led district to achieve national recognition as the fastest-growing region in company history based on revenues from new and existing stores.
District Manager
Ensured that the district has the appropriate goals, plans and budgets to maximize profitability for all stores.
Ensured that the stores within the district have solid store operation routines that contribute to maximizing sales, efficiency and Profit.
Ensured that each District team member and Store Manager have the right knowledge to drive the business and develop their own teams while working according to the company strategy and guidelines.
Managed a multi-location direct sales business.
Trained and motivated over 35 individuals in customer service, sales, recruiting, and retention.
District Manager
Manage, develop & mentor 12 Store Managers and oversee an employee population of over 100 FT & PT employees including Assistant Store Managers, Lead Retail Consultants, Retail Consultants & Operations Specialists.
Collaborate with internal stake-holders & cross-functional teams such as Marketing, Sales Operations, HR & Corporate Security to address issues, remove risk out of the business and streamline processes & procedures to efficiently increase productivity, course correct store operational issues and mitigate risk to improve store/district P&L.
Oversee hiring/termination/promotions/disciplinary action/accountability within specified region.
Exceeded sales and profitability goals by designing marketing plans to introduce new products, enhance old products, and improve brand recognition.
Directed the opening of a new operation by outlining detailed steps for the design of office space, hiring of employees for respective positions, and the creation of a comprehensive training program for all employees.
District Manager
Oversee multi-units in aspects of sales & operations including staffing, team development, merchandising, budget & profitability for a 7-location district, total of 55 employees with yearly revenue of over $10 million.
Maintain full accountability for P&L; managing budgets, expenses& execution within territory; successfully designed training programs which cut costs by 30%.
Performed human resources function including recruitment, training, scheduling, coaching & disciplining employees; decreased turnover rate by 15%.
Implemented sales frameworks, processes, and tools, building a broken territory from the ground up.
Promoted from Sales Representative to District Manager in 6 months due to exemplary performance which included recruitment, retention, revenue growth, product development & innovation; along with other responsibilities.
District Manager
Directed staff development programs to increase revenue and ticket spend in the commercial and retail business through implementing store report cards that were reviewed weekly with Core staff in store.
Raised growth of business from 2%-5% over last year with program.
Empowered store teams to execute exceptional customer service consistently: analyzed Speed Perks Loyalty scores to identify key drivers and developed action plans resulting in a 5% increase in sign ups weekly and an increase in ticket spend from $20.50-22.50.
Managed districts controllable expenses: managed labor expenses through reviewing schedules written against actual results, Managers reported every other day on labor trend and actions to hit labor target.
Improved quarterly sales by 23% and profitability by 176%.
District Manager
Proactively analyze business needs, identify opportunities, and create/execute improvement plans.
Promoted positive customer experience through modeling great customer service and handling escalations promptly.
Demonstrated solid technical competence for all products and services sold.
Engage in and lead community activities inside and outside of store to support business goals.
An initiated training program to develop 21 district managers, including conceptual approach, design strategy, and critical evaluation.
District Manager
Assisted in the hiring and training of new staff and opened eight new locations across the country.
Achieved an annual sales volume of $18M and a comp sale growth of 6%.
Invite as speaker at the 2016 Dunkin' Donuts DAC meeting to present hiring, on-boarding, training and retention tactics created in our organization to the field organization including franchisees, district managers and regional vice presidents.
Establish performance plans to drive sales and increase productivity.
Cultivate team environment and produce fourteen Store Managers, four Multi-unit Managers, a Regional Trainer and a District Manager.
District Manager
Began as a manager for two locations and was subsequently asked to assist in managing a multi-million dollar a year retail territory by the owner.
Responsible for financial tasks; payroll, minor bookkeeping, sales/goal tracking, deposits and account reconciliation.
Responsible for personnel relations; hiring, training, scheduling and managing.
Responsible for overseeing the launching of new stores including location prep, buildup and merchandising, as well as communicating professionally with Corporate, Mall and Vendors Reps.
Presided over the successful reorganization of 60 stores within one system to eliminate non-performing managers and reduce underperforming stores; generated a record profit of more than $1 million.
District Manager
Supervises all sales and business development functions, including new product and promo rollouts.
Provides continuous education and coaching to all levels of store staff: trains personnel in effective selling, inventory control, merchandising techniques, customer service protocols, and product lines.
Constant recruiting to keep all stores well staffed, along with getting all necessary paperwork to HR.
Implemented a customer-focused philosophy that improved store and district profits by 20%.
Developed new metrics for customer service that focused on strategic elements and proactive resolution of customer problems.
Wrap Up
You need to make sure your resume stands out amongst the other candidates. It is the first impression that employers have of your work experience and skills. Use the samples above to put together a resume that best suits your needs and helps you get the job you want.