A retail manager is in charge of all the day-to-day operations of a retail establishment. Duties of a retail manager are supervising employees, scheduling employees, assigning staff, recruiting new employees, training new staff, coaching new employees, disciplining staff, and appraising job results. Educational requirements to be a retail manager are a minimum of a high school diploma or the equivalent, but an ambitious store manager will have a bachelor's degree in business administration. Skills needed to succeed as a retail manager are ambition, supervisory skills, management skills, leadership skills, coaching skills, ability to multi-task, decision-making skills, organizational skills, and motivational skills.
A good resume is well-written and concise. It should be neat and easy to read, listing previous experience in a logical order.
Our resume samples will provide you with multiple examples of what you can include when writing your resume.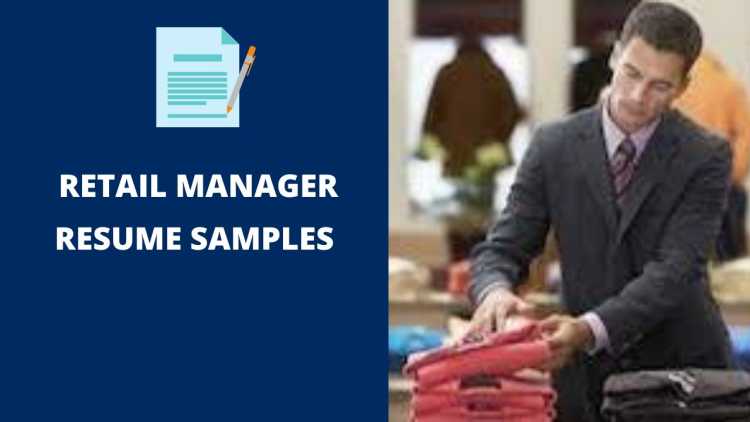 The Best Retail Manager Resume Samples
These are some examples of accomplishments we have handpicked from real Retail Manager resumes for your reference.
Retail Manager
Write, implement and follow through on all new company policies.
Worked with general manager and back of house manager in creating a consistent and smooth work environment.
Worked on and edit excel spreadsheets in order track daily inventory.
Presided over profitable store during first year of ownership, during which the store increased income by 6%.
Created monthly sales plan and results-driven goals to reach those targets.
Retail Manager
Facilitated customer relations to address concerns and ensure quality service.
Select and purchase musical equipment, maintain store inventory, and establish loss prevention strategies.
Initiate, plan, execute, monitor and control resources, time and budget to ensure the successful completion of all projects.
Developed customer loyalty and goodwill through offering personalized services, incentives, and customer rewards.
Demonstrated excellent ability to keep accurate daily sales records and compile weekly sales reports for use in financial planning.
Retail Manager
Making sure the inventory count on Skin Solutions is correct with both locations inventory.
Contacting marketing manager to update on special idea's for in house and skin solutions.
Place Costco orders every other week for all supplies housekeepers, coffee, creamer, paper towels, toilet paper, gloves, soap etc.
Demonstrated effective leadership skills in training new employees as well as supervising up to ten employees; contributed to team development.
Aided in development of new business strategy for store; lead sales for a 6% increase in sales.
Retail Area Manager
Responsible for the management of 15 different retail locations and over $6 million in revenue per year.
Ensure all retail locations operate efficiently by promptly addressing guest concerns, effectively training staff, resolving personnel issues, following store operations policies, visual merchandising and staying within budget guidelines.
Assisted with the development of various leadership training programs and participate on the Leadership Committee to enhance employee performance and create/develop company procedures and policies.
Received award for exhibiting exemplary customer service, management skills, and sales techniques.
Met with customers to plan their holiday gifts; recommended personalized gift items.
Retail Business Manager
Directed responsibility for all daily store operations including; targeted sales achievement, store financial management, merchandising/promotional activities, customer retention, audits, inventory management, cash handling, and inventory reconciliations.
Responsible for employee recruiting, hiring, coaching and development for 7 direct reports.
Ensure attainment of all net sales and revenue goals.
Managed customer retention program to ensure stores are meeting the 90 day survivability plan.
Selected to participate in the first annual "Get 'Em Smiling" customer appreciation event, which raised funds for breast cancer research and awareness.
Retail Manager
Manages and reports on daily ticket sales and cash reconciliation.
Carries out supervisory responsibilities in accordance with the organization's policies and applicable laws. Ensures compliance of employees with established policies and procedures.
Develop and motivate staff to achieve optimal performance.
Worked with local community groups to promote support of charitable organizations.
Cold-called prospective clients, customized an individualized service plan to meet identified client needs; closed transactions totaling over $20,000.
Retail Manager
Opened and trained all new staff for campus Starbucks Licensed store.
I also oversee day to day operations including, but not limited to, hiring, scheduling, ordering, receiving, seasonal staff training, distribution and collection of register drawers, maintain a balance between Chartwell's corporate guidelines and Starbucks guidelines.
Campus Safety Champ- conducted monthly reporting and safety training for staff, insuring compliance with company safety policies, conducted quarterly self-inspections for units.
Dramatically increased sales of new products by 85%, as demonstrated by company's recognition of my team as the #1 sales team for new product sales.
Promptly identified and implemented a solution that reduced customer wait time in line; achieved highest overall customer satisfaction scores since opening.
Retail Manager
Oversees Secure handling of daily revenue by opening and closing the store and training the procedure to new hires. Trainings include store standards, policy, and procedures.
Initiation of customer hospitality by establishing rapport and having extensive knowledge about the product.
Training new associates how to sell the product and how to establish a clientele.
Secured an exclusive contract with a food vendor; delivered on agreed-upon budget with 85% increase in gross profit.
Ensured all associates were trained for guest service and sales.
Retail Manager
Tracked and monitored performance metrics, including sell-through rate, labor cost, employee turnover rate, productivity, average order, and sales.
Trained all employees in company policies, protocols, and product knowledge; implemented new and recurring training programs.
Created and maintained employee schedule; managed shift trades and time off requests; ensured staffing level facilitates maximum productivity with minimal excess labor cost.
Trained managers to manage operations and customers, as well as strategies for merchandising.
Supervised employees at various levels, such as cashiers, sales associates, managers, and food preparation workers.
Retail Manager
Oversees Secure handling of daily revenue by opening and closing the store and training the procedure to new hires.
Trainings include store standards, policy, and procedures.
Initiation of customer hospitality by establishing rapport and having extensive knowledge about the product.
Training new associates how to sell the product and how to establish a clientele.
Managed store layout by ensuring merchandise was available at appropriate locations throughout the store so that all customers could shop efficiently and comfortably.
Retail Manager
Held meetings before and after each shift to maintain the store knowledgeable about our day to day progress, quotas, updates and sales.
Distributed daily and monthly goals for all employees.
Maintained register count accurate by doing opening, mid and closing shift checks.
Addressed and corrected sales staff communication issues in a tactful and effective manner.
Supervised the daily operations of a retail business consisting of five departments (Store A); routinely supervised 1-3 Store Bs who reported to Store A's manager; was responsible for 500 employees who performed 1,000 tasks each day.
Retail Manager
Responsible for full operation of wireless retail store including opening, closing, planogram, staffing and scheduling.
Supervised staff of 6-10 employees in a mid volume store, enforcing compliance with company policy and procedures.
Ensure that store meets or exceeds sales goals by overseeing all store functions, from sales and inventory to the implementation of new store promotions and outbound activities.
Increased store sales by 35% within 1 year of employment through effectively setting up sales promotion programs and providing excellent customer service.
Effectively allocated and managed staff to ensure a smooth workflow while serving customers with professional and curteous behavior.
Wrap Up
You need to make sure your resume stands out amongst the other candidates. It is the first impression that employers have of your work experience and skills. Use the samples above to put together a resume that best suits your needs and helps you get the job you want.