Retail Store Assistant Managers assist the manager in the operations of a retail store. Their duties include coordinating store operations, managing personnel, implementing strategy for the store, managing store schedules, maintaining and monitoring the store's inventory, dealing with customer complaints and researching new products. To work as a Retail Store Assistant Manager typically you require a high school degree and having a college degree in a related field can take the place of some experience. Retail Store Assistant Mangers must demonstrate management, communication, customer service, basic safety, presentation, competitive analysis and supply management skills.
A good resume is well-written and concise. It should be neat and easy to read, listing previous experience in a logical order.
Our resume samples will provide you with multiple examples of what you can include when writing your resume.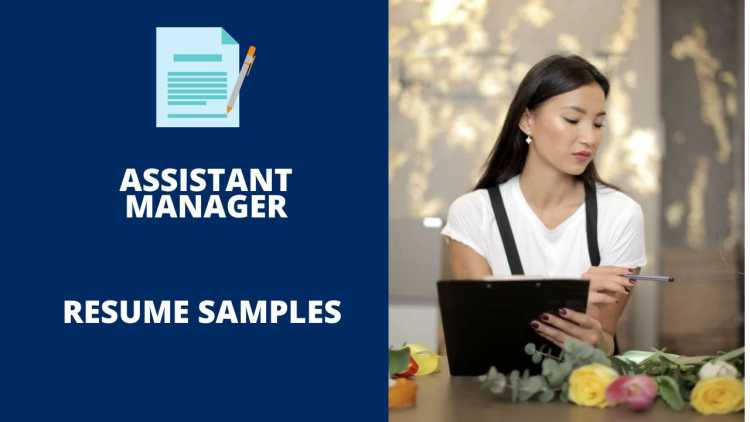 The Best Assistant Manager Resume Samples
These are some examples of accomplishments we have handpicked from real Assistant Manager resumes for your reference.
Assistant Manager
My responsibilities as an assistant manager are to open or close the store depending on my schedule.
I am responsible for doing the opening paper work which is mostly checking the emails our district manager sends with the daily sale goals, counting the safe and taking out the money for all of our registers in the store.
I respond the emails our district manager sends, usually communicating if we met our hourly sales and if not send her my plan to meet the daily sales.
Excelled as a sales associate and in customer service. Achieved 100% customer loyalty and satisfaction ratings based on customers' comments, returning to our store.
Handled matters in a very efficient manner, including closing each cash register, in order to provide convenience and customer satisfaction.
Assistant Manager
Ensure that all inventory Transactions are properly documented in accordance with standard operating procedures.
Obtain quotes and negotiate comparative prices, order parts from vendors, and work within budget constraints.
Analyzed and resolved issues to include working with warehouse personnel to research and achieve resolution.
Responsible for timely completion of assigned tasks which included daily customer service and cashier responsibilities.
Accurately applied SOPs and departmental guidelines while following established procedures.
Assistant Manager
Conducted daily pre-shift and weekly departmental meetings to ensure organizational efficiency.
Scheduled and directed staff in daily work assignments to maximize productivity.
Efficiently resolved problems or concerns to the satisfaction of all involved parties.
Developed and maintained exceptional customer service standards.
Performed duties within range of the trading standards guidelines and policies in the areas of operational safety, health & safety, security, environmental issues, disciplinary procedures, grievance handling and productivity.
Assistant Manager
Maintains company standards regarding personal and store sales/performance metrics.
Maintained knowledge of current promotions, policies regarding payment and exchanges, and security practices. Answered customers' questions and addressed problems and complaints in person and via phone.
Built customer confidence by actively listening to their concerns and giving appropriate feedback.
Addressed and corrected sales staff communication issues in a tactful and effective manner.
Monitored financial status of departments to ensure profitability was maintained. Readiness for new products was also monitored.
Assistant Manager
Completes store operational requirements through scheduling and assigning employees, following up on work results.
Maintain store staff by recruiting, selecting, orienting, and training employees.
Maintain store staff job results by coaching, counseling, and disciplining employees; planning, monitoring, and appraising job results.
Achieve financial objectives by preparing an annual budget, scheduling expenditures, analyzing variances, initiating corrective actions.
Consistently exceeded customer expectations in sales and inventory management.
Assistant Manager
Greeted customers in the restaurant, rang up orders, handled payment and thanked customers, helped with preparation, set-up, and service for catering events.
Inspected dining and serving areas to ensure cleanliness and proper setup; Inspected restrooms for cleanliness and availability of supplies and cleaned restrooms when necessary, kept dining room area clean by performing cleaning and laundry duties.
Performed serving, and stocking duties in establishments, placed food servings on plates and trays according to orders or instructions.
Accomplished goal of 10% above required reserve by working 13 hours per day.
Responsible for cashier's, warehouse, and visual merchandising tasks.
Assistant Manager
Mediating conflicts amongst fellow employees and customers in a professional and resolving manner.
Ensuring customer satisfaction, quality control of service, and training employees properly.
Responsibilities to aid with food inventory and general operations of restaurant.
Implemented and monitored procedures for telephone orders and walk-in customers in a retail environment.
Assisted in the preparation, operation of, and general supervision of store operations.
Managed the store records and cash transactions.
Assistant Manager
My role as an assistant manager is to exceed daily sales expectations and to provide legendary customer service.
I also however assist with scheduling, banking, store audits, inventory, shipments, new lines, replenishment, markings, opening and closing store procedures, among other daily store task.
During my time with the company we have increased our sales and built a great customer service base.
Led internal team in the preparation of weekly daily reports.
Hand-led customer concerns regarding various products and services such as engine oil and coolant, tires, batteries and motorcycles/bicycles.
Assistant Manager
Assisted store manager with scheduling employees; enter payroll information into computer; complete day to day store operations.
Complete and file all required paperwork according to the stores guidelines and deadlines.
Managed and maintain the store presentable if store manager is absence; maintain a flexible schedule in order to be able to open or close the store; perform most if not all manager functions during their absence.
Be able to order and control inventory according to the store's needs; keep damages and markdowns under control.
Trained to proficiency level two (highest non-black belt) instructor in self-defense at senior adult martial arts classes at the YMCA.
Assistant Manager
Proven ability to adhere to and implement policies and procures in accordance with company goals.
Organizes and prioritizes duties in order to complete simultaneous projects within deadlines.
Produces quality work independently or within the team dynamic, communicating pertinent information to all levels of the organization.
Made exceptional customer service, sales, and cash handling numbers.
Responded to customers' needs in a courteous manner, in a timely manner, and with consideration for their needs and wants.
Assistant Manager
Assisted general manager in all aspects of daily operations of restaurant.
Responsible for new employee and in-service training of current employees.
Responsible for meeting and exceeding budgeted expectations to increase restaurant profitability.
Provided quality food and quick, efficient service to restaurant customers.
Performed weekly updates for retail inventory to support the store's (1) apparel catalogues; (2) customers' receipts; and (3) merchandise.
Assistant Manager
Provided excellent customer service in a medical institution and ensured all patients were well attended.
Managed office operations, work flow, office staff – including recruitment, performance management and training/development of specialty practice.
Provided support and performed regular QA reviews for client intake, registration and scheduling functions.
Maintained daily tracking on all cash sales by hand counting at the end of each day's shift.
Supervised daily activities of store with maximum revenue and greatest profit.
Maximized sales revenue in a constantly changing, competitive business environment.
Was recognized for reducing theft by 60% through constant vigilance and enforcing store policies.
Wrap Up
You need to make sure your resume stands out amongst the other candidates. It is the first impression that employers have of your work experience and skills. Use the samples above to put together a resume that best suits your needs and helps you get the job you want.