A retail assistant manager assists the manager in daily tasks of the retail store. Their duties include supervising employees, opening the store, closing the store, customer service, helping carry out the and task of the owner or manager. In order to become a retail assistant manager, employers require the applicant to hold a high school diplomas or GED. A retail assistant manager must demonstrate a keen eye for detail, great customer service skills, responsibility, a desire to work hard, teamwork skills, a desire for improvement, reliability, and organizational skills.
A good resume is well-written and concise. It should be neat and easy to read, listing previous experience in a logical order.
Our resume samples will provide you with multiple examples of what you can include when writing your resume.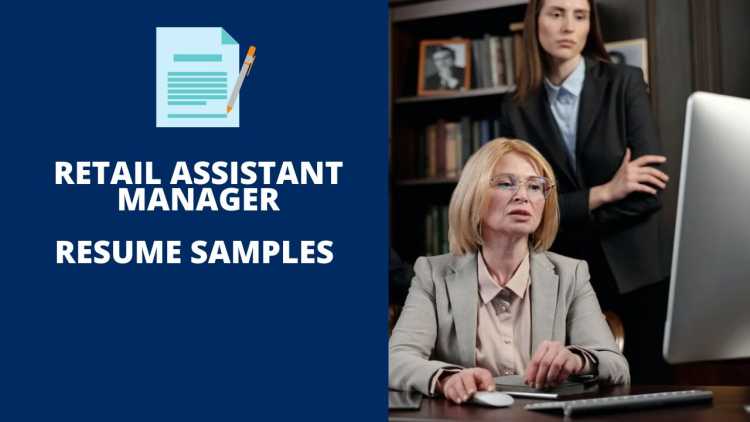 The Best Retail Assistant Manager Resume Samples
These are some examples of accomplishments we have handpicked from real Retail Assistant Manager resumes for your reference.
Retail Assistant Manager
Increased net and revenue by 8 percent by increasing production to meet consumer demand, providing quality customer service, and monitoring food and labor cost.
Reduced food costs by 4 percent by monitoring production par levels daily.
Managed Infogenesis database and generated financial reports encompassing total sales, net sales, profit margin, revenue, and operating expenses.
Recruited, trained, and supervised staff to ensure a cheerful and professional shopping experience that exceeded customer expectations.
Maintained company standards; ensured cleanliness and orderliness of all work areas by visual inspection.
Retail Assistant Manager
Developed and implemented performance development and training initiatives which optimized staff performance and resulted in continuous surpassing of sales quotas.
Executed innovative sales expansion strategies which resulted in a 12% increase in monthly sales.
Received [company name] Employee of the Year Award, for perfect attendance for 3 years.
Drove store car to handle in-town deliveries for store personnel during lunch hour.
Hand-selected top personnel from a standing pool of applicants by conducting interviews and reviewing resumes, including cover letters, employment history, and recommendation letters; the newly developed selection process increased the department's productivity by 20% over three months.
Retail Assistant Manager
Increased customer satisfaction by interfacing directly with customers to provide assistance.
Ensured excellence in customer service and resolved all problems at the store level.
Demonstrated leadership, and provided assistance to management by conducted sales training classes for new employees.
Conducted an audit of the store's inventory in order to detect overstocking and shrinkage.
Created a staff training program with a 98% success rate; trained employees on customer service skills, professionalism, and company values.
Retail Assistant Manager
Consolidated Lockbox processing area resulting in cost savings and efficiency.
Designed and implemented preprocessor for customer ACH files to allow for Credit Risk Verification checking and safeguarding against fraud.
Designed and implemented ACH stop payment function resulting in increased fee revenue.
Trained subordinates to perform their duties independently of supervision; tasks included hiring, scheduling, training, and discipline.
Demonstrated financial awareness through budgeting for everyday expenses as well as special projects.
Retail Assistant Manager
Maintained store site with two lead Assistant Managers and Store Manager and generated over $130K in one day.
Supervised and monitored all Associates on shift / Train new hires on program expectations and safety guidelines / Set up schedules and confirmed completion of assignments each day for 56 Associates / Covered all call ins.
Order product inventory requiring daily shipment, load and unload trucks with forklift / Utilized hand held scanner to price and count product.
Worked with same-store sales, store layout, purchasing, and advertising to increase sales.
Helped customers find items they wanted, advised customers on the best way to use the merchandise.
Retail Assistant Manager
Consistently received recognition and incentives for surpassing weekly sales goals.
Promoted to assistant manager, brought Platinum Sales figures to the store for the first time ever.
Created unique atmospheres for store events to promote and advertise seasonal items.
Coached and motivated employees to achieve the most from each and every sale.
Manage three part-time employees and provide the most service to customers in a timely manner, or short time frames for each task.
Retail Assistant Manager
Maintained daily comprehensive reports of current year versus prior year sales volume.
Developed and instituted strategic sales measures to increase overall store volume.
Presented sales reports to regional management on a daily to weekly basis.
Selected customers for special promotions; promoted specials and discounts during all business hours.
Developed additional ideas for services or products to be offered; assisted in finding suppliers and vendor contracts as well as purchase orders.
Retail Assistant Manager
Planned and prepared work schedules, assigning employees to specific tasks.
Supervised employees engaged in sales work, taking of inventories, keeping operating records and preparing daily record of transactions.
Assisted subordinates and supervisors in identifying and resolving problems.
Excelled as retail assistant manager in both merchandising and customer service areas.
Managed budget, inventory, and the general working environment.
Retail Assistant Manager
Ensured that customers received outstanding service by providing an attractive shopping environment and knowledgeable, friendly associates who were responsive to customer needs.
Used sound judgment when planning and executing strategies and making decisions.
Anticipated needs and obstacles and reacted to changes by using creative solutions to enable timely execution of priorities.
Ensured proper merchandise presentation, inventory levels, assortments and signage.
Served as a role model for over 200 employees which enabled daily positive relationships with customers.
Retail Assistant Manager
Created and administered social media promotions that increased daily in-store traffic.
Managed online sales through multiple marketplaces such as Amazon, eBay, and Craigslist.
Other responsibilities included in-store sales specializing in jewelry and electronics, maintaining accurate inventory records, and general computer systems administrator work.
Trained 5 different managers in their roles that included assuring consistent changes to the retail operations.
Promoted during December to Senior Department Manager within a period of 6 months' time.
Retail Assistant Manager
Performed sales duties for couture clothing and accessories boutique, including working with high-profile clients.
Day-to-day store management including answering phones, utilizing cash register, and managing appointment schedule.
Responsible for opening and closing duties, as well as large cash drops.
Created unique window displays to increase customer traffic and distinguish designers' clothing lines.
Used effective communication, leadership, and problem-solving skills to establish positive relationships between customers and staff; developed sales strategy relating to customer needs and economic concerns.
Retail Assistant Manager
Ensured the store staff maintains and exceeds established customer service standards.
Responded to customer concerns in a timely and appropriate manner.
Prepared, maintained, and submitted reports and records, such as budgets, operational and personnel reports.
Prepared daily sales goals and established processes for tracking actual sales performance.
Minimized shrinkage and maximized profits through targeted initiatives that reinforced store policies and procedures.
Wrap Up
You need to make sure your resume stands out amongst the other candidates. It is the first impression that employers have of your work experience and skills. Use the samples above to put together a resume that best suits your needs and helps you get the job you want.