Receptionists are responsible for administrative and logistical tasks in an office setting. Those tasks include answering phones, greeting visitors, making copies, maintaining files, sorting mail and scheduling appointments. Most companies require a high school diploma or GED for this position. A successful receptionist will have excellent interpersonal communication skills, phone etiquette, organization, time management, active listening skills, the ability to solve problems and a friendly demeanor.
A good resume is well-written and concise. It should be neat and easy to read, listing previous experience in a logical order.
Our resume samples will provide you with multiple examples of what you can include when writing your resume.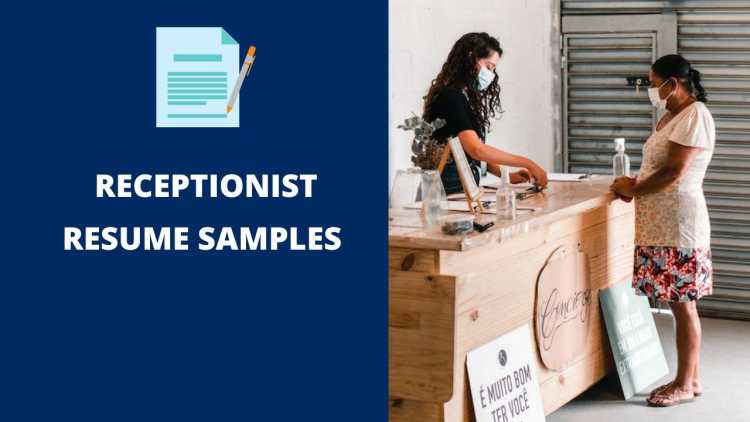 The Best Receptionist Resume Samples
These are some examples of accomplishments we have handpicked from real Resume Etiquette resumes for your reference.
Receptionist
Maintain security by following procedures, monitoring logbooks, issuing visitor badges.
Answer, screen, forward any incoming calls and providing client information to judges, attorneys and borrowers in a professional manner.
Filing, scanning, emailing, sort incoming mail and courier deliveries for distribution.
Help provide secretarial and administrative support to upper management and staff.
Communicated effectively, responding to hundreds of visitors, visitors' needs, and requests so that they could complete their business with the organization.
Receptionist
Efficiently answered a high volume of incoming calls and in-person inquiries from clients and colleagues in a professional and courteous manner.
Developed productivity of management by arranging bi-monthly meetings to talk about accomplishments, matters and room for enhancement.
Took detailed messages for person called upon, including name, time of call and nature of business.
Organized, scheduled, and delegated unmonitored space requirements while maintaining excellent customer phone service.
Developed and maintained a friendly atmosphere at a busy reception desk to deal with all types of people's inquiries.
Receptionist
Greet visitors at community's front reception desk in a professional and pleasant manner.
Receive incoming calls and ensures questions and needs are directed to appropriate person.
Serve as community ambassador to visitors; answer general questions from potential residents and inquiring families and provide informational brochures and packets as requested.
Performed administrative and clerical support tasks for community, including updating resident rosters and distributing mail.
Effectively worked independently under coordination or direction of department supervisors or other assistants.
Receptionist
Managed 10 to 15 line – telephone system, answering and transferring calls to secretary/attorneys and taking messages, setting up conference calls and scheduling and confirming appointments, meetings and events using computerized calendar system.
Adding and preparing daily bank deposits to general/trust accounts and keeping daily deposit records.
Send out appropriate forms/questionnaires to clients to meet required Labor & Industries / Social Security guidelines for reporting purposes (Declaration of Entitlements and Worker Status Forms).
Demanded outstanding quality in work performance by identifying performance problems; appropriately solved problems for customers as well as coworkers.
Sustained a receptionist position during a period of high growth within the company.
Receptionist
Planned and coordinated logistics and materials for board meetings, committee meetings and staff events.
Coordinated domestic and international travel arrangements, including booking airfare, hotel and transportation.
Screened applicant resumes and coordinated both phone and in-person interviews.
Participated in a three-day orientation program to learn new skills, including procedures and job tasks; completed in less than one-half day.
Acted as point person for customer relations and feedback, maintaining positive communication with clients from multiple sources in various situations, including a hostile screaming caller.
Receptionist
Answered multi line phone system. Forwarded calls and took messages for teachers and staff.
Communicated information regarding the school and school events to callers.
Checked students in and out using the school's intranet database system.
Assisted Principal in various capacities (translating documents and calls, organizing parent volunteers, etc.).
Fostered understanding of administrative concepts by instructing staff on the proper use of equipment.
Receptionist
Answered numerous calls per day by addressing applicant inquiries, solving problems and providing new and updated information.
Answered and managed incoming and outgoing calls while recording accurate applicant information into the database.
Greeted customers entering the store to ascertain what each customer wanted or needed.
Earned management trust by serving as key holder, responsibly opening and closing store.
Monitored incoming faxes, emails, and telephone calls to ensure positive response times for all customers.
Receptionist
Provided administrative support including but not limited to typing, filing, copying and coordinating calendars.
Greets customers, vendors, job applicants and other visitors in a courteous, friendly and timely manner.
Sorts and routes mail, correspondence, packages, and messages for timely delivery to appropriate party.
Fostered the development and growth of a competitive culture at a nationally acclaimed university.
Processed, managed, and maintained work schedules for more than 240 individuals within the Department of Intercollegiate Athletics.
Receptionist
Provided outstanding customer service to all persons who visit or call Legal Aid of Marin.
Provided information about Legal Aid's service & schedule appointments for clients who qualify form services.
Ensure that client obtains necessary referral and/or resources to help resolve their problem if unable to obtain an appointment with Legal Aid.
Processed over three thousand phone calls, answered several hundred emails each week, made numerous sales calls to prospective clients, and organized/edited university meetings.
Scheduled and developed team meetings; coordinated committee meetings; facilitated budget discussions; prepared budget memos; drafted requests for expenditure.
Receptionist
Proficient in multi-tasking a variety of duties such as knowing all extensions and positions of internal employees as well as external representatives.
Responsible for training all new employees regarding front desk procedures.
Handled all incoming calls for patients to make credit card payments over the phone.
Handled all incoming interviews; giving out applications, taking resumes for the department leads who are hiring.
Maintained confidential records of all communications and relevant fiscal documents within a company computer system.
Receptionist
Demonstrated proficiencies in telephone and front-desk reception within a high-volume environment. Calmed upset/angry customers.
Imputed bookkeeping data and organized client documentation.
Consistently praised by management for quality work, attention to detail, exemplary customer service and team-player attitude.
Handled over 7,000 telephone calls; handed out a total of 20,000 pieces of mail.
Entered and processed over 1,000 credit card charges on 3,500 accounts; ordered and activated new debit cards for bank customers.
Receptionist
Screened applicant resumes and coordinated both phone and in-person interviews.
Answered and managed incoming and outgoing calls while recording accurate messages.
Completed data entry, tracked resumes and maintained the applicant tracking system.
Compiled company information and related material and distributed it to candidates.
Receive and assign, for review and signatures, fifty daily forms all by hand within the required time frame.
Wrap Up
You need to make sure your resume stands out amongst the other candidates. It is the first impression that employers have of your work experience and skills. Use the samples above to put together a resume that best suits your needs and helps you get the job you want.