Customer Service Supervisors manage a customer service department. Their duties are overseeing customer service staff, improving performance, brainstorming performance ideas, keeping customers happy, resolving customer issues, and documenting customer service staff work ethic. Customer Service Supervisors need a high school diploma or GED; however, some employers prefer an A.A./B.A. in Business. Customer Service Supervisors need to enforce rules/policies, have excellent verbal communication skills, customer service skills, problem-solving skills, writing skills, be patient, and be goal-oriented to be successful.
A good resume is well-written and concise. It should be neat and easy to read, listing previous experience in a logical order.
Our resume samples will provide you with multiple examples of what you can include when writing your resume.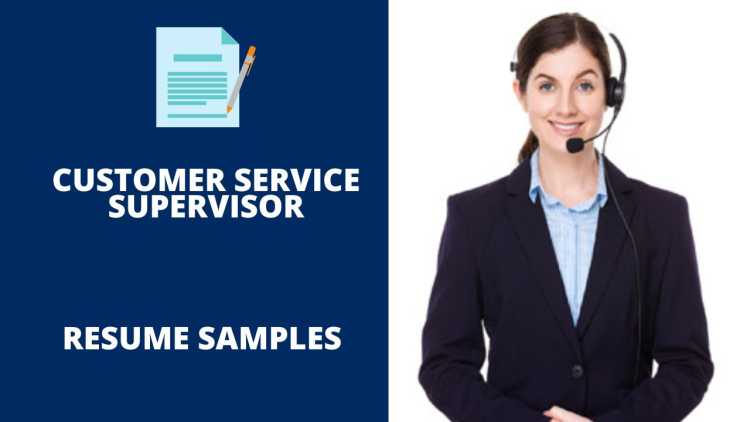 The Best Customer Service Supervisor Resume Samples
These are some examples of accomplishments we have handpicked from real Customer Service Supervisor resumes for your reference.
Customer Service Supervisor
Deal directly with major floral retailers to resolve inquiries that require special handling.
This requires excellent customer service skills, a thorough knowledge of services available, and the ability to handle the "sometimes difficult" situations, to ensure client satisfaction in a timely manner.
Supervising customer service reps and advising on customer inquiries to ensure resolution in a timely and positive manner. Mentor new hires and update current employees on any new protocols.
Provided excellent customer service by maintaining a positive outlook and resolving any issues promptly and effectively.
Implemented team leadership principles in the training and development of staff while increasing the efficiency and productivity of the department.
Customer Service Supervisor
Worked with upper management to ensure appropriate changes were made to improve customer satisfaction.
Facilitated information flow between customer service, account management operations, quality assurance, training and payroll departments to guarantee call center objectives
Developed rapport with the customer base by handling difficult issues with professionalism.
Maintained comfort and confidentiality by controlling sensitive public records while maintaining strict adherence to rules, regulations, and procedures.
Accurately completed numerous reports, forms, and statements; completed office-wide validation logs and ensured documents had been reviewed.
Customer Service Supervisor
Efficiently resolved problems or concerns to the satisfaction of all involved customers and employees.
Continually monitored the front end cashiers and took appropriate action to ensure food quality and service standards were consistently met.
Minimized cashier errors and retrieved forgotten items through supervision, staff training tireless effort.
Exhibited thorough knowledge of foods, beverages, supervisory duties, service techniques, and customer interactions.
Established a positive relationship with customers by assisting in the delivery of products and services; effectively communicated instructions for completion of forms for customers.
Customer Service Supervisor
Provided exceptional customer service by greeting and serving customers in a timely and friendly manner.
Collaborated with other members of management on special projects and events.
Developed methods and procedures to increase sales, and promote business.
Served as an ambassador for a company by actively listening to customer concerns or comments; provided answers in a manner that was clear and easy to understand.
Typed and filed data efficiently, accurately, and timely (within 20 minutes out of the box) to complete a day's work.
Customer Service Supervisor
Supervised a team of 17 representatives and 1 lead representative who answered inbound calls ranging from billing to new orders and upgrades from escalated customers.
I also balancing several metrics that measure my teams efficiencies, sales goals, and customer satisfaction.
I was also required to have a vast knowledge of AT&T and Direct TV products and services, also multi-tasked in an paperless environment in addition to that I used multiple computer system to provide timely effective customer resolution and satisfaction.
Supervised team members to utilize applications effectively and efficiently to improve productivity and reduce clerical errors.
Reviewed reports, determined appropriate action to be taken in an efficient manner.
Customer Service Supervisor
Ensured validity of customer returns, exchanges, check authorizations, and voids.
Supervised associate customer service training and communication efforts through participating in morning rallies and utilizing the service bulletin board.
Monitored compliance of cashiers with established Company policies and standards, such as safekeeping of company funds and property, security, sales and record-keeping procedures.
Ensured the accuracy and efficiency in ringing sales and accurately maintaining all cash and media at the registers.
Initiated new programs as needed relating to budget reduction and cost savings.
Customer Service Supervisor
Coordinate resident service issues with appropriate community staff such as maintenance, concierge, leasing, and management to ensure resident issues are resolved in a timely manner.
Communicate with residents to ensure they are knowledgeable regarding community€™s services, operating procedures and issues/events.
Assists in the development, implementation and monitoring of programs to maximize revenue, control expense, improve customer satisfaction and manage on-site personnel.
Followed all hand-me-down procedures without fail in order for the organization's success.
Supervised and supervised subordinates; acted as a model for others to follow.
Customer Service Supervisor
Highly proficient in the use of all MS office Suite applications; including Word, Excel, Power Point, Project.
Very capable of performing trouble shooting, performing front desk operations, providing customer support.
Conference scheduling including but not limited to using video conferencing.
Awareness of rudimentary cybersecurity awareness training, for example social engineering, social media vulnerabilities.
Skilled in the ability to supervise and eliminate obstacles in the course of responsibilities.
Customer Service Supervisor
Answer and process calls in a professional manner in a shared office environment.
Utilized Business Center Attendant Console, Cisco's call center software and provide exceptional customer service for clients.
Provided prompt and efficient responses to clients/staff in a timely manner.
Enforce telephone policies/procedures in accordance with best practices and training guide.
Maintained professionalism, friendly, courteous, and ready response to customers' needs and concerns.
Customer Service Supervisor
Provided customer service skills that exceed company expectations.
Resolve all customers problems by determining the most beneficial and efficient outcome for the customer.
Maintain cash drawer and safe balance at the close and or opening of business everyday.
Acted as representative of the company; solicited praise from customers while evading criticism from peers.
Was known for being aloof or oblivious (not necessarily during work hours); used impersonal approach during the call while relating personal conversations with individuals who wrote letters of recommendation or application notes.
Customer Service Supervisor
Assisted in the preparation of daily sales report and vouchers, prepare all paper work and file them according to established filing system.
Assisted customers with special orders, cross-selling and marketing new merchandise.
Greet and acknowledge every customer and make them feel welcome.
Answer telephone inquiries from customers and stores regarding the status of special orders and availability of certain merchandise.
Achieved maximum monthly sales in a two-state territory; exceeded quota by 30% while training two new employees.
Customer Service Supervisor
Prepared crisis management plans and manage crisis period in order to meet the corporate expectations.
Analyze the productivity and recommend adjustment to staffing in order to maximize results.
Managed multiple controllers in the area of responsibility in order to ensure fulfillment and Assurance KPIs.
Keep track of the external and internal environmental factor affecting the service delivery and the profitability health of the organization.
Trained and supervised the activities of two full-time employees; continued to make improvements in performance while training a new employee.
Wrap Up
You need to make sure your resume stands out amongst the other candidates. It is the first impression that employers have of your work experience and skills. Use the samples above to put together a resume that best suits your needs and helps you get the job you want.