Corrections Officers work in prisons managing inmates. Their duties include maintaining order of inmates, security, supervision, escorting and transporting inmates as well as responding to emergencies. To work as a Corrections Officer you must be twenty-one years old, have your high school diploma and attend a correctional officer training course. Corrections Officers must demonstrate flexibility, adaptability, resiliency, integrity, communication and leadership skills and be observant.
A good resume is well-written and concise. It should be neat and easy to read, listing previous experience in a logical order.
Our resume samples will provide you with multiple examples of what you can include when writing your resume.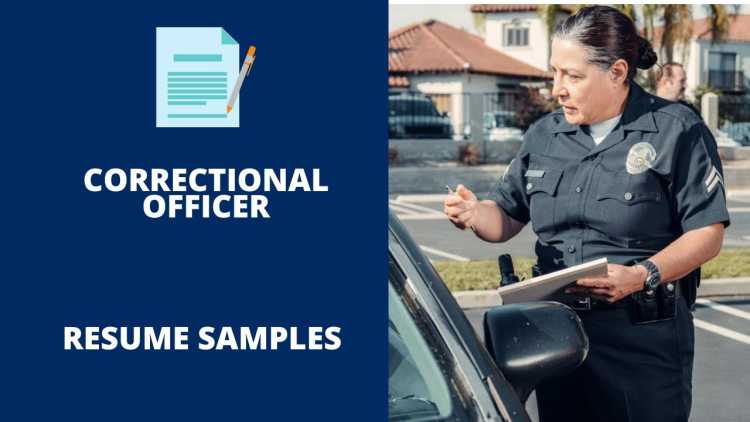 The Best Correctional Officer Resume Samples
These are some examples of accomplishments we have handpicked from real Correctional Officer resumes for your reference.
Correctional Officer
Monitor conduct of prisoners in housing units, or during work or recreational activities, according to established policies regulations and procedures to prevent escape.
Search prisoners and vehicles and conduct shakedowns of cells for valuables and contraband such as weapons or drugs.
Record information such as prisoner identification, charges, and incidences of inmate disturbance, and keep daily logs of prisoner activities.
Inspected conditions of locks, window bars, grills, doors, and gates to ensure security and help prevent escape.
Served as an officer with various security agencies, including the Royal Bermuda Regiment, the Bermuda Defence Force, and the Public Security Department.
Correctional Officer
Responsible for the supervision, and safety of offenders in the custody of the Maryland Department of Public Safety and Correctional Services (DPSCS).
Maintains order and security within the facility, physically patrols and conducts visual inspections of offenders in custody, and the facility, e.g. cells, windows, and gates to ensure the safety of both offenders and staff.
Regularly performs inspections and searches of offender persons and/or cells for contraband.
Interrogated multiple prisoners in closed-door interrogations while maintaining order and discipline within a facility where guns were present.
Recruited, trained, and supervised members of security forces in military-style training exercises for both field maneuvers and for simulated combat patrols.
Correctional Officer
Maintains control of inmates while escorting individuals or groups within the prison.
Keeps accurate head counts of inmates in the assigned security post.
Conducts inspections and searches of inmates and inmate access and work areas for drugs, weapons and other unauthorized materials.
Enforces rules of conduct among inmates and learns when to prepare reports of infractions.
Established a system for keeping track of weapons and ammunition to minimize exposure to potential hazards.
Correctional Officer
Completed training program certified by the Maryland Correctional Training Commission.
Maintain control of inmates while escorting individuals or groups within the prison.
Keep accurate head counts of inmates in my assigned security post.
Conduct inspections and searches of inmates, inmate access areas and work areas for drugs, weapons and other unauthorized materials.
Coached unarmed combat techniques to improve the ability to resist or overcome potential threats or attackers.
Correctional Officer
Observe and record offender's behavior and movement to ensure their safe and secure confinement.
Performed inspections of offender's living quarters and random searches of individual cells, common areas, and offenders.
Interact with visitors, staff, offenders and the public to maintain orderly and secure operations.
Effectively patrolled assigned area and subsequently arrested violators for possession, trafficking, or distribution of illegal drugs.
Prevented an inmate from escaping confinement; recognized for outstanding performance by the Warden.
Correctional Officer
Overseeing individuals who have been arrested and are awaiting trial or who have been convicted of a crime and sentenced to serve time in a jail, reformatory, or penitentiary.
To maintain security and inmate accountability to prevent disturbances, assaults, and escapes.
To report orally and in writing on inmate conduct and on the quality and quantity of work done by inmates.
To report security breaches, disturbances, violations of rules, and any unusual occurrences.
Detained a juvenile delinquent according to procedures involving search, interrogation, and restraint measures (restraint techniques included but not limited to the use of pressure point techniques).
Correctional Officer
Assisted in conducting inventory of property, documents and stands watch duty where there is movement on inmates, staff and vehicles.
Provided control and surveillance of small inmate work squads.
Instructed inmates on institutional rules and regulations.
Writes incident reports, memos, log entries, progress reports and completes associated forms as required and/or related documentation.
Convinced a suspect to confess to three murders after four years of investigation without ever having held a weapon; received award from Sheriff.
Correctional Officer
As a trained officer, my responsibilities included assisting in conducting inventory of property, documents, and stands, as well as, watching movement on inmates, staff, and vehicles.
I also instructed inmates on institutional rules and regulations and counseled inmates to resolve minor problems.
I wrote incident reports, memos, log entries, progress reports, and completed associated forms and other related documentation as required.
Rescued a fellow officer from death and was awarded by the Board of Corrections for exceptional bravery above and beyond the call of duty.
Served as a correction officer in maximum security prisons, taught G.P.A. classes and developed skills such as firearms proficiency and close-combat fighting and conducted investigations in the case of escapees.
Correctional Officer
Monitor safety practices and prepare safety accidents reports as required; take appropriate action dependent on case by case substances/emergencies: react quickly, efficiently, and calmly in emergencies and other high-stress situations.
Use basic mathematical skills to accurately perform such functions as periodic inmate/resident totals.
Escort inmates/residents to and from different areas for questioning, programs/activities, medical treatment, work or meals; use handcuff and other appropriate restraints when required.
Performed searches of people, objects capable of concealing contraband in buildings or outdoor areas involving detecting, identifying objects, moving throughout the facility or grounds and detaining people.
Received Knight's Cross for Distinguishing Service; recognized by other military personnel for providing assistance to others in time of distress.
Correctional Officer
Ensure that detainee movement is coordinated appropriately, handle head counts and manage emergency response when required and provide support in control rooms and port entrances.
Ensure that security measures are taken during program activities.
Managed disciplinary action when inmates get unruly.
Provided prompt and apt assistance to inmates in the event of illness and trauma.
Received Bronze Star while serving on the front lines; coordinated fire support from ground forces during South American revolutions and trained foreign police during two tours of duty in Europe.
Correctional Officer
Maintain order, discipline, and security within assigned areas in accordance with relevant rules, regulations, policies, and laws.
Maintain knowledge of, comply with, and enforce all institutional policies, rules, procedures, and regulations.
Also work as a control officer by controlling all movement by computer also was a dispatcher in the prison via radio conduct emergency plans in the prison system.
Recognized for providing humanitarian aid to over 10,000 children during two tours of duty in Africa as part of Operation Desert Storm.
Psychologically evaluated and managed over 1000 men, women, and children in the detention and correction unit. Achieved a 95% goal completion rate for detainees attempting to disrupt the peace of their cells.
Correctional Officer
Possess oral and written communications skills available to assist Senior Administration in preparing reports regarding the status of inmates or incidents; prepare/maintain reports and daily logs as obligated.
Manage, maintain, and input all technical documentation within computerized Criminal Justice Software (OCMS).
Coordinating and performing the scanning and quality control/validation process for legal documents in the Record Center.
Uses computer, bar code technology, and scanning equipment to record and track client file information.
Interrogated and testified on behalf of the government in murder cases.
Wrap Up
You need to make sure your resume stands out amongst the other candidates. It is the first impression that employers have of your work experience and skills. Use the samples above to put together a resume that best suits your needs and helps you get the job you want.