Copy Editors read materials written by other people and make changes to improve the writing. Duties include making sure materials have correct grammar, punctuation, spelling, and follow certain styles; attend meetings with writers, discuss changes with writers. Education required is a 4-year degree. Skills needed to do this job are attention to detail, ability to analyze, ability to work under pressure and multitask, excellent command of the English language, sentence structure, and ability to follow directions.
A good resume is well-written and concise. It should be neat and easy to read, listing previous experience in a logical order.
Our resume samples will provide you with multiple examples of what you can include when writing your resume.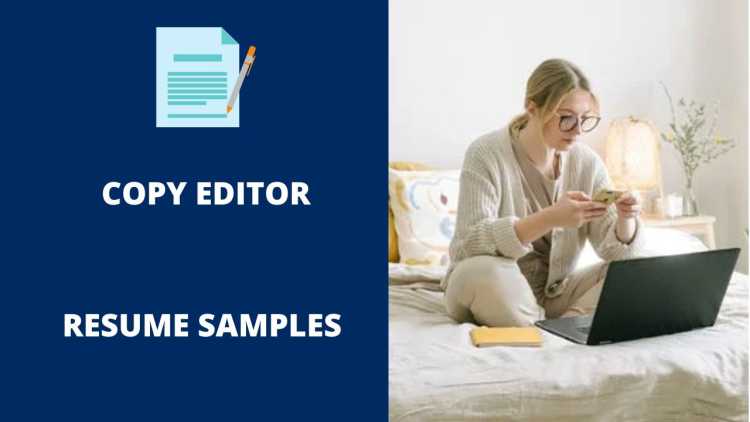 The Best Copy Editor Resume Samples
These are some examples of accomplishments we have handpicked from real Copy Editor resumes for your reference.
Copy Editor
Mark copy to indicate and correct errors in type, arrangement, grammar, punctuation, or spelling, using standard printers' marks.
Read corrected copies or proofs in order to ensure that all corrections have been made.
Read proof sheets aloud, calling out punctuation marks and spelling unusual words and proper names.
Route proofs with marked corrections to authors, editors, typists, or typesetters for correction and/or reprinting.
Met deadlines by developing a system of constant self-monitoring and necessary breaks.
Copy Editor
Revised translated articles that had been translated from Korean to English to ensure accuracy.
Checked the entire newspaper the day before publishing meeting tight copy deadlines.
Adapted to the Korean workplace culture for example, adhering to extended working hours.
Communicated in Korean with journalists enhancing Korea language ability.
Proved to be a dependable employee by covering the night shift for six months straight during a period when other employees were on vacation or sick.
Copy Editor
Edited articles from staff writers and wire services into allotted spaces.
Wrote headlines, photo captions and other display type in a timely manner.
Worked with designers, other editors and department heads on story ideas and display type and researched material for charts to accompany stories.
Adapted to last-minute situations by producing quality copy despite having little time to prepare stories.
Participated by leading staff members in improving performance on editing stories and day-to-day procedures.
Copy Editor
Responsible for the creation of "slice of life" articles published in the organization's quarterly donor magazine.
Articles were approximately 500 words in length. Handled all aspects: idea generation, research, writing, proofing.
Created a regular geographic feature that profiled 40 countries and 40 global ethnic groups for publication in the organization's quarterly donor magazine.
Wrote articles on unique topics that attracted attention from local newspapers and cable stations.
Edited articles on sports, travel, and entertainment-related subjects and reworked copy in anticipation of publication.
Copy Editor
Collaborated with reporters and writers to develop stories and break down the day's top news into quick, concise points that viewers could easily understand and with which traders would be able to make market decisions.
Created breaking headlines during live interviews with the financial industry's top movers and shakers.
Monitored and edited each program's rundown from 6 a.m. to noon Monday through Friday to ensure all elements and scripts were ready for broadcast.
Proofread articles prior to their publication; revised sections upon correction of errors.
Revised/edited resumes to match standards of the freelancers and editing companies with which they were submitted.
Copy Editor
Responsible for instructing students on academic research methods, standards of academic writing, English grammar, and the drafting process.
Collaborated with supervisors to discuss student progress and the needs of international and ESL students.
Modified instruction methods in order to accommodate international students' needs.
Inform students of the procedures for completing and submitting class work, such as papers, online discussions, digital remediation's, and presentations.
Edited customer letters from more than 75 small businesses and non-profit organizations for their publications to ensure that content was factual and appropriate for intended audience.
Copy Editor
Copy editor for The Ranger, a weekly tabloid newspaper in the Joint Base Lewis-McChord, Wash., area.
Copy edit up to nine story submissions per week ensuring grammatical accuracy, clarity and adherence to Associated Press style guidelines. Submissions are up to 1,000 words each and are primarily news and feature stories of interest to the local community.
Position requires the ability to work independently with little supervision, excellent time management skills and excellent written communication and editing skills, including the ability to rework submissions under a tight deadline.
Assigned content to the appropriate sections within the publication in order to maintain uniformity of appearance, grammar, tone, and format.
Supported a staff of nine individuals and a single freelancer.
Copy Editor
Editing and proofreading manuscript, inputting comments, questions and suggestions.
Evaluated comments and edit suggestions from CUA Press reviewer and other academic scholars at CUA.
Compiling library sources, footnotes, and bibliography in Endnote software.
Researching topics relevant to book content about the Holy Family including the interrelation between theological, sociological and psychological perspectives.
Managed the editorial process; provided support for editors and copy editors; established schedules for effective communication, document capture, and publishing.
Copy Editor
Corrects spelling, punctuation, grammar, and terminology, ensuring that the text adheres to the publisher's style and external style directives.
Works with senior editorial staff and writers to improve copy and maintain efficient workflow.
Handles high volume of assignments in a deadline driven workplace on a daily basis.
Drafted script analysis of television news reports; reported on sports news from a news reporter's perspective.
Edited online content while maintaining strict deadlines in addition to ensuring that all facts were verified.
Copy Editor
Copyedited approximately five scientific research articles per week that contained figures, tables, appendices, and auxiliary material.
Prepared articles for online and print publication and followed up with authors to obtain missing information or answers to copyediting queries.
Incorporated authors' corrections to their article proofs using annotated PDF files, and implemented changes in accordance with the journal editorial style.
Managed the computer systems to oversee daily publishing cycles including checks-in, maintenance, update, and scheduling processes.
Edited over 2,000 articles and press releases for approximately eighteen publications.
Copy Editor
Edit text of scientific research papers for house style, grammar, punctuation, spelling and clarity.
Proofread papers to ensure edited changes have been made and no errors are introduced by composing vendor.
Mark up XML, HTML and PDF article proofs to include author and proofreader comments and ensure quality composition and proper validation.
Communicate with authors, fellow members of Editorial Services department and members of other publishing departments to resolve questions and problems.
Interviewed and edited local news anchors for the "Money Magazine" radio show for thirteen years.
Copy Editor
Managed all editorial workflow for the country's largest trade association for human resource professionals.
Edit up to 10 news articles daily for the organization's website, as well as blog posts and lobbying letters for the legislative affairs unit, digital/print collateral for the marketing team and a weekly e-newsletter.
Advise editorial, marketing and legislative affairs departments on style guidelines and writing best practices.
Edit pages in the Encyclopedia of Business, Encyclopedia of Journalism, and the Encyclopedia of Broadcast to correct add, or improve the information
Created and organized a database of research articles on banking, investment banking, real estate investment trusts (REITs), online newsrooms, and other financial services entities and industries.
Wrap Up
You need to make sure your resume stands out amongst the other candidates. It is the first impression that employers have of your work experience and skills. Use the samples above to put together a resume that best suits your needs and helps you get the job you want.