Editors can do many different things from technical writing, copywriting and editing. Their duties include editing others work, proofreading, creating original content or articles, working with other writers, conducting research and creating marketing plans. To work as an Editor most have a bachelor's degree in a writing related program. Editors must demonstrate fluency in language, grammar and punctuation, creativity, writing, proofreading, time management and communication skills.
A good resume is well-written and concise. It should be neat and easy to read, listing previous experience in a logical order.
Our resume samples will provide you with multiple examples of what you can include when writing your resume.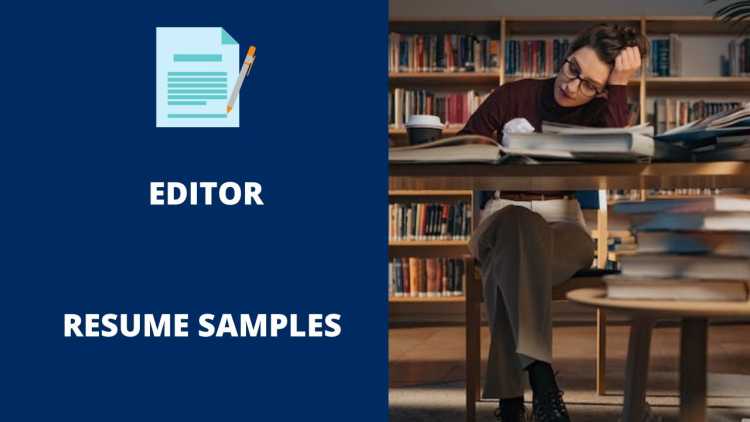 The Best Editor Resume Samples
These are some examples of accomplishments we have handpicked from real Editor (publication) resumes for your reference.
Editor
Interview advertisers and write advertorials for several publications.
Assisted in selling advertising space, shoot and submit photos, copy edit and proof each publication before distribution.
Use intranet tools to write, edit and submit content.
Led a team of 10 editors and reporters on a weekly basis to complete news stories, features, and page layouts.
Achieved award for participation in highly coveted Junior Press Society; developed writing skills according to established guidelines.
Editor
Over the last year to the present I've used my passion for writing to become an editor and consultant for amateur and newly established writers.
I worked with a novelist and helped assist in his publication, alongside editing his entire manuscript to near completion.
I've worked with the Co-Founder of the Jacksonville Film Festival to assist in editing and consulting on a screenplay that is to be made into a Served as a Pride member at a prestigious entity known as the National Association of Black Journalists (NABJ).
Researched and contributed articles to several media outlets including The Philadelphia Tribune, The AFRO Newsletter, and Black America Today.
Edited over 100 feature stories for professional and student publications, ranging from fitness to finance to entertainment.
Editor
Fulfilled multifaceted duties that included reporting news/feature writing, researching, fact-checking, headline/ cutline writing.
Also provided complete accurate and compelling coverage of anticipated and spontaneous news for both print and online media.
Covered several areas and themes, but most specialized in culture and arts subjects as a full-time general assignment reporter for local, national and international news during the political changes in Cuba foreign policy.
Developed editorial calendar for articles and implemented policy within magazines.
Developed a list of "pick-up" ideas for column topics, as well as being scouted by national magazines by name.
Editor
Edited and formatted manuscripts for faculty and residents for submission to scientific journals for publication, as well as confidential research materials/grant proposals.
Worked with faculty who were editors of books in editing and managing the production of major textbooks from inception to publication.
Acted as direct liaison between editors and CEOs and staff of the publishing companies; interfaced with chapter authors located in the U.S. and abroad.
Applied theoretical knowledge from various academic fields to help news reporters prepare their stories following the murder of Dr. Bennet Omalu, a forensic pathologist who discovered CTE in football players after autopsy.
Wrote and edited articles on a range of topics including current events, politics, history, health, and fitness.
Editor
Led content development for award-winning economic development magazine/media company.
Helped generate 400 percent growth in digital impressions and 50 percent growth in printed distribution.
Supervise editorial staff and contract writers, make assignments, identify key editorial contacts and establish deadlines.
Received awards for creative writing through the Fellowship of Christian Writers.
Composed over 650 articles, published in our magazine, on personal development and healthy lifestyles.
Editor
Handles all planning and organization of news section, including live coverage, weekly planning and long-term projects.
Serves as lead writer and primary voice for the Daily News' Ideas and Opinions page.
Increased letters to the editor in the paper by 300 percent in final six months of 2015 vs. the first six months of 2015.
Wrote and edited a forecast of the next month's weather; forecasted accurately over 75% of the time.
For four years running the department's online news website and section editor for our consumer-facing print magazine.
Editor
Assignment editor, writer, copy editor and proofreader for the Florida Courier, a weekly newspaper distributed statewide.
Duties include editing all staff stories and wire copy used in both publications and doing the final proofreading of all pages before they go to print.
Directed the graphic design team on layouts and assist the advertising department in identifying target areas for sales.
Editing, compiling and disseminating news and articles to the editorial staff.
Recognized for outstanding performance by rewarding with the position of Lead Editor; monitored production for quality and accuracy of articles.
Editor
Develop relationships with local residents and decision makers through regular email, phone, social media and texting contact.
Supervise production of B section of the Osceola News-Gazette newspaper.
Produce a monthly column about financial services and investments.
Responsible for the supervision of writers and photographers to ensure that the B section is produced on time and accurately.
Studied audio-visual communication theory and methods to determine the most efficient editing techniques; attended seminars on the industry.
Editor
Created the majority of the content and assign the rest to freelancers.
Worked on layout after the sales staff place ads, work with production to ensure best layout, assign which articles go online.
Also take photography to accompany my articles; attend events – at least seven a week on average.
Experienced professional development by creating editing skills which ultimately gave an edge over competitor newspapers; attended seminars to improve skills.
Shaped, edited, and proofread ~9-10 pages of local news publication each week.
Editor
Managed web content and social media presence for Vera Bradley Foundation for Breast Cancer.
Develop and ensure company-wide adherence to company brand standards.
Provided continuous training and support in editorial and multimedia skills across company departments.
Strictly enforced style guidelines to maintain a professional and ethical tone in reporting.
Worked with three reporters to compile informative articles for print and electronic media; received regional recognition for excellence in reporting.
Editor
Confer with management and editorial staff members regarding placement and emphasis of developing news stories.
Verify facts, dates, and statistics, using standard reference sources.
Read copy or proof to detect and correct errors in spelling, punctuation and style errors, prepare, rewrite and edit copy to improve readability.
Meet frequently with artists, layout personnel, marketing director, and production manager to discuss projects and resolve problems.
Studied advanced techniques for writing for print, broadcast, and internet media in postgraduate-level coursework at Columbia Journalism School.
Editor
Writing original content include port of call guides and lifestyle pieces for two books and two publications.
Maintaining and staying abreast of an ever-changing editorial calendar.
Editing written material from in-house staff and freelancers.
Coordinating with graphics, analytics and editorial for all published materials.
Finished study of current events through industry-specific subscriptions and online newspapers.
Wrap Up
You need to make sure your resume stands out amongst the other candidates. It is the first impression that employers have of your work experience and skills. Use the samples above to put together a resume that best suits your needs and helps you get the job you want.