Creative Copywriters produce marketable, entertaining writing for businesses. They are responsible for promoting the company or product by creating and designing the content found in newsletters, brochures, emails, logos, articles, and social media accounts. To succeed, one needs a Bachelor's degree in advertising, marketing, communications, or English, and a minor in business. Copywriters need to have mastered the English language, be creative thinkers, and know how business and public relations writing work. They must have a wide vocabulary, an eye for detail, excellent research skills, creativity, and great empathy.
A good resume is well-written and concise. It should be neat and easy to read, listing previous experience in a logical order.
Our resume samples will provide you with multiple examples of what you can include when writing your resume.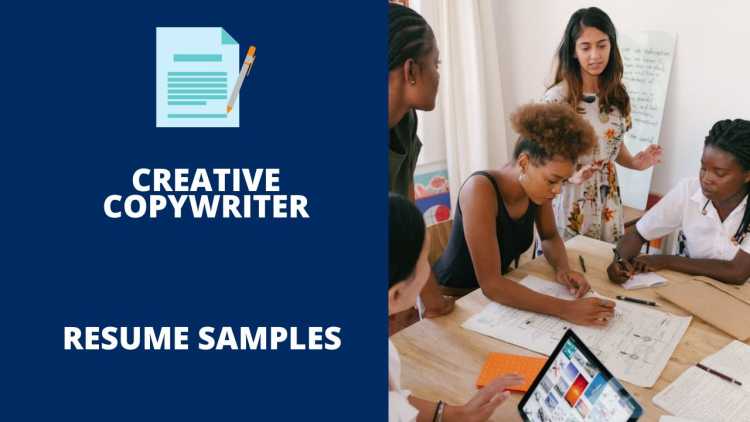 The Best Creative Copywriter Resume Samples
These are some examples of accomplishments we have handpicked from real Creative Copywriter resumes for your reference.
Copywriter
Creating strategic copy for client emails, blogs, social media, press releases, and websites.
Doing keyword research, and writing for SEO to ensure highest rankings for each client.
I continuously found myself learning new things, and was able to continue pushing myself to grow as a writer.
Whether I was writing for appliance repair, clinical research, diesel performance, or travel concierges, I believe this experience gave me the knowledge and tools to perform any copywriting task.
Over 150 creative accomplishments including magazine, newspaper, and billboard advertising.
Copywriter
Wrote high-impact editorial and product page copy in HTML code for US and Canada sites, in the voice of the brand and company.
Created content in collaboration with marketing team for annual campaign.
Delivered a presentation to digital merchandising team on a new app feature.
More than 20 journalistic projects completed over a 3-year period as an independent contractor.
Began the company's annual color calendar that became a "best seller" for a local retailer.
Copywriter
Improved client growth and sales by writing, editing and proofreading copy and content.
Performed Research and Interviews to created copy and content.
Improved client online presence by utilizing Google Adwords to craft content specifically for SEO.
Respected publication of each issue as an aspect of completed responsibilities; interviewed subjects for articles.
Created brochures, fliers and other marketing materials to promote business-to-business relationships with local Fortune 500 companies.
Copywriter
Acted as copywriter and content strategist for one of Razorfish's highest priority accounts.
Managed copy deliverables, contribute to testing processes, and provide user experience consultation.
Led client presentations and team meetings (50+ attendees) for high-profile online projects.
Helped to develop and create content for a new website for a food and drink restaurant.
Improved website search engine rankings by 15%.
Copywriter
Collaborated with creative director, graphic and web designers, product specialists and marketing managers regarding concepts and copy across multiple channels: print advertising, direct mail, websites, trade shows, online newsletters, email campaigns and social media.
Played a key role in company re-brand initiatives including new positioning, advertising, brand architecture, website, products and sales tools.
Created copy for company's annual real estate publication, which highlighted all the top properties, and helped manage project from concept to production.
Kept associates informed by writing content for a departmental newsletter, while also highlighting associate contributions for overall company success.
Generated results of 46% more clicks and 37% more leads, while writing three online sales letters.
Copywriter
Wrote effective, engaging, strategy-driven copy for a variety of direct response media.
Develop creative concepts in collaboration with art directors, under tight deadlines.
Present creative strategy, rationales and comps to clients or prospective clients.
Develop professional knowledge in all aspects of direct response/advertising.
Achieved a total of 1,944 unique visitors, 13,800 page views, 826 leads through five online marketing campaigns.
Copywriter
Worked with creative team, brainstorming and adapting layout/typeface formats to best present merchandise.
Created streamlined, updated copy formats to reflect evolving sales pieces, moving away from previous direction of catalog publications.
Helped reposition the JCP image by developing promotions in partnership with ad agency.
Increased email subscriptions by 186%, Facebook likes by 147%, Twitter followers by 48%, and LinkedIn network growth by 12%.
Edited articles and wrote news releases for clients.
Copywriter
Concepting and copywriting for corporate ads, flyers, brochures, emails, web content, videos and social media.
Conceptualized, pitched and executed several national, multimedia advertising campaigns.
Worked alongside fellow creative services team members and marketing managers to created new pieces and perform comprehensive update of existing marketing collateral as part of corporate brand refresh.
Wrote headlines and captions on news items.
Developed sales strategies to increase advertising revenue in the form of increased awareness, increased ticket sales, and a positive new image.
Copywriter
Selected talent and directed them during studio recording sessions to ensure the creative vision remained intact.
Presented campaigns internally to accounts service teams, then pitched the work to clients in a second meeting.
Copy oversight of creative product from inception through completion to approval of the campaign.
Developed relationships with other public relations representatives and worked to promote their goals as client's publicist.
Learned how to use the Internet to communicate with clients from around the world with relative ease and speed, using different platforms (Instant Message, E-mail, Text Message).
Copywriter
Collaborate with creative teams to meet client objectives and master the art of writing in a variety of styles for a diverse audience.
Concept and created integrated campaigns across multiple platforms including print, broadcast, digital and social media.
Wrote long and short copy for radio and TV production, brochures, online videos, digital content, print, point of sale and out of home mediums.
Achieved 100% client satisfaction through the creative use of words.
Successfully published five articles in New York State Journal of Medicine; noted for appropriate use of medical terminology, punctuation, and spelling.
Copywriter
Create, edit, and maintain copy decks, incorporating client/legal feedback after deliveries.
Created copy for newly designed user flows, applications, partner specific promotions, digital ads, and user testing.
QA copy decks, UI specs, and wireframe elements before client delivery.
Produced full copy on schedule, regardless of difficulty or deadline; supervisors recognized as a dependable team player who met deadlines without fail.
Enhanced the reputation of the hospital newsletter by increasing circulation to nearly 1000 readers per issue; maintained accuracy and uniformity in correspondence with writers, sponsors, and ad agencies.
Copywriter
Support marketing/content plans by crafting compelling, engaging stories about our customers and products.
Created B2B emails, social media posts, blogs, web ads and more, revising based on internal/external feedback.
Offered exciting, fresh ideas in creative brainstorm sessions to develop marketing campaigns.
Managed the company's "Mpact" marketing newsletter circulating to 5,500 recipients.
Communicate with designers, account executives and project managers to ensure timely task completion.
Wrap Up
You need to make sure your resume stands out amongst the other candidates. It is the first impression that employers have of your work experience and skills. Use the samples above to put together a resume that best suits your needs and helps you get the job you want.