A technical writer writes and edits information about a company's products and services. Duties include writing reports, editing written materials, interviewing sources, writing engineering reports, writing business analysis reports, writing standard operating procedure. Education required is a BA in business, or an industry-related field. Skills needed to perform the job are excellent writing skills, proficiency in several word-processing softwares, organized, detail oriented, ability to prioritize tasks, ability to meet deadlines, and excellent communication skills.
A good resume is well-written and concise. It should be neat and easy to read, listing previous experience in a logical order.
Our resume samples will provide you with multiple examples of what you can include when writing your resume.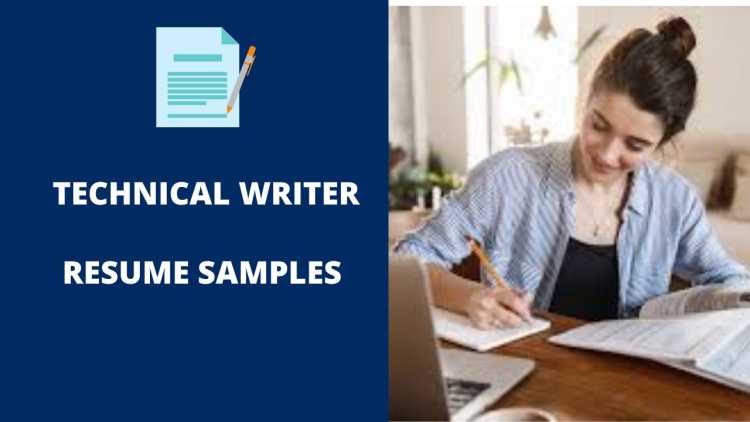 The Best Technical Writer Resume Samples
These are some examples of accomplishments we have handpicked from real Technical Writer resumes for your reference.
Technical Writer
Technical documentation of advanced industrial camera hardware and software:
Technical manuals, quick guides, spec sheets, and website technical content.
API documentation review, ISO quality documentation review, and engineering documentation review.
Writing press releases, developing presentations, creating marketing videos, managing training records.
Edited and published over 500 articles in magazines, newspapers, on the web, and through trade journals.
Technical Writer
Compose, edit and produce technical manuals, supplements and materials in conformance with FAA style guides, customer and company's document standards.
Assisted with overall quality of manual sets including manual content and all control documents.
Ensure the accuracy, completeness and timeliness of the technical documentation based on the project and client requirements.
Researched and review engineering drawings and related technical data, determine their effect on aircraft technical manuals and publications such as IPC.
Researched and produced technical reports for plant component parts and spent two months training a new employee in the technical writing process.
Technical Writer
Writes easy-to-understand user interface text, online help and developer guides.
Assists with proposal related tasks including proofing, formatting and producing technical written content for Requests for Information (RFIs) and Requests for Proposals (RFPs).
Created tutorials to help end-users use a variety of applications including technical manuals.
Prepared materials for other technical writers to use in their copyediting work.
Continuously edited a book from its inception to publication, producing interchangeable work on a monthly basis.
Technical Writer
Contracted to developed /designed new and revised existing procedures based on analysis, business documents and feedback.
Completed all documentation according to stringent corporate Design Standards.
Received approvals from Stakeholders and Compliance; uploaded code into Information Manager; cleaned the code as necessary and then published content and updates in the Online Reference System within project deadlines.
Posted hundreds of news releases at company website on a daily basis, continually monitoring company's news blog entries.
Drafted highly effective technical solutions to customer problems in response to their requests.
Technical Writer
Extensive knowledge and expertise of Broad Vision/Quick Silver/Interleaf resulted in the construction and publication of 9 Japanese, 6 Tunisian, and 2 Taiwan publications within the first 8 months of coming on board.
Exceeded at understanding Northrop Grumman FMS publication processes and standardization procedures with minimum training required.
Utilized past Aviation and Aircrew experience to research numerous source data documents for correct illustrations, procedures, by utilizing past Aviation and Aircrew experience to ensure standardization and correctness.
Rewrote, transformed, and formatted data into policies, procedures, and organization charts for the company.
Developed clear-cut instruction guides and manuals for training administrative staff on software applications and hardware integration.
Technical Writer
Planned, wrote, and edited forensic engineering reports, as well as maintenance and test procedures, used in insurance claims and litigation.
Documented client concerns in standardized content across platforms and media.
Use photographs, drawings, diagrams, and charts that increase users' understanding.
Forged professional relationships with others in order to gather information for extensive projects.
Researched and compiled business statistics, organized content accordingly, and integrated research into comprehensive proposals.
Technical Writer
Policy analyst and member of several interdisciplinary teams that craft policy for fisheries management based on long-term strategies to replenish and recover national stocks.
Translator of statistical information so that average citizen can comprehend and contribute to decisions published in the Federal Register.
Researched and created internal documentation related to multi-region fishery requirements.
Researched and targeted market needs; helped to redefine products and services; established new goals for marketing plans.
Wrote context-sensitive manuals for new software programs, upgrading and updating the manual for the software that has been around for 15 years.
Technical Writer
Assisted teams in drafting and editing regulatory documents including: regulatory work plans, proposed rules, final rules, and meeting transcripts.
Formatted and edited documents in accordance with the Federal Register Document Drafting Handbook (October 1998 revision) and the Government Printing Office Style Manual.
Collaborated with subject matter experts and used plain language guidance to ensure the regulations were written in an understandable way.
Peer reviewed the work of other members of regulatory writing team for consistency and proper grammar.
Completed ten technical writing assignments and received positive feedback from the team leader, the project manager, and the customer.
Technical Writer
Proven Ability to read, analyze, and interpret engineering drawings, charts, wiring diagrams, and schematics.
Proven ability to work unsupervised in a highly dynamic environment.
Advanced experience with illustrating programs such as Adobe InDesign and Photoshop.
Ability to receive technical direction from team members and project teams.
Used professional concepts and apply company policies and procedures to resolve a variety of issues.
Technical Writer
Technical Writer for a large provider of medications, supplies, durable medical equipment and other specialty services to the workers' compensation population.
Developing user documentation for internal and external clients.
Working with software developers testing product applications and developing solutions to work around problem areas.
Developing macros to improve the capabilities and productivity of the Microsoft suite of products.
Developed templates with Flash action scripting, which gave our clients an interactive tool through Adobe Acrobat Reader.
Technical Writer
I currently work as an independent contract by an industrial water treatment company as a Technical Writer.
I am responsible for the development, maintenance, and editing of manuals for highly sophisticated computer-based chemical feed equipment.
I work closely with engineers, designers, computer programmers, and field technicians to write supporting documents for products and use photographs, drawings, and diagrams that increase end users' understanding.
Created a script that enabled us to automate several tasks on our web server by sending an email command through PHP "programming".
Communicated technical information with general, non-technical audiences; maintained and created a multi-player message database.
Technical Writer
Collects, researches and interprets basic engineering source data, vendor data, and customer data in order to design, organize, and develop technical data required to operate and maintain aircraft, missiles, weapon systems, support equipment, training equipment, and non-traditional products.
Develops detailed outlines and creates procedures for military and commercial maintenance and operations manuals.
Identifies source data issues that may influence product designs and processes.
Jointly developed the computer program and procedures/protocols for coordinating news channels within the newspaper as well as between newspapers.
Developed communication skills through experience with PR, public relations, website management, and writing.
Wrap Up
You need to make sure your resume stands out amongst the other candidates. It is the first impression that employers have of your work experience and skills. Use the samples above to put together a resume that best suits your needs and helps you get the job you want.