Professional Writers can do many different things from technical writing, copywriting and editing. Their duties include editing others work, proofreading, creating original content or articles, working with other writers, conducting research and creating marketing plans. To work as a Professional Writer most have a bachelor's degree in a writing related program. Professional Writers must demonstrate fluency in language, grammar and punctuation, creativity, writing, proofreading, time management and communication skills.
A good resume is well-written and concise. It should be neat and easy to read, listing previous experience in a logical order.
Our resume samples will provide you with multiple examples of what you can include when writing your resume.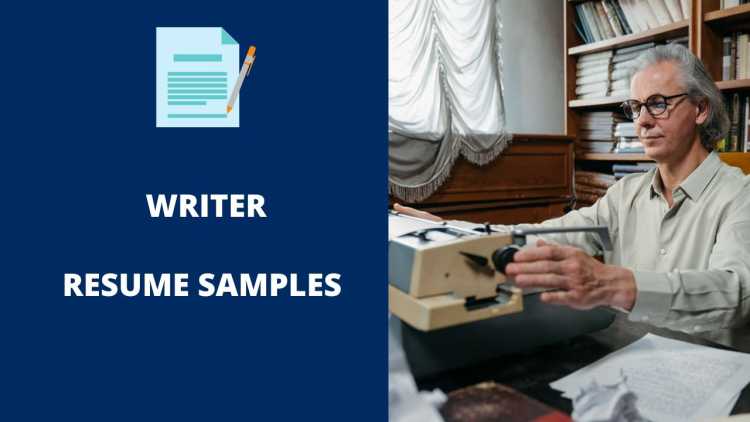 The Best Writer Resume Samples
These are some examples of accomplishments we have handpicked from real Writer resumes for your reference.
Writer
Conceptualize and develop blog posts to provide inspiration, and styling tips to the general public.
The created original style looks to post on blogs and other social media outlets (Instagram, Twitter, etc.).
Wrote original pieces pertaining to style, travel, non-fiction, and fiction pieces.
Interact with fashion e-commerce companies to promote and market their products.
Written articles for local and national publications by age 12; published one's own newspaper in grade school.
Writer
Wrote entertainment articles focusing on nostalgia programs, current TV shows, and upcoming movies.
Phone, email, and in-person interview experience.
Averaged 3-7 pieces per day, including work for MTV's Snapchat Discover.
Jointly produced over 100 pages of school news every month while in junior high and high school.
They attained a rating of 93% within the first semester of college due to their writing and public speaking abilities.
Writer
Wrote astrological profiles in script format, so the user gets the effect of talking to an astrologer.
Created additional add-on scripts for different psychological issues (ex. low self-esteem, social anxiety), to be incorporated into the main profiles via the app's data collection.
Copy-edit existing scripts for grammar and tone.
Won an all-around award for scholarship, tutorial assistance, and achievement for graduating seniors.
Wrote two children's books during summer vacation from high school to age 17; earned prize-winning award through a national contest.
Writer
Publish weekly advice articles on season-long fantasy basketball with a focus on struggling star players.
Wrote several strategy articles per week on basketball and baseball for daily fantasy sports.
Contributed future publication formats developed 60,000-word historical fiction novel manuscript, entitled "Under the Maginot".
Received four out of five stars from the online literary magazine "IndieReader" (IR) and was a finalist for the 2016 IR Discovery Awards, as well as several positive ratings on Amazon.com and Goodreads.com.
Coordinated with graphic design contractors in order to create a book cover and promotional materials.
Writer
Used leg work, sourcing from the public, governmental documents and records, as well as plugged in individuals, to dig for what was new in commercial, leisure, and residential real estate development, including regulatory developments.
Very relationship sensitive. Ensured trust and ease by those disclosing information, including developers builders, and buyers and sellers, like REITs.
Extremely deadline-driven–responsible for as many as three stories a day.
Completed an autobiography and a novel, both of which were published.
Hired based upon a recommendation by the President of Media Outlets, Inc.
Writer
Wrote articles relating to our 4 themes: Landscape Architecture, Trends, Environment, and Art.
With the help of my team, my articles will be edited and published on landarchs.com.
We work as a team to inspire and shed light on the world of landscape architecture to students, professionals, and the general public.
Recognized for excellence in writing after receiving the award for Best Article of the Month in August 2008.
Awarded Highest Honor in Media Writing; wrote more than 300 articles that were published in more than fifteen newspapers around the country.
Writer
Ten years of writing and editing experience and well-honed attention to detail.
Written a broad range of work spanning fiction and non-fiction, including marketing material, to target a wide audience.
Managed multiple projects, including freelance writing, copyediting, and proofreading, under tight deadlines.
Won first place award in creative writing; wrote short stories and poetry during high school years.
Awarded by the prestigious Literary Review for best fiction for its publication.
Writer
Served as a post-game writer for the full 2015-16 season; broadcasted 19 games total, including all five playoff games, on either Terrier TV or WTBU.
Also broadcasted five Men's ice hockey games, including a solo call for Red Hot Hockey at Madison Square Garden, and one game of Men's basketball, Field Hockey, and softball each.
Contributed to Terrier Talk, a radio show devoted to BU Sports, during Fall semester; full host in Spring.
Received two writing awards from The International Review of Authors for short subjects and non-fiction subjects.
A bestseller for nearly 2000 copies sold.
Writer
Wrote food and restaurant-related articles in the Northern Virginia and Washington D.C. area.
Attend DC Food Blogger events, media-only new restaurant tastings, and new menu restaurant/bar tastings for articles.
Capture and post supplementary photos for articles.
Received several nominations from The New Age Magazine, African Arts Magazine, and a host of other publications indicating high recognition as a writer by peers.
Published more than ten articles on mysteries and suspense lines with Writer's Digest Magazine; recommended by leading editors as a top writer.
Writer
Utilized key research and communication skills in crafting articles exploring current events relevant to American history, including museum events, donations, and acquisitions.
Develop profiles depicting important influences on American history that have significantly impacted American cultural development.
Effectively utilized in-depth online archives and journals to capture salient details and relevance to modern readers.
Cultivated experience in all the principles and techniques of writing with a solid foundation for diverse journalistic styles and methods.
Earned awards for rewriting and editing articles from press releases that were not written in proper English.
Writer
Convert content from in-person training and reference materials into succinct key points highlighting text and visuals.
Review video footage and transcripts to select and organize relevant content into script format.
Worked collaboratively with clients, writers, producers, and editors to develop timelines and workflow.
Edited freelance writer's submission for presentation to representatives of major television networks; increased recognition of client's work.
Reviewed articles, approved corrections, proofread completed pieces and made necessary changes; successfully applied editing skills to a wide variety of subject matter.
Writer
Researched data for Winning Edit's company-produced infographics and provide design feedback and suggestions.
Communicate with authors to ensure deadlines are met and assist them in outlining, writing, and publishing books.
Wrote quality content for clients from all industries (blogs, articles, website content, social media posts, etc.).
Researched topics by developing interview formats, selecting appropriate media outlets, completing interviews with a variety of people in different locations at different times to glean diverse opinions.
Edited and standardized reporting techniques which increased reader interest through active-voice techniques.
Wrap Up
You need to make sure your resume stands out amongst the other candidates. It is the first impression that employers have of your work experience and skills. Use the samples above to put together a resume that best suits your needs and helps you get the job you want.