Professors provide education to undergraduates and graduate students at colleges and universities. Their duties include making curricula, giving lectures, conducting and publishing research, meeting with faculty and staff, training and mentoring students, grading, and evaluating student progress. To work as a professor, you must have a Master's degree or Ph.D. in a related discipline and 3-10 years of academic experience. Professors must hold mentoring and training capabilities, strong presentation skills, verbal and written communication skills, interpersonal skills, research abilities, organizational skills, and understanding online education programs.
A good resume is well-written and concise. It should be neat and easy to read, listing previous experience in a logical order.
Our resume samples will provide you with multiple examples of what you can include when writing your resume.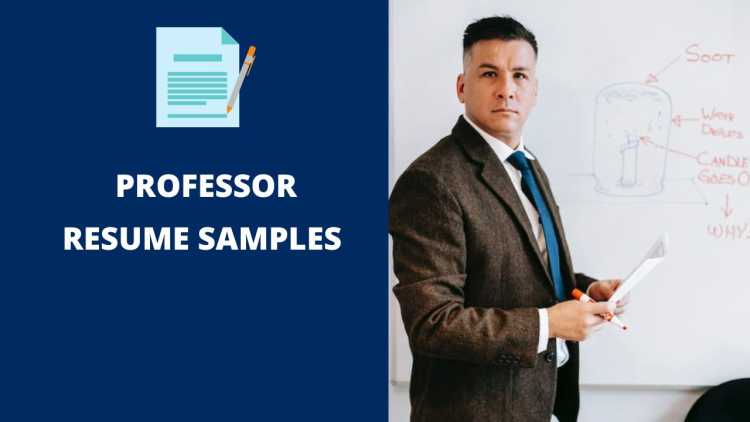 The Best Professor Resume Samples
These are some examples of accomplishments we have handpicked from real Professor resumes for your reference.
Professor
I started as a lecturer and became a full professor of law in its law school.
I am the first scholar in China that have advocated for studying and adopting American Laws instead of current Chinese laws.
I won some awards for my researching and writing, and voted for the most popular teacher.
Developed, taught, and published over 150 articles for the Texas Monthly and other periodicals; lectured at numerous local, state and national conventions.
Invented a number of practical teaching tools including a new grading system for behavioral science courses.
Professor
Professor of introductory nutrition course designed to fulfill upper division and transfer units.
The course content covered all areas of nutrition including macro and micro nutrients, scientific method and reasoning, dietary recommendations, government regulation of dietary research and intake, epidemiology, food safety, and lifecycle and sports nutrition.
The course was implemented in person and utilized a web based system for hosting course materials.
Developed an instructor preparation program to encourage excellence in teaching university students.
Created an innovative text explaining the functions of language in society.
Professor
Marketing and Strategy Management in the Global Marketplace – strategic marketing to created competitive advantage, capture value, analyze customers, industry, technology and options for growth and profitability.
The Manager in Organizations and Society – leadership, ethical decision making, critical thinking, systems management, organizational theory and design, and law and corporate social responsibility.
Ethical Leadership in Organizations and Society – ethical and legal decision making for optimal global performance and success; workforce, recruitment and retention; virtual team leadership and startup funding.
Helped start a community college from scratch by developing curriculum, faculty, staff, and building facilities in three years.
Mentored and prepared students for graduate school by imparting knowledge in the fields of law, medicine, and business.
Professor
Worked with students in a small and a big groups, in different kind of classes (on board, practical with humans and practical with human mannequin).
Created interesting class materials and lesson plans for these classes.
Incentive for active searching to find answers for medical problems brought by the professors and discussed on class.
Helped futures doctors to be more sensitive with people, teaching the importance to be a good listener.
Received University award for outstanding teaching for contributions toward student success; earned the loyalty of students through mutual respect and understanding.
Professor
To share concerns with the Lead Professor in all matters related to students in the Bachelor's Degree Nursing (BSN) Program.
Knowledge of current nursing theories of practice skills used in the clinical settings.
Maintain records of students' performance and confer with the Lead Professor in establishing guidelines for clinical performance.
Grade nursing care plans and other assignments in accordance with the Lead Instructor's guidelines and clinical objectives.
Directed student-run clinics by fostering collaboration between doctors, lawyers, professors, and students on client services.
Professor
Demonstrated academic as well as research experience at the Institute as a Professor of Electrical Engineering to provide galvanizing support for Integration.
Teaching subjects like Transmission and Distribution, Power Systems, Smart grid Technologies, HV Engineering and Field Theory for Undergraduate as well as Post graduate students.
Coordinate with the faculty members on all the research activities of the faculty Projects on Power systems research, to take up & execute externally funded Projects.
Attained a University research grant to support my project on "Diagnosing Successful Learning"; assigned as adviser to first year medical students throughout their education.
Recognized as a respected instructor through honors bestowed upon me by students in my classes; earned the loyalty of students through mutual respect and understanding.
Professor
Delivered lectures on Software Engineering, Data structure, Fundamental of C, Distributed System, Operating system and Graph Theory.
Conducted laboratory for C, Data structure, Java and HTML. Develop test cases based on test plans for various projects.
Library Management System to automate the manual library to reduce the human effort and to increase the efficiency using Visual basic and MS-access.
Empowering RMI in java objects: Mentored 3 B.Tech final year student to develop java based application.
Coached a group of 200 students with special needs in math, visual arts, and language arts.
Professor
Fostered an environment conducive to learning, promoting student interest and engagement by encouraging students to develop their natural learning potential and capacity for innovation.
Provided personal support and insight to guide individual learning and development paths aligned with student talents and needs.
Assisted students in overcoming problems and obstacles.
Coached a group of 200 students with special needs in math, visual arts, and language arts.
Taught elementary math class for seven years at the university level.
Professor
Collaborate with students, faculty, and staff to build pathways toward a career in healthcare industry.
Build work-based learning program along continuum, serving college students, collaborating with industry partners and community-based organizations.
Build student knowledge base to effectuate employment-readiness, enhance enrollment, and collaboration with industry and community-based organizations.
Managed Bridge to Healthcare Careers program for Spring 2017 which included iBest pedagogical model and imbedded life-coach course.
Developed curriculum through 12 years of academic study and research.
Professor
Taught senior capstone courses requiring extensive coordination for students to learn by doing.
I empowered and led students to design, develop, and produce a live apparel product line for resale in the campus bookstore.
As a team, students produced a product line and learned to meet tight deadlines within the apparel supply chain to created production patterns, produce markers, source raw material, and manufacture product.
Taught retail buying and created retail spreadsheet templates for six-month plans, assortment plans, markups, markdowns, purchase orders, and discount terms.
Developed college-level courses for secondary schools based on course material from a range of teaching methods, including cooperative learning and project-based learning.
Professor
Responsible for Power Electronics and Maintenance of Transformer and Circuit Breaker courses.
Involved in developing course curriculum and workshop labs.
Assessed student's course assignment and provided mentoring and support on a personal level.
Assisted senior professors with department's administrative tasks.
Published more than thirty professional works in U.S.
Professor
Attend to various learning skills and styles by taking extra time to know each student's cognitive background, goals and abilities.
Included activities outside the classroom where the students had the opportunity to an empiric approach of the matter taught while putting into practice the discussed theory.
Cooperate with the CCAT librarian to help develop solutions to technical issues.
Coordinate extracurricular activities related to the field of study with the students in order to enrich the knowledge of these.
Provided education and direction to students who had previously availed themselves of other instructors.
Wrap Up
You need to make sure your resume stands out amongst the other candidates. It is the first impression that employers have of your work experience and skills. Use the samples above to put together a resume that best suits your needs and helps you get the job you want.