Academic Advisors provide support for college students. Their duties include creating study plans, keeping track of academic progress, staying informed of institutional policies, identifying educational goals, addressing concerns about majors, and resolving academic difficulties. To become an Academic Advisor, you must obtain a Bachelor's degree in an education-related field. Academic Advisors must demonstrate attention to detail, communication skills, listening skills, organizational skills, interpersonal skills, empathy, and problem-solving skills.
A good resume is well-written and concise. It should be neat and easy to read, listing previous experience in a logical order.
Our resume samples will provide you with multiple examples of what you can include when writing your resume.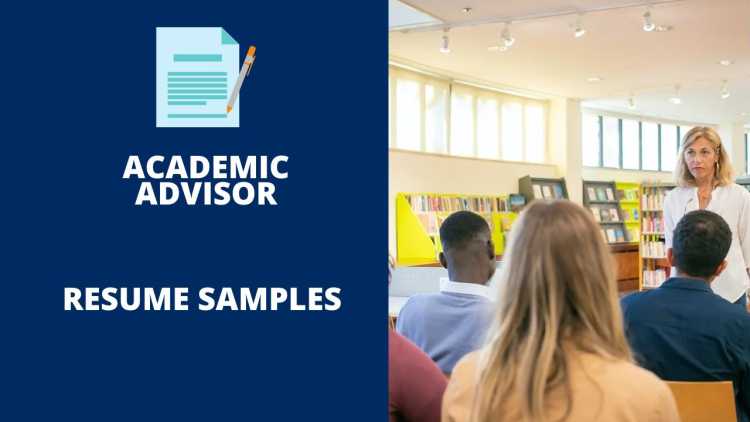 The Best Academic Advisor Resume Samples
These are some examples of accomplishments we have handpicked from real Academic Advisor resumes for your reference.
Academic Advisor
Engages students in discussions about goal-setting, identifying strengths, and strengthening weaknesses.
Promotes participation in high-impact learning experiences such as internships, volunteer work, and academic events.
Creates programs that are aligned with Texas A&M's Quality Enhancement Plan initiative.
Plans informational and educational events related to the Department of Information and Operations Management.
Sought to understand and meet the academic and personal needs of students by establishing a rapport with them, encouraging them to achieve their goals.
Academic Advisor
Help students define and develop realistic educational plans through schedule planning for each semester and summer school, if appropriate.
Each student should have an up-to-date academic schedule plan through to graduation.
Proactively contact and be available for students on a regular basis.
Advisors should plan for extended hours during peak advising seasons.
Consult regularly with faculty colleagues in order to have up-to-date information on curriculum and degree plans.
Academic Advisor
Advised students regarding coursework, requirements for degree completion, and requirements for obtaining admission into various professional programs.
Created Operational Procedure manual for department advisors and improved administrative procedures for ease and efficiency.
Presented to students about departmental information on a regular basis.
Represented department at resource fairs to new and prospective students.
Prepared and distributed mass emails of pertinent information to departmental majors (approximately 1500 students); responded to information requests in a timely manner.
Academic Advisor
Assists supervisors and managers by ensuring the accomplishment of operational outcomes in processes or programs.
Provides academic advice to a cohort of students, serving as the first line of contact for students.
Provides direction and referrals to a cohort group to meet the student's needs.
Meets with students on a regular basis to track their success and progress, reporting on the progress of students and involves others to assist with their success.
Stayed current with local programs through a constant exchange of information with other advisors and by attending workshops, seminars, conferences, and professional development sessions.
Academic Advisor
Advocate for students and provide professional expertise to help faculty, staff, administrators, parents and other community members understand steps to college and career.
Connect all assigned students to school and community resources that help overcome barriers and ensure successful transitions from high school to college.
Created early awareness, knowledge and skills that lay the foundation for the academic rigor and social development necessary for college and career readiness.
Provided degree plans for core, major and transfer students; implements academic advising strategies and achievement of student learning outcomes.
Assisted a diverse student body in enrollment in innovative degree programs by providing counseling and mentoring to students from disadvantaged backgrounds.
Academic Advisor
Advise and lead students individually and in groups on the degree options in the College of Business and conduct individual appointments to guide their educational decisions.
Approved all designated educational transactions (e.g., pre-registration/registration schedule, drops/adds, withdrawals, change of major and advisor, waivers, graduation requirements, etc.).
Promote student understanding of the logic and purpose of the curriculum.
Participate in training, workshops, and events to improve knowledge and provide the most current practices in the field.
Initiated a program that aided first-generation college students at risk of dropping out or transferring because of low self-esteem or reduced confidence.
Academic Advisor
Advised current and prospective students regarding degrees offered, requirements, resources, university policies, and procedures.
Led freshman orientation sessions and assist with transfer student orientations.
Reviewed and evaluated transfer coursework utilizing computer software systems.
Provided graduation checks to ensure students graduate in a timely and efficient manner.
Collaborate with staff, faculty, and students to resolve scheduling conflicts and created solutions.
Academic Advisor
Responsible for understanding and interpreting the needs of students at-risk for academic suspension as well as any student desiring intensive and intrusive advising.
Participant in the planning and delivery of academic advising services and programs which promote comprehensive educational opportunities for all undergraduate students.
Cooperated with administrators, faculty members, and appropriate staff in providing for academic advising needs of individuals or groups of students.
Worked to improve the schools' admission procedures, credit-hour calculation factors, program requirements, and communication with other colleges and universities.
Conceived and planned over twenty academic policies for high school students, including the use of online educational materials.
Academic Advisor
Counseled graduate and undergraduate students in regard to educational and professional goals.
Organized recruitment and admission events for prospective students.
Served as an Academic Advisor for students Consistently met and exceeded department expectations for productivity and accuracy levels.
Received company Employee Performance Award after maintaining record sales achievement for the year.
Founded and developed programs for diverse students to prepare for college by addressing their unique skills and challenges.
Academic Advisor
Comprehension of degree requirements, certification requirements, test scores, grades, and course selection to meet academic standards for degree progress.
Assisted freshmen and transfer students with determining which pathway is the best for their academic success.
Review and evaluate transcripts to ensure proper credit has been applied towards the student's degree.
Develop an Early Alert system that is used to target students who are at-risk of not completing their degree.
Offered academic counseling services to a variety of students including those with extensive disabilities.
Academic Advisor
Responsible for providing educational guidance and assistance for students by planning schedules, recommending courses and determining appropriate education solutions for different types of students.
Monitor progress toward educational/career goals and meet at least once each semester to review the progress toward completing the proposed academic program and to discuss grades and other performance indicators.
Approve all designated educational transactions, for example, registration schedule, drops/adds, withdrawals, change of major and advisor, waivers, graduation requirements, etc.
Assisted over 60% of freshman college entrants with their transition into a predominantly White community by assessing existing issues, problems, and conflicts.
Educated over six hundred students, most of whom had limited or no previous high school preparation, in the fundamentals of algebra, geometry, and in-depth study of U.S. history and government.
Academic Advisor
Advisor Responsibilities Academic advisors are responsible for helping Neeley students develop a comprehensive academic plan that is consistent with the student's goals.
Assisted students in academic planning towards Admission into the Neeley School.
Work with students who are struggling academically to refer to offices across campus to establish learning and study skills alongside becoming a well-rounded student.
Evaluated and re-adjusted achievement goals for two hundred high school seniors who met college requirements but lacked the academic background to be admitted to selective universities.
Earned recognition as a Teacher of the Year; represented school in annual year book competition and won first place award for creative photographs depicting social life on campus.
Wrap Up
You need to make sure your resume stands out amongst the other candidates. It is the first impression that employers have of your work experience and skills. Use the samples above to put together a resume that best suits your needs and helps you get the job you want.