Special Education Teachers teach academics and skills to students with a variety of disabilities. Their duties are organizing lesson plans, planning activities, communicating student progress with parents, recording student progress, evaluating behavior, and teaching academics, communication, and social skills. Special Education Teachers must have a Bachelor or Master in Education with a specialized degree/certificate in special education. Special Education Teachers should be patient, organized, observant, creative, have problem-solving skills, a passion for teaching, and excellent communication to be successful.
A good resume is well-written and concise. It should be neat and easy to read, listing previous experience in a logical order.
Our resume samples will provide you with multiple examples of what you can include when writing your resume.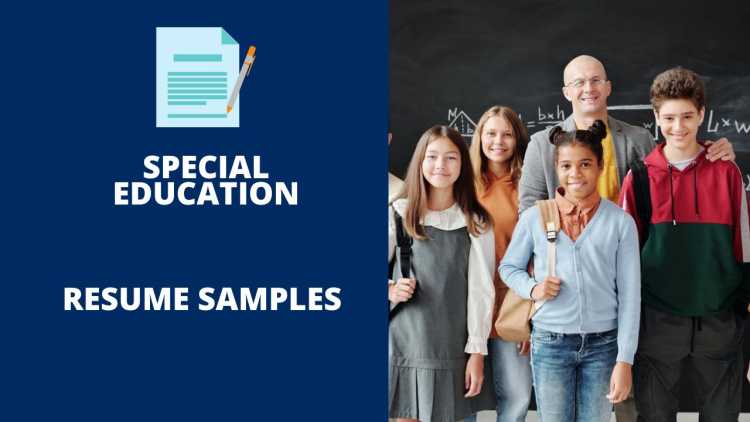 The Best Special Education Resume Samples
These are some examples of accomplishments we have handpicked from real Special Education resumes for your reference.
Special Education Teacher
Obtain teachers support material for the purpose of enrichment and reinforcement of hands on instruction and exploration.
Frequently communicate with the regular education teacher when a child is mainstreamed and assist with providing appropriate instruction and with modifying when needed instructional practices to accommodate the needs and learning styles of the child.
Continuous communication with the parents to nurture a supportive and cooperative relationship between home and school.
Special Education Teacher
Special education teacher for self-contained/resource classroom with students from kindergarten to fourth grade.
Provided instruction to students with developmental delays, Students range from learning disabled to autistic.
Develop IEPs for individual student achievement and collaborate with speech, occupational and physical therapists.
Communicate with parents and general education teachers to ensure student success.
Special Education Teacher
Provided differentiated instruction using the Workshop Model in all content areas to meet the needs of learners with emotional challenges resulting from one or more of the following disabilities: Autism, OHI, EDBD.
Worked collaboratively with school psychologist and all service providers.
Administer assessments to monitor student progress and drive instruction as students work to achieve IEP goals.
Special Education Teacher
Instructed all academic subjects to general education students as well as students with learning challenges and special needs.
Conduct small group and individual activities with students based on differentiated learning needs.
Worked cooperatively in a team teaching team to drive instruction, lesson plan, and monitor students' progress.
Establish a conductive, stimulating, engaging, and respective classroom environment that is adaptive to all students' needs.
Special Education Teacher
Manages Individualized Education Programs for 15 students each year; meets with parents and ensures proper education practices implementation.
Oversees and maintains compliance of 45 teachers and instruction for groups of 10-20 special education students.
Plan and execute behavioral intervention plans for 12-15 students per year, to ensure corrective action is producing a positive impact in classroom setting.
Special Education Teacher
Organized MS PowerPoint, Web-based, Smartboard technology, etc. to created and deliver engaging lessons.
Implemented real world, Project and Inquiry Based learning to stimulate critical thinking and student-centered learning.
Differentiated instruction to accommodate various levels, multiple intelligences, and learning modalities.
Drove progress using tiered, multi-faceted assessments, data analysis, and record keeping enhancing instruction.
Special Education Teacher
Focused on building social, play and adaptive skills throughout the day and across various settings.
Integrated techniques suggested by related services providers within the classroom.
Planned instruction utilizing thematic units focused around child's interests and grade level curriculum.
Collaborated with families to enable their active participation in their child's education.
Special Education Teacher
Provided direct support to students by delivering instruction through co-teaching models and strategies.
Plan and monitor students' progress in collaboration with general education teachers.
Analyze students' academic strengths and weakness and provided intensive interventions and differentiation strategies.
Provided instruction to students with disabilities based upon grade level state standards, curriculum and research based practices.
Special Education Teacher
Taught daily life skills to students using task analysis and applied and Allocation behavioral programming strategies Inventory Shrinkage Control.
Organized and directed activities on field and community-based trips to various settings Sales Coaching.
Aligned individualized education programs with blueprint for teaching Merchandising Standards and learning visual arts.
Special Education Teacher
Teaching socially acceptable behavior, as determined by the students' individualized education programs (IEPs) by employing techniques in an overall positive behavioral support system.
Modifying the general education curriculum for students with disabilities based upon a variety of instructional techniques and technologies.
Meet with parents to discuss their children's progress and to determine priorities for their children and their individualized educational needs.
Special Education Teacher
Developed and teach clear and engaging lessons that follow the Common Core aligned curriculum.
Utilized formal and informal assessment data to drive instruction and ensure student mastery of standards.
Created individual education programs for students with specific goals and objectives.
Special Education Teacher
Generated and incorporated learning strategies for students with learning disabilities.
Observed co-teachers and offered constructive criticism for best practices.
Created and managed various systems for tracking large amounts of data.
Developed strong relationships with students and families through advisory, planning daily activities, tracking student progress, and generating action plans for struggling students.
Wrap Up
You need to make sure your resume stands out amongst the other candidates. It is the first impression that employers have of your work experience and skills. Use the samples above to put together a resume that best suits your needs and helps you get the job you want.