ESL Teachers instruct non-English speaking students in the English language. Their duties include lesson planning, communicating with parents, meeting with colleagues to discuss curriculum and skills, working with children one-on-one for tutoring, grading tests and papers, evaluating student progress, maintaining accurate records on student performance, following state guidelines to keep students up to date on procedures. To become an ESL teacher you must have a bachelor's degree in education or a related field along with proper ESL training. ESL teachers need to be good team players, patient, organized, professional communicators skilled at adapting lessons for diverse learners.
A good resume is well-written and concise. It should be neat and easy to read, listing previous experience in a logical order.
Our resume samples will provide you with multiple examples of what you can include when writing your resume.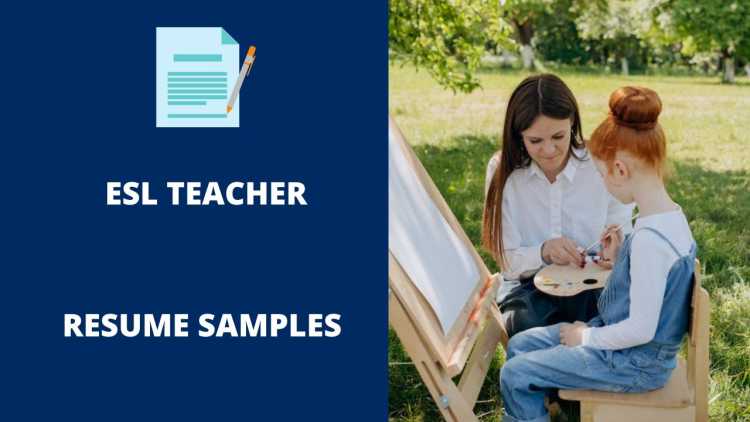 The Best ESL Teacher Resume Samples
These are some examples of accomplishments we have handpicked from real ESL Teacher resumes for your reference.
ESL Teacher
Teaches specified English to higher level ESL speakers from a wide gamut of different cultures and countries.
Curates in-depth private lessons for participating students.
Supplements existing lesson plans with personal, experience-based English.
Trained over 100 ESL teachers and placed them in homes to teach English as a Second Language.
Introduced and implemented new classroom resources to enhance student learning and self-esteem; participated in the curriculum improvement process.
ESL Teacher
Assisted in developing language acquisition support plans for all ESL students and work with classroom teachers to implement plans.
Employ a variety of instructional techniques and teaching strategies to meet different aptitudes and interests of students, including whole group (co-teaching)/ small-group or individual learning.
Taught Arabic as a foreign language, with emphasis on culture, religion and tradition.
Developed instructional strategies to increase student motivation and minimize repeated errors.
Created custom activities based on each students' needs.
ESL Teacher
Provided students with relevant and engaging lessons tailored to enable them to reach their personal needs and objectives.
Actively participate in any required observations and feedback sessions, training, development meetings and informational meetings.
Develop and use supplementary material within EF guidelines to support learning needs.
Participated in the revision of curriculum for the elementary level for the first time since the beginning.
Developed instructional strategies for class with limited English speakers to enhance retention, fluency, and comprehension; increased student participation during class time.
ESL Teacher
Worked in a Korean English center in Vietnam with a multi-national group of teachers.
Communicated information to students with little to no previous English experience.
Prepared lesson plans that anticipated problem areas and included potential solutions.
Participated in the revision of curriculum for the elementary level for the first time since beginning as an instructor/satellite coordinator.
Taught adults and children whose first language was not English, to communicate effectively in a variety of settings.
ESL Teacher
Taught multi-level students application and private courses encompassing a range of skill building activities.
Instructed more than 300 students through lectures, discussions, group activities and demonstrations.
Conducted small group and individual classroom activities based on differentiated learning needs.
Communicated effectively with students by articulating clearly, selecting vocabulary, and assessing comprehension by varying methods.
Listened actively and effectively in order to identify and solve problems, facilitated learning for students, and built student's confidence.
ESL Teacher
Constructing and teaching ESL lessons for long and short-term foreign students.
Each lesson is 80 minutes and consists of grammar, reading, writing, speaking, and pronunciation practice.
Lessons are student-centered, with emphasis on student use and production of lesson material.
Lesson plans are conceived of by the teacher, using a combination of personally developed materials and materials provided by EF.
Convinced non-English speaking parents to send their children to school by explaining the benefits of learning English.
ESL Teacher
Results-oriented English as a Second Language( ESL) teacher committed to creating a hands-on curriculum, empowering students to succeed, instilling leadership, and creating multicultural awareness through teaching the fundamentals of the English language.
Worked closely with principals, teachers, ESL coaches and other school staff to provide a good learning environment for every student.
Plan with homeroom teachers and develop ESL materials to meet the changing needs of students.
Magnified students' self-esteem and confidence by guiding, counseling, and mentoring students with study tips, organizational skills training, and goal setting.
Taught more than 700 students in 6 weeks how to read, write, speak and translate, then taught them to think critically.
ESL Teacher
Developed the English language curriculum including, lectures, tests and reading materials; improve students' English with tutoring to prepare them for Cambridge testing.
Collaborated with colleagues from the elementary, middle and high school to enhance the English program.
Helped develop and organize the summer city camp for students with a variety of English skills.
Developed a curriculum that required students to understand the connection between the individual and society.
Used my background teaching English as a Second Language (ESL) to encourage beginners while assisting advanced learners in learning English.
ESL Teacher
Used district snapshots and high school collaborative assessments to analyze the data and modify lesson plans according to the student's needs.
Adapted lessons for beginner, intermediate and advanced ESL students or students with learning disabilities.
Facilitated tutoring for those students who needed extra from Mondays through Thursdays.
Participated in team meetings in order to collaborate on lesson plans and assess student progress.
Allowed me to be inspired by those around me; realized that it is possible for each person to make a difference.
ESL Teacher
Develop and teach listening, speaking, reading, and writing lessons to build English proficiency in adult learners.
Utilized a variety of methods, strategies, and curriculum to meet the individual needs of students of varied language levels.
Plan effective lessons that encourage community, engage participants, and address cultural concerns.
Instructed ESL to adults, teenagers, and children.
Taught ESL in a variety of settings including Home, Business, College, and School environments.
ESL Teacher
Creative troubleshooter with the aptitude to identify problems and execute practical solutions while delivering high quality performance under stress.
Experienced with heavy machine equipment (backhoe, ditch witch, bulldozer, pallet jack, baler, and forklift.
Strong Knowledge and experience with various types of test equipment, toners, Optical Time Domain Reflectometers (OTDR), punch downs, fusion splicing, cable dressing, patch panels, ladder racks, and Panduit installation.
Assisted in the development of a statewide K-12 ESL curriculum.
Trained in methodology for teaching English to foreign students.
ESL Teacher
Provided private instruction to individual students to improve academic performance, improve occupational skills, or prepare for academic or occupational tests.
Review class material with students by discussing text, working solutions to problems, or reviewing worksheets or other assignments.
Provided feedback to students using positive reinforcement techniques to encourage, motivate, and build confidence in students.
Studied and applied methodology for developing English language skills in children.
Trained student teachers to provide ESL students in an inner-city high school with better interpersonal skills and knowledge of English.
Wrap Up
You need to make sure your resume stands out amongst the other candidates. It is the first impression that employers have of your work experience and skills. Use the samples above to put together a resume that best suits your needs and helps you get the job you want.