School counselors advise students on educational, emotional and social issues. They must provide academic counsel to the student body, identify students' needs, develop plans for success, be ready with career advice, offer social guidance and emotional support. To work as a school counselor you must obtain a Master of Education in Counseling and become licenced and/or certified by the state. A school counselor requires empathy, patience, adaptability, flexibility, leadership ability, organizational skills, and a caring attitude.
A good resume is well-written and concise. It should be neat and easy to read, listing previous experience in a logical order.
Our resume samples will provide you with multiple examples of what you can include when writing your resume.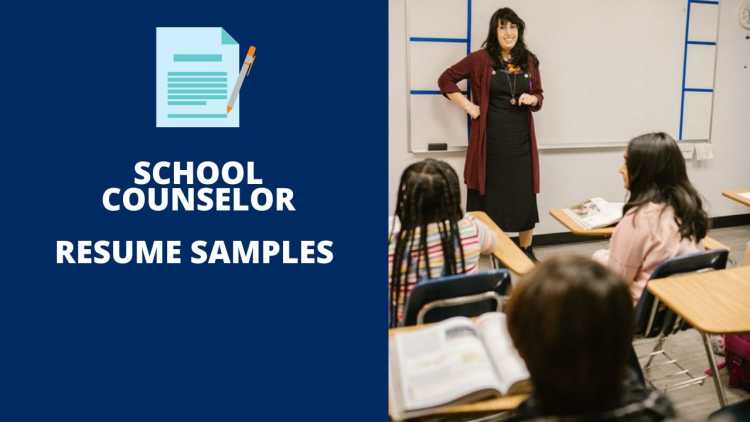 The Best School Counselor Resume Samples
These are some examples of accomplishments we have handpicked from real School Counselor resumes for your reference.
School Counselor
Met with over 600 students to assess progress towards graduation, make schedule changes in line with vocational or educational plans after high school, and discuss financial options for college.
Advocated on behalf of students to access appropriate accommodations and coordinated with parents and external resources to address a range of issues including developmental disabilities, low self-esteem, anxiety, depression, and suicidal ideation.
Served as Men's Rugby Team Advisor. Completed team season registration, scheduled games, and secured a head coach. Offered guidance, facilitated team goal setting, and managed money during fundraisers.
Part of interdisciplinary team focused on planning activities to improve moral and cohesion among faculty and staff.
Earned all-state honors in recognition of my leadership, character, and academic achievement.
School Counselor
Core Responsibilities included checking student information and cum folders, coordinated master schedule and scheduling students into appropriate classes.
Provided guidance to individual students and/or small groups.
Fulfilled special education counseling IEPs, Coordinated with CPS, homeless liaison, TPMHMR and other agencies to provide for the welfare of students.
Consulted with parents, school personnel, and other community members to help them increase the effectiveness of student education.
Selected as a member of the National Honor Society on the basis of my performance, character, and community involvement.
School Counselor
Co-developed systems with targeted 9th grade drop-out prevention which resulted in a 20% decrease of failing grades for the class of 2020.
Co-developed Summer Bridge program designed to improve the preparation and ease the transition into college in the fall.
Helped created a scholarship systems which resulted in $770,520 in awards or an average of $7,862 in scholarship money per student.
Created systems to track 12th grade post-secondary readiness which resulted in 100% of senior case load having a college, career or military plan after high school which met or exceeded state standard requirements.
Curriculum development proposals recognized by school administration in recognition of my leadership ability and excellent performance.
School Counselor
Implement an effective guidance program to support student's academic, social and emotional achievement.
Conduct small groups that focus on self-control, self-esteem, anger management, friendship and bullying.
Serve as the campus testing coordinator to ensure compliance with district and state assessment guidelines.
Aided every parent to understand and appreciate the school curriculum; assisted parents with their children's problems.
Consistently maintained an above-average grade point average while completing college coursework.
School Counselor
Provided grade transition needs for incoming middle school students.
Conducted classroom visits to all Belgrade Elementary schools in order to prepare incoming students for middle school.
Organized and led a "Tour Day" in which incoming students partook in a mock schedule and met middle school mentors and teachers.
Organized Parent Night for incoming middle school students and families.
Registered students into course electives and handled the data English and Math placements, in addition to inputting individual students in the correct placement courses.
School Counselor
We work exclusively with students who have special needs, in particular those with behavioral and emotional challenges.
MDP is a private, but publicly funded school, and students do not pay tuition in order to attend.
Students have access to all types of learning experiences in our computer labs, science labs, learning centers and more.
Our vocational program offers automotive, culinary, barbering/cosmetology and maintenance/janitorial training.
Partnered with over 20 school districts to help eliminate dropout rates.
School Counselor
Conducted individual and group counseling for middle school students across grades 6-8.
Provided students on caseload services of comprehension assessments, conflict resolutions, dialectical, play, and cognitive behavioral therapies.
Substantiated referrals and linkages to outside community resources and entitlements.
Generated settings for regular meetings to discuss the outcomes and next steps for students assigned to caseload.
Assessed students for suicidal ideation in correlation with linking them to appropriate medical resources.
School Counselor
Led a weekly social media group to middle school aged students promoting healthy internet safety.
Responsible for risk assessments, child abuse reporting, and CSE referrals.
Consult and collaborate with teachers and building administration to ensure students academic and social success.
Established safe and positive learning environments for students; helping to guide children to achieve their highest potential.
Earned "Excellence in the field of Education" by an award-winning school district; which included sectional competition, regional competition, and national conference.
School Counselor
Provided counseling to students grades 8 through 12, addressing issues such as academic performance, social and emotional skills, behavior issues and attendance.
Led classroom guidance lessons in group behavior, conflict resolution, managing change, career awareness and post-high school planning.
Record and analyze school data to ensure students are receiving the best counseling services.
While pursuing this career, earned a Master's in Education; five children graduated with honors from private and public schools.
Achieved "Outstanding Counselor" award by a district's student council; along with being on statewide honor roll four years running.
School Counselor
Conduct counseling sessions with mandated /non-mandated students, individual and group sessions, crisis intervention.
Teach college preparedness seminar to all grades / Registered School for NCAA – Approved May 2016.
Arrange college tours and career day events for students/ Registered school for College Now Program Coordinator.
Founded, led, and expanded a school-based family counseling center.
Assisted parents in writing joint wills, modifying estate planning documents, and delivering pre-marital preparation courses.
School Counselor
Conducted weekly sessions with mixed groups covering social skills, academic, and behavioral issues.
Teamed with teachers and other staff members to address student concerns.
Developed and implemented a needs assessment examining the principal needs of the 2nd and 3rd grade.
Designed and presented classroom guidance lessons for 1st through 3rd, grade students that corresponded to the state eligibility list utilizing common core standards.
Provided training programs for teachers' ineffective discipline techniques and school violence prevention.
School Counselor
Provides individual and group counseling for 15 students with IEPs for Learning Disability and Emotional Disturbance.
Collaborates with the Director of Special Education to formulate informal plans as well as Functional Behavioral Assessments and Behavioral Intervention Plans for students with IEPS.
Participates in Annual IEP meetings; providing extensive Counselor reports to the Director of Special Education.
Collaborates with Disciplinary Team to construct well informed and appropriate behavioral interventions for individual students, when necessary.
Created a safe learning environment for students by mentoring them in positive team-building skills for student council, athletic teams, and after-school clubs.
Wrap Up
You need to make sure your resume stands out amongst the other candidates. It is the first impression that employers have of your work experience and skills. Use the samples above to put together a resume that best suits your needs and helps you get the job you want.