Scrum Masters ensure a company's development team runs smoothly. Their responsibilities include managing projects timeline, coaching team members, coordinating meetings, guiding development teams, helping created a productive environment, resolving conflicts, and removing obstacles. To work as a Scrum Master, a bachelor's degree in Business, Computer Science, or an equivalent field is typically required. To succeed as a Scrum Master, it is essential to have excellent communication, problem-solving, leadership, organizational, knowledge of scrum techniques, time management skills, and be team-oriented.
A good resume is well-written and concise. It should be neat and easy to read, listing previous experience in a logical order.
Our resume samples will provide you with multiple examples of what you can include when writing your resume.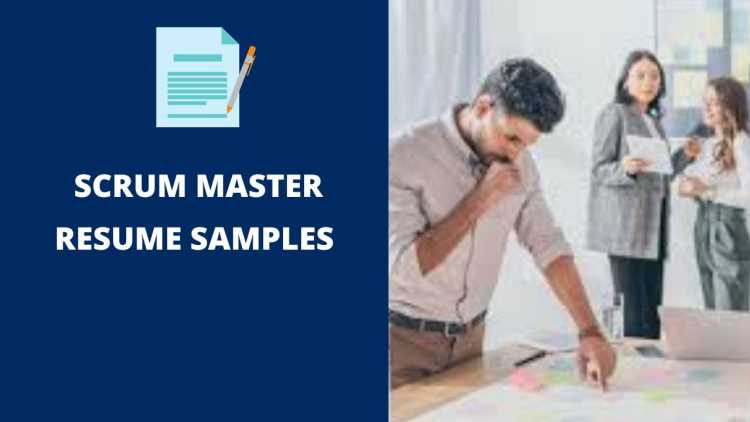 The Best Scrum Master Resume Samples
These are some examples of accomplishments we have handpicked from real Scrum Master resumes for your reference.
Scrum Master
Spearheading and transforming the teams into the path of Agile and working closely with them to attain the maturity.
Tracked complete execution in JIRA – EPIC, Features, user stories, estimation, assignment, progress, impediments, approvals, closure and retrospectives.
Helped teams to get activated in agile format by conducting trainings for leadership and teams.
Assess the readiness of the teams, defined roadmap for agile implementation.
Adjunct instructor for two years in software development, business processes, and project management.
Scrum Master
Guided and coached the Scrum Team and organization on how to use Agile/Scrum practices and values to satisfy customer expectations.
Led both the Scrum Team and the Development team to get the most out of self-organization.
Collaborated with Product Owner on daily stand-up, sprint planning, backlog grooming, and retrospective meetings.
Commented on daily scrum meetings and analyzed the sprint backlogs for quality assurance.
Created processes for dealing with frequent problems including deadlocks, server crashes, and other technical issues that occurred during sprints.
Scrum Master
Experienced of writing programs to store Blobs in the cloud using Azure and developing distributed applications using Azure Service Bus.
Experienced in using Azure Server less feature using Azure Functions.
Strong analytical and problem solving skills, excellent communication, presentation skills and a good team player.
Involved in all phases of the software development life-cycle (requirements, design, development, testing, release, support).
Trained four new developers to a high level of proficiency within the company's agile software development methodology.
Scrum Master
Organized and facilitated project planning, daily stand-up meetings, reviews, retrospectives, sprints, release planning and demos.
Assisted with internal and external communication, improved transparency, and radiated information.
Assisted with prioritization and resolution of software defects.
Fostered positive relationships among colleagues and clients by always being available to assist at customer site; provided customer service to customers via phone, faxes, email, or online chats as service calls become necessary or required.
Introduced and promoted a new project management framework based on Agile software development principles.
Scrum Master
Worked with the Product Owners to assess current capabilities and identify high-level customer requirements.
Defined product roadmap and created backlog in conjunction with product owner and key business partners.
Wrote User Stories based on the requirements gathered from all the stake holders.
Organized and facilitated Agile and Scrum meetings, which included Sprint Planning, Daily Scrums or Standups, Sprint Review & Retrospective.
Trained others on the framework, including senior programmers and development managers.
Scrum Master
Facilitated Daily scrum meetings, Sprint Grooming, sprint planning, sprint review, and sprint retrospective.
Unblock the developers if there is any impediment by contacting with other stake holders.
Scheduled Retrospective meetings at the end of sprints and selected action item.
Worked with Product owner On Artifacts Such as Product Backlog, Spring Backlog, Sprint Burn down.
Constructed and implemented schedules for projects by using agile project management methods.
Scrum Master
Expertise in analyzing Business requirement specification and System requirement specification, and involved in designing and developing.
Test Strategies, Test Plans and Test Cases and have excellent documentation skills.
Developed and management of detailed project plans to include, resources, tasks, requirements, milestones, and review points.
Responsible for the conditioning and provisioning of data to encompass specific stories in our sprints.
Provided the guideline for negative test scenarios within our scrum and the data dependencies associated.
Scrum Master
Communicate with other teams (UX, Automation, Support Team etc.) to resolve issues/ dependencies during normal Sprint Execution.
Coordinating with all the key stakeholders to facilitate the release process.
Ensuring that the appropriate inter team communication is happening and holding Scrum-of-Scrum during the release process to achieve the same.
Working with Product owner On Artifacts – Product Backlog, Spring Backlog.
Coordinated meetings among team members to develop the product and resolve issues.
Scrum Master
Working with eight Agile Product Development, Visual Design, Content Management, and Client Services teams to deliver an innovative iPad based teaching solution to top school districts nationwide.
Serve as cross-functional point of contact, ensuring transparent collaboration across interdependent teams that resulted in storyboards and release plans that ensured common features within the app.
Led coordination of in-house trainings, dissemination of project information to stakeholders, and preparation of end of Sprint team demonstrations to enable knowledge sharing across a project of 150 employees.
Participate in retrospectives, Scrum of Scrum meetings, Sprint planning, and ensure project management tools are up to date with team progress for management€™s review.
Effectively met the challenge of implementing a new database application in an existing legacy code base, consistently overcoming problems to complete the task.
Scrum Master
Sprint Planning: Ensured that the team was planning in as self-organizing a way as possible; estimation done using planning poker.
Daily stand up; Ensured that every team member was updating the team about their tasks as well as voicing questions to the product owner where necessary.
Demo (Sprint Review): Formal demo by the team to the product owner / stakeholders who would formally accept stories or reject them; partial acceptance was something I made a point to avoid.
Established priorities for assigned tasks and delegated activities, with the guidance of product management, to meet project goals.
Coordinated customer needs, schedules for development teams, and staff meetings to facilitate collaboration among team members.
Scrum Master
Serve as scrum master on a team of three mid-level software engineers developing services for various data transfers.
Run daily scrum calls, resolve roadblocks, determine resource allocation based on story/defect priorities, drive the completion of deliverables on time.
Share daily updates with the program manager, product owner, and dev manager.
Suggested and revised development processes to improve customer satisfaction and cost savings.
Provided training in agile techniques that provided developers with the process structure they needed to succeed in a fast-moving environment while aligning the efforts of various departments working toward the same goal.
Scrum Master
Software solution Scrum Master responsible for managing a software technical development team that was responsible for delivering scheduled software upgrades for Medical Insurance System enhancements.
System Architect, Technical Lead, Developers, QA, coordination with specialty areas deliverables.
Coordinated with Product Owner, Release Manager, and Project Tech Lead for Program Increment – Scaled Agile Framework planning sessions.
Collaborated with Product Owner to created and deliver weekly project status updates for Member Domain Consumers.
Realized success by continuously improving business processes – streamlined customer testing procedures, improved quality control through defect tracking, backlog clean up to increase velocity, and accountability.
Wrap Up
You need to make sure your resume stands out amongst the other candidates. It is the first impression that employers have of your work experience and skills. Use the samples above to put together a resume that best suits your needs and helps you get the job you want.