Informatica developers ensure that a company has the proper infrastructure and processes in place to manage their data. Tasks include reviewing current practices, looking for problems with the system, evaluating issues, developing plans to resolve the issues, presenting those plans to management and implementing changes. This position requires a bachelor's degree in information technology. To be successful in this role, you must be thoughtful, analytical, detail-oriented, organized, creative, solution-focused and patient.
A good resume is well-written and concise. It should be neat and easy to read, listing previous experience in a logical order.
Our resume samples will provide you with multiple examples of what you can include when writing your resume.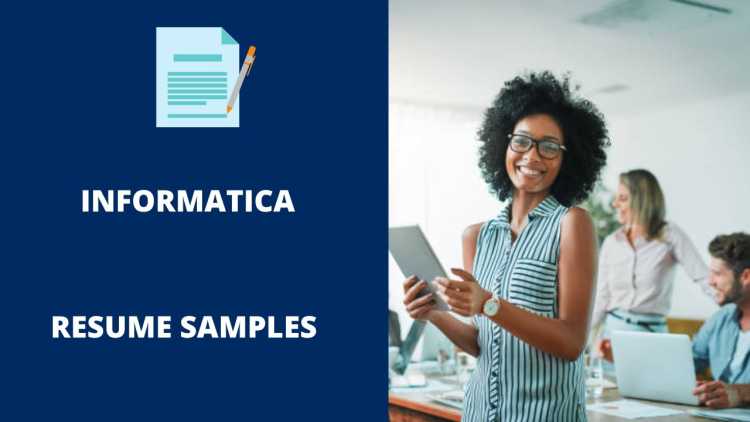 The Best Informatica Resume Samples
These are some examples of accomplishments we have handpicked from real Informatica resumes for your reference.
Informatica Developer
Working with business analysts to gather business requirements and implementing the same into a functional data warehouse design.
Worked with Power centre designer tool in developing mappings and mapplets to extract and load data from flat files and oracle to oracle.
Developed complex mappings in Informatica to load data various sources using different transformations like Source Qualifier, lookup (connected and unconnected) Expression, Aggregate, Update Strategy, Sequence Generator, joiner, filter.
Documented and reported functionality, performance, efficiency, and configuration of Informatica databases.
Developed a complex statistical analysis method to analyze data accrued throughout the project cycle.
Informatica Developer
Involved in requirement gathering and developed design for the integration of Cansys with PDCS system.
Created technical design document and Source to Target mapping document as per the design.
Extracted data from flat files, oracle database and staged into a single place and applied business logic to load them in the central oracle database.
Used Informatica Power Centre 9.6 for extraction, transformation and load (ETL) of data in the data warehouse.
Implemented and maintained a high-availability archiving/retrieval system during high-volume user peak hours.
Informatica Developer
Examined the workflow log files and assigning the ticket to the Informatica support based on the error.
Identified and fixed the Bottle Necks and tuned the Mappings and Sessions for improving performance.
Designed and developed ETL Mappings to extract data from flat files, MS Excel and Oracle to load the data into the target database.
Supported migration of ETL code from development to QA and QA to production environments.
Maintained team of 15 employees by implementing and maintaining technical process documentation, site procedures, standard operating procedures (SOPs), employee training programs, job safety standards (JSS) standards, employee handbooks and management policies.
Informatica Developer
Created mapping and mapplets using various transformations like Joiner, Filter, Aggregator, Lookup, Application Source Qualifier, Router, Sorter, Rank, Normalizer and Update Strategy.
Identified and resolved performance issues in Informatica Power Center mappings and workflows.
Developed the Technical Specifications based on the Functional Specification understanding the business rules and requirements.
Designed and implemented complex data transformation mappings using Informatica Power Center.
Participated in large-scale annual project planning; established department documentation processes and developed BSC software packaging guidelines.
Informatica Developer
Install and Configure High Availability (HA) for Domain, Repository Service and Integration Service.
Creating Users, Groups, Roles and grant privileges to the users. Create folders, Relational and Application connections and configure the ODBC connectivity.
Participated in team meetings and proposed ETL Strategy and provide them best practices.
Designed complex data models, hierarchies, and relationships, and developed metadata using XML Schema Definition (XSD) documents.
Created, maintained, and deployed a complete ERP system (partially developed in Java and C++) in a large multi-location chain of retailers.
Informatica Developer
Involved in implementing the Land Process of loading the customer Data Set into Informatica MDM from various source systems.
Enrollment and Maintenance EDI data from employer groups to various health insurance payer.
Working closely with the client on planning and brainstorming to migrate the current RDBMS to Hadoop.
Migration of informatica jobs to Hadoop sqoop jobs and load into oracle database.
Managed a small team of developers (two to three per location) to implement all business systems while providing support to the business operations staff.
Informatica Developer
Developed and tested all the backend programs, Informatica mappings and update processes.
Extracted data from our cloud sources (Hive HUE) . HDFS system would dump the files into our cloud known as kafka que which is called as Hive Prod HUE.
Used Hue version- 2.6.1-2 Web interface to query the data.
Used Aginitiy AMP to generate Natural keys by the combination of multiple foreign keys.
Implemented technical support as needed or requested by managers, customers, and other employees.
Informatica Developer
Interacted with data modeler and business analyst to understand the requirement and the impact of the ETL on the business.
Developed ETL design documents to develop mappings. Also prepared strategy to load historical and incremental loading of the mapping.
Designed and developed complex ETL mapping for type-1 and type-2 dimensions and complex fact tables.
Worked closely with senior management to develop software processes and requirements.
Participated in an out-sourcing project that was successfully transitioned from the vendor's development group to form part of the business operations group with minimal disruption.
Informatica Developer
Involved with business to gather requirements for building data warehouse, reports etc.
Developed several Informatica mappings and mapplets to extract data from various sources such as flat files, database etc., and load the data into Data Warehouse using various transformations & reusable transformations like source qualifier, joiner, rank, update strategy, expression, union, sort, lookup, sequence generator, and router transformation etc.
Scheduled Sessions and Batches on Informatica Server using Server Manager.
Performed SQL tunning and Informatica mappings to improve the performance of the jobs to provide maximum efficiency and performance.
Worked as a junior developer with senior developers; acquired software development experience through constant interaction and feedback with team members and superiors.
Informatica Developer
Understanding the SQL Stored Procedures and implement the same into a functional database design.
Implemented the all subject areas into the data marts to generate the reports and build dash boards on it.
Used all major ETL transformations to load the tables through Informatica mappings.
Implemented Cursors into the stored procedures for frequent commits to avoid large data loading failures.
Achieved organizational goals by developing, integrating, and testing software applications for several clients.
Informatica Developer
Participated in business requirements analysis, gap analysis, data mapping, data modeling and creating design documents.
Utilized the Informatica Data Quality (IDQ 8.6 8.6) application and performs data profiling necessary to resolve issues uncovered and related to source data.
Applied Business rules that identify the relationships among the data using Informatica Data Quality (IDQ 8.6 8.6).
Modified existing Informatica Data Quality (IDQ 8.6 8.6) Workflows to integrate the business rules to certify the quality of the Data.
Implemented application logic for predictive modeling projects to increase the efficiency of sales and administrative data management.
Informatica Developer
Performance tuning to decrease the load time by 60 % by using partitioning and optimization techniques.
Newly developed mapping are giving desired result as per customer expectation.
With newly designed process reduced data load time from 7 Hours to 2 Hours.
Created shell scripts for automation of file transfers, decoding files and scheduling the workflow runs.
Created an automated system for client reports, billing functionality, and scheduling that enhanced the quality of customer service.
Wrap Up
You need to make sure your resume stands out amongst the other candidates. It is the first impression that employers have of your work experience and skills. Use the samples above to put together a resume that best suits your needs and helps you get the job you want.