Industrial Maintenance Mechanics maintain, repair, and install commercial and/or industrial machines. Their duties include installing the machines, running diagnostics, repairing machines, performing regular maintenance, documenting maintenance performed, and answering questions. To work as an Industrial Maintenance Mechanic you need a high school diploma or GED. Industrial Maintenance Mechanics need to be physically capable of doing the job, detail-oriented, organized, do well under pressure, be adaptable, have great verbal/written communication, and work efficiently to be successful.
A good resume is well-written and concise. It should be neat and easy to read, listing previous experience in a logical order.
Our resume samples will provide you with multiple examples of what you can include when writing your resume.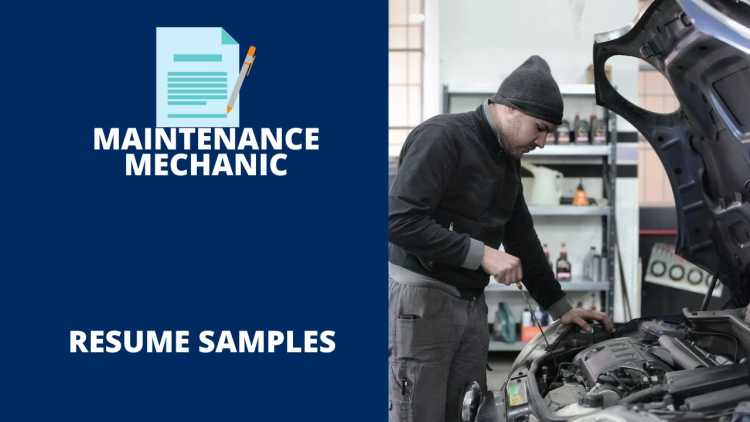 The Best Maintenance Mechanic Resume Samples
These are some examples of accomplishments we have handpicked from real Maintenance Mechanic resumes for your reference.
Maintenance Mechanic
Air Handler maintenance replacing belts, filters, greasing bearings.
Troubleshooting electrical replacing fuses, capacitors, contactors, transformers.
Replacing air resistors, cleaning coils, using florescent dyes to check for leaks, and Chiller operation.
Facility Maintenance / Power Plant Maintenance – Completing Work Orders and Preventive Maintenance as assigned.
Installed gas and water lines at a hotel and completed plumbing work at a car dealership.
Maintenance Mechanic
Diagnose dysfunctional systems, machinery and components utilizing testing equipment and hand tools to diagnose the exact location of breakdown.
Look after the maintenance of the pressing powder and filler related machinery.
Correct any malfunctioning or maladjusted electrical components.
Replaced roof shingles on a commercial building while repairing faulty chimneys.
Repaired and replaced leaking pipes, installed venting systems, and pumped sewage from septic tanks.
Maintenance Mechanic
Performed basic electrical, mechanical, hydraulic and pneumatic maintenance on various manufacturing machinery.
Performed inspections and preventative maintenance on machines and support equipment.
Overhauled various parts of machines in shop when necessary.
Performed general diagnostics and troubleshooting on all major appliances for customers; completed all service calls within 24 hours for the company's VIP customers.
Reduced customer complaints by 50% by creating labor routine timelines and performing preventive maintenance checks on all equipment before each service call; created "green" recycling guidelines for all contractors working on the property.
Maintenance Mechanic
Performed daily Maintenance rounds to boiler roorns and mechanical rooms, sign daily log books at 12 locations throughout complex.
Receive daily work orders to make various repairs to heating equipment, instantaneous hot water heaters.
Make repairs to mixing valves at shower locations and mixing valves on boilers.
Make daily rounds to inspect sprinkler, standpipe, dry valve rooms and inspect sprinkler pressure's in such.
Recovered for the company a $15,000 machine within six weeks of fault diagnosis.
Maintenance Mechanic
Performance general maintenance work consisting of, but not limited to electrical, mechanical, carpentry and plumbing duties.
Replacing bulbs, ballast, switches, receptacles, cleaning fixtures and replacing lenses, installing short electrical runs with new conduit and wiring, testing polarity, grounding, and pin tension.
Repairing/replacing venetian blinds and other items and window locks/latches, repairing furniture such as desk, file cabinets, bookcases, lockers, etc.
Replacing ceiling and floor tiles, installing reinforcements plates/studs, patching sheetrock and repairing partitions.
Rebuilt a $900 piece of machinery from scrap within three days after determining its layout.
Maintenance Mechanic
Maintenance of sewer pumps and motors consisting of breaking down and repairing same.
Also was in charge of the supply storeroom as a Distribution Clerk for two years and with minimal training was able to order vital supplies for the Sewer District.
I formulated my own procedure until a replacement employee was hired and than I trained the new employee and he used my storeroom policy to this day primarily.
Filed hundreds of parts with the new shipment, including fasteners and gaskets, within one day of arrival at the shop.
Installed industrial fan in its housing without incident or damage to the fan; next day installed same fan in another housing with no incident or damage.
Maintenance Mechanic
Repair the mechanical and electrical control system related to baggage handling system.
Provided preventive Maintenance services, clean, inspect, lubricate, adjust/track belts.
Routine job description of conveyor belts, carousels, gear boxes, drive rollers, motors, clutch breaks and v belts.
Troubleshot and repaired an entire manufacturing system failure by analyzing symptoms, then making repairs that lasted four years without malfunction or repair.
Installed and maintained equipment, systems, and equipment for various commercial properties.
Maintenance Mechanic
Assign responsibilities of servicing motors and cylinders under the guidelines of senior mechanic.
Performed the tasks of assisting staff in setting and assembling the structures of hydraulic equipment.
Handle responsibilities of disassembling hydraulic equipment to identify the part that needs repairing.
Responsible for maintaining service records and perform test-run of repaired machinery.
Achieved supervision level three within the span of one year; fulfilled responsibilities for delegating tasks to subordinates.
Maintenance Mechanic
Performs routine inspections of physical plant equipment, by touring mechanical rooms and visual observing equipment operation and recording temps, pressures etc. on house check form.
Operates/Maintains Building management system, fire alarm system and pneumatic tube system.
Completes paperwork/ documentation related to verifying repair/ maintenance work is complete, including operational issues i.e. Daily timesheets, PM work orders, equipment failure reports, shift logs.
Appointed as Junior Maintenance Supervisor by his chief when promoted to lead an eight-person team of Maintenance Assistants.
Achieved two-year tenure as Maintenance Manager and was promoted to Lead Maintenance Manager when responsible for supervising a twenty-six-member team of Maintenance Assistants.
Maintenance Mechanic
Responsible of drywall installation and wall preparation including damage and hole repairs.
Read and interpret equipment manuals and work orders to perform required maintenance and service.
Safely operates electrical and air powered tools, welding, and other mechanical tools, snow removal and salt spreader equipment and/or other heavy equipment assigned to the department.
Initiated and submitted plans for the refurbishment of three buildings with fifty different equipment systems.
Researched, acquired, and installed specialized parts for vehicles in all weather conditions including snow, rain, and ice.
Maintenance Mechanic
Managed the day to day operations of a 44,000 square foot facility including a pool and gymnasium.
Trained and supervised a team of 10 operative employees for day and night shifts.
Maintained, operate and repair all equipment, systems and building components, including mechanical, electrical, gas, ventilation, pool, boiler, HVAC, and plumbing systems.
Performed pool maintenance, including complete draining, water pump servicing and refilling.
Replaced tires, brakes, fuel filters, fluid sensors, and transmissions on hundreds of vehicles in a timely manner.
Maintenance Mechanic
Diagnose and repair a variety of different electrical equipment which include circuit breakers, magnetic starters, switches, solenoids and acrostats.
Diagnose problems with building heating and water systems which includes vacuum tanks, boiler systems, waste systems and steam systems.
Fabricate parts using but not limited to materials such as sheet metal, wood, and plastic.
Painted cars inside and out to maintain appearance.
Served as representative for service department by teaching customer-service-related topics to employees.
Wrap Up
You need to make sure your resume stands out amongst the other candidates. It is the first impression that employers have of your work experience and skills. Use the samples above to put together a resume that best suits your needs and helps you get the job you want.