Independent Contractors are self-employed individuals that are contracted by companies to use their skills, goods, or service. Their duties are receiving job requirements, completing deadlines, scheduling, providing materials and tools, performing the job, checking client satisfaction, and managing their own income/tax information. There are no educational requirements to become an Independent Contractor; however, you do need to have a set skill set. Independent Contractors need to be skilled at time management, self-discipline, verbal/written communication, self-motivation, estimate writing, be detail-oriented, and punctual to be successful.
A good resume is well-written and concise. It should be neat and easy to read, listing previous experience in a logical order.
Our resume samples will provide you with multiple examples of what you can include when writing your resume.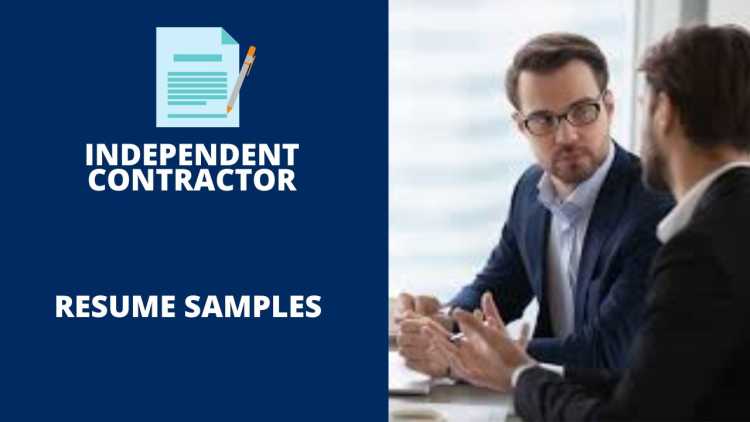 The Best Independent Contractor Resume Samples
These are some examples of accomplishments we have handpicked from real Independent Contractor resumes for your reference.
Independent Contractor
Building and cultivating relationships with customers through personal interaction.
Expert on product knowledge, understanding features and benefits and sharing with clients.
Demonstrated knowledge of store products and services to build sales and loyalty.
Performed construction work for commercial buildings and properties.
Delivered projects in a timely and efficient manner for clients.
Independent Contractor
Empower the process improvement of high-profile clients such as Invesco, SunTrust Bank, Timken Steel, Barclaycards, VMWare, Deloitte Tax LLC, and Axalta/DuPont by officiating cost-effective financial technology analysis and FP&A services.
Served as intermediary consultant for Hyperion DRM and HFM/HTP applications for organizations.
Escalated the conversion of Hyperion HPCM cost allocation activities from third-party vendors to internal operations.
Managed subcontractors and supervised team members during the development of a new building on time and on budget.
Furnished information to leasing agents representing space in newly constructed buildings as well as negotiated leases for offices, retail stores, restaurants, and other buildings.
Independent Contractor
Managed and directed streamlined IT risk and control assessments across all lines of business for identifying issues and improvements to be implemented including effectiveness of risk mitigation controls.
Provided reporting for senior level management for managing and monitoring the corporate wide IT risk and control assessments (using RSA Archer) including identifying potential audit issues requiring risk acceptance / risk mitigation and follow-up of past due assessments.
Key stakeholder in the eTrading controls review including evaluating existence of controls, high level design and control response, existing control testing maturity and conducting some level of independent testing to assess confidence in current implementation.
Designed space as well as aesthetics of office environments; maintained meeting areas in association with design firms.
Created special events at various locations to celebrate birthdays, anniversaries, promotions, company milestones, etc.
Independent Contractor
Contracted to multiple companies including Alpine cartage, Quick international, Gio express, Metro trucking, XPO logistics, & JV transportation.
Making deliveries to customers in the tristate area specializing in medical equipment, audio visual, lighting, and computer racks and servers with professional white glove service.
Vehicles operated Single axle tractor with 48&53Ft dry vans, Tandem axle straight truck and straight truck.
Implemented design and construction plans for a small retail project. Developed contracts and oversaw all contractors ensure timely completion of the project.
Worked as a laborer with General Contractor, Seelig and Stadel, Inc., for five years in the concrete industry.
Independent Contractor
Launch marketing initiative by building reputation in local community, google advertising and strategic partnership with other companies, generating customers and contributes to the company sales.
Coordinate interpretation and translation assignment requests with qualified interpreters or translators and respond to any issues.
Keep track of the translation process including translation, post-editing, proofreading and formatting.
Assisted on several jobs with General Contractor, Seelig and Stadel, Inc., for six years in the concrete industry.
Actively participated in on-site supervision of deliveries from bid to completion.
Independent Contractor
Obtained samples of petroleum products to ensure that the samples represent a general character and average condition of the material inspected.
Ensured the industry standards were met by measuring petroleum product volume.
Calculated and reported data accurately and independently resolved discrepancies promptly.
Maintained relations with clientele in order to provide time-sensitive services.
Purchased machinery and equipment for the construction trade from small business sources such as garage sales and auctions.
Independent Contractor
Met incoming customers and provided immediate assistance.
Listened to customer needs and preferences to provide accurate advice.
Completed purchases with cash, credit and debit payment methods.
Established rapport with owners of well-known small businesses by showing them a good job will keep their operation well maintained.
Earned recognition for starting and successfully completing three-building construction projects in less than eight months.
Independent Contractor
Evaluate and edit academic manuscripts for students at multiple academic levels.
Consult on research paper development, project mapping, and content.
Review manuscripts for audience appropriateness and adherence to academic publishing specifications.
Line edit papers for correct English usage, structural and organizational integrity, logical presentation, pacing, narrative flow, mechanics, and voice.
Directed and completed worksite safety assessments, assessments of risks, and perform site-specific risk analyses of buildings to cost estimate buildings.
Independent Contractor
Demolish existing structures and buildings in preparation for renovation/construction using pick axes, sledge hammers, and/or power tools.
Load and unload building materials, machinery, and tools, distributing them to the appropriate locations, according to project plans or specifications.
Gather and empty trash, including recyclables, and dispose of waste in proper receptacles.
Constructed and repaired various buildings, including metal buildings, warehouse facades, interior partitions, structural frameworks, and ceiling systems.
Performed site pre-design services prior to contractor construction.
Independent Contractor
Designed a fundraising plan for a theatre company seeking investors for the production of an off-Broadway play.
Provided marketing, website design and content strategy for a health and wellness company.
Supplied demographic marketing and artwork strategy for a children's book author.
Tested structural materials. Constructed reinforced concrete footings for docks and other structures.
Performed foundation repair work on numerous projects throughout the United States.
Independent Contractor
Knowledgeable in general carpentry, site preparation, concrete foundations, and framing practices; able to complete multiple projects skillfully and within allotted timeframe.
Prepared various surfaces for painting by washing, scraping, burning, sanding, sandblasting and other means as necessary.
Mixed, matched, and blended various paints, enamels, lacquers, varnishes, stains and special protective coatings to achieve desired color, consistency, and drying properties.
Proficient with hand and power tools to including core drills, air compressors, saws, chisels and squares.
Evaluated structural designs including steel members, concrete slabs, and foundations for strength by manual testing of beams and slabs on platforms or wood frame floor shear specimens to determine beam capacity for shear loading.
Independent Contractor
Guide emerging companies in implementing processes and systems for efficient operations and project management.
Launch new business development initiatives in diverse markets by developing sales pipelines and establish methods of managing sale cycles.
Performed market analysis and identify areas of growing revenue through strategic partnerships and innovative solutions to clients' needs.
Successfully completed construction projects within budget and on schedule.
Achieved superior quality ratings from clients in the electrical, plumbing, and HVAC trades.
Researched, developed, and executed an energy-efficient home retrofit project (windows, insulation, seals) that saved over $50,000 in energy costs.
Wrap Up
You need to make sure your resume stands out amongst the other candidates. It is the first impression that employers have of your work experience and skills. Use the samples above to put together a resume that best suits your needs and helps you get the job you want.