Welders use heat to connect and repair metal parts. Their duties include understanding welding instructions, wearing proper protective gear, preparation of material, following proper welding rules, weld in different types of structures, and weld materials together on machines/structures. To work as a Welder, you need a high school diploma/GED and to pass a welder test or get training from a community/technical college. Welders need to be detail-oriented, independent, self-motivated, good at following directions, efficient, and follow safety procedures to be successful.
A good resume is well-written and concise. It should be neat and easy to read, listing previous experience in a logical order.
Our resume samples will provide you with multiple examples of what you can include when writing your resume.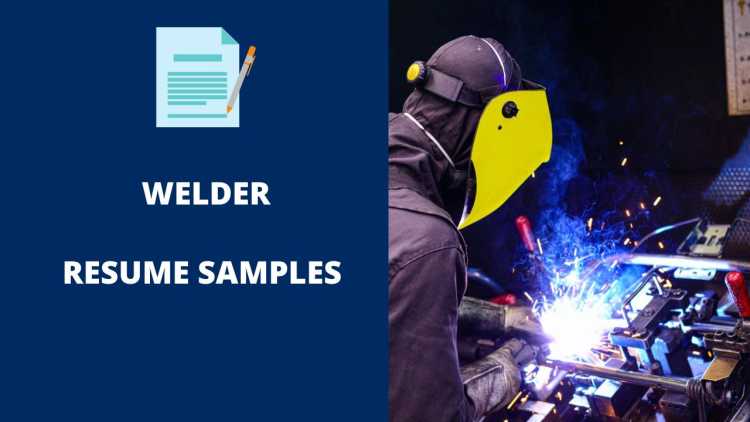 The Best Welder Resume Samples
These are some examples of accomplishments we have handpicked from real Welder resumes for your reference.
Welder
Tack-welds or welds components and assemblies, using electric, gas, arc, or other welding equipment.
Layout, position, and secure parts and assemblies according to specifications, using straightedge, combination square, calipers, and ruler.
Melt lead bar, wire, or scrap to add lead to joint or to extrude melted scrap into reusable form.
Observe tests on welded surfaces, such as hydrostatic, x-ray, and dimension tolerance to evaluate weld quality and conformance to specifications.
Managed the repair and maintenance of heavy equipment, truck trailers, and other construction equipment.
Welder
Welders fabricate and assemble metal structures and equipment through the use of welders, cutters, shapers, and measuring tools.
Welders produce metal products according to customer or employer specifications.
Welders set up, operate and maintain welding equipment.
Inventory control and data entry and assisting customers with needs.
Followed labor code guidelines on safe construction and maintenance.
Welder
Followed standards and procedures to maintain a safe work environment and keep with companies' compliance requirements.
Prepared and administered preventative maintenance work orders.
Operated a wide variety of equipment including power saws, sanders, grinders, cranes drill press, forklift, and basic hand tools.
Welded metal parts with gas welding equipment as specified by layout, welding diagram, or work order.
Trained fellow welder apprentices and the general public on safe welding practices.
Welder
Heated, formed, and dressed metal parts with hand tools, torch, and arc welding equipment.
Monitored the fitting, burning, and welding processes to avoid overheating parts, wrapping, shrinking distortion, and expansion of materials.
Adjusted functional parts of equipment and control instruments.
Followed all safety guidelines, including proper machine guarding and lockout and tag-out procedures.
Assisted in drafting safety policies for fellow welder coworkers (e.g., accident prevention, injury prevention, etc.)
Welder
Clamp, hold, tack-weld, heat-bend, grind or bolt component parts to obtain required configurations and positions for welding.
Examine workpieces for defects and measure workpieces with straightedges or templates to ensure conformance with specifications.
Analyze engineering drawings, blueprints, specifications, sketches, work orders, and material safety data sheets to plan layout, assembly, and welding operations.
Weld separately or in combination, using aluminum, stainless steel, cast iron, and other alloys.
Completed classes in CPR, First Aid, Bloodborne Pathogens, Substance Abuse/HIV/AIDS Management, Safety Training Plan Development & Implementation Training Module; On-the-job training in safety standards with emphasis on safety information management system preparation.
Welder
Performs welding processes on steel parts and assemblies to required tolerances using welding metals and metal alloys.
Determining layouts and welded parts and assemblies according to engineering drawings and specifications.
Investigate safety accidents and present solutions as a member of the Safety Task Team.
Designed and executed a welding project for plumbing and electrical, electrical and mechanical, structural steel, concrete reinforcing bar reinforcement.
Performed a job site inspection to ensure that project deadlines were met; assisted in planning the next steps of the project.
Welder
Recognize, set up, and operate hand and power tools common to the welding trade, such as shielded metal arc and gas metal arc welding equipment.
Select and install torches, torch tips, filler rods, and flux, according to welding chart specifications or types and thicknesses of metals.
Connect and turn regulator valves to activate and adjust gas flow and pressure so that desired flames are obtained.
Ignite torches or start power supplies and strike arcs by touching electrodes to metals being welded, completing electrical circuits.
Assisted in preparing safety plans for all construction activities and established accident prevention programs.
Welder
Worked with the manager in new projects including project manager and draftsmen.
Drove company truck to obtain burnouts. To meet sales goals/ strategy.
Trained new employees on fitting and gave them advice on how to timely finish products as scheduled.
Empowered through positive management to create positive work environments by implementing personnel improvement programs based on attendance, productivity, and attitude.
Reconciled with supervisors, partners, employees, and customers at all levels in an environment conducive to unity among personnel at all levels of the organization.
Welder
Followed all safety protocols and guidelines for the safe handling of heating equipment and metals.
Cut materials precisely with chipping knives, power saws, and hand shears.
Performed welding layout, fabrication installation, repairs, and all associated work perform sheet metal layout fabrication installation and repairs Tank.
Certified in welding and fabrication of steel, aluminum, and other metals.
Led the effort to create a safety program that was the basis for the company's first-ever formal safety training program.
Welder
Examine workpieces for defects and measure workpieces with straightedges or templates to ensure conformance with specifications.
Determine required equipment and welding methods, applying knowledge of metallurgy, geometry, and welding techniques.
Removed rough spots from workpieces, using portable grinders, hand files, or scrapers.
Prepared all material surfaces to be welded, ensuring that there is no loose or thick scale, slag, rust, moisture, grease, or other foreign matter.
Trained and led our construction team during a five-month period of customer renovations utilizing our fabrication abilities.
Welder
Cut workpiece using power saws, hand shears, or chipping knife.
Inspected grooves, angles, or gap allowances, using micrometer and caliper.
Install or repair farm equipment, such as tank linings, tractor-trailers, lead pipes, and valves.
Assisted welders and fitters with general housekeeping duties.
Became a journeyman with skills ranging from plumbing to complex electrical wiring projects for customer renovations.
Welder
My main responsibility within my company is to produce metal doorframes for the company.
This means I work in the fabrication department working with big machines, bandsaws, grinders, and various other equipment and tools.
Other times when production is slow I may operate the forklift and assist in loading and unloading trucks. But my main job is to be an assembly welder.
Received excellent supervisor ratings from coworkers after becoming one of few workers to achieve all nine qualifications necessary for Level II Recertification on Z-CERT lists boards.
Worked under highly skilled welders.
Wrap Up
You need to make sure your resume stands out amongst the other candidates. It is the first impression that employers have of your work experience and skills. Use the samples above to put together a resume that best suits your needs and helps you get the job you want.