Construction workers are responsible for building structures, roads, and other large projects. These tasks include welding, carpentry, installing windows and doors, painting walls and ceilings, laying bricks or concrete blocks, drywall installation, pipe fitting plumbing systems. To be a construction worker you must attend trade school to learn the skills needed to excel in this role. Construction workers need to have strong problem-solving skills, attention to detail, hand/eye coordination, physical stamina, good communication skills
A good resume is well-written and concise. It should be neat and easy to read, listing previous experience in a logical order.
Our resume samples will provide you with multiple examples of what you can include when writing your resume.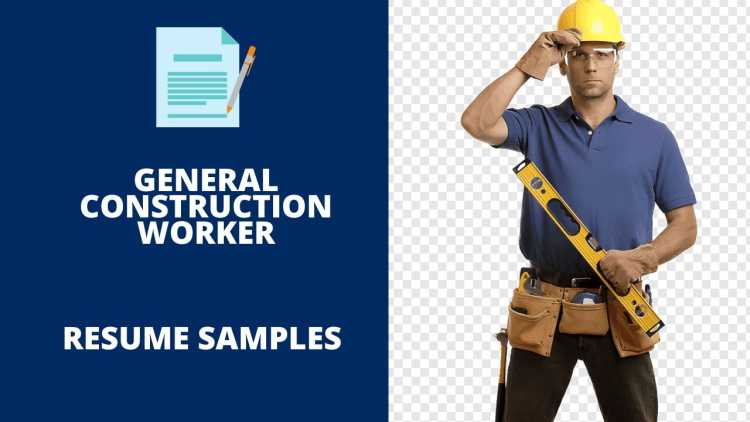 The Best General Construction Worker Resume Samples
These are some examples of accomplishments we have handpicked from real General Construction Worker resumes for your reference.
Construction Worker
Expertise working with a wide range of construction materials and equipment; familiarity with building processes, from project initiation through completion.
Knowledgeable in general carpentry, site preparation concrete foundations, and framing practices; able to complete multiple projects skillfully within stringent timeframes.
Proficient with hand and power tool to include core drills, air compressors, transit and lock levels, saws, chisels, plumb bobs, carpenter levels, and marking gauges.
Communicate with site supervisors and team members to complete project objectives on schedule.
Assisted in the completion of a major commercial construction project where I was responsible for site supervision and quality control.
Construction Worker
Job duties included preparing and cleaning up the construction sites removing any garbage, trees, etc.
Loading and unloading materials needed to build, Operating machinery and equipment.
Installing floors, Building, maintaining, and repairing doors, wall, etc.
On multiple occasions, managed heavy equipment, and material handling.
Managed an entire basketball team of school children on the construction site; coordinated with school teachers during the summer and spring breaks to ensure children were in class.
Construction Worker
Set up machines at the beginning of shift to ensure proper working order.
Performed testing procedures to ensure that machines work optimally during the production procedures.
Maintain and clean machines before and after each shift.
Feed information akin to speed, shapes and sizes through the machine set up box.
Participated in construction safety drills and drills associated with new tool safety procedures.
Construction Worker
Cleaning and preparing a job site, loading and delivering materials, and using a variety of tools and machines such as blowtorches, forklifts, levels, lifts, power drills, grinders, saws, pressure washers, and water spraying equipment.
Set up and take down ladders, scaffolding, and other temporary structures.
Helping bricklayers and other specialized contractors.
Set up, maintained, and repaired complex electrical systems as well as installed minor structural modifications required to serve a business's needs.
Worked in construction as a carpenter, mason, and electrician.
Construction Worker
Prepared sites to ensure maximum optimization of construction work procedures.
Cleaned debris, trash and hazardous materials from construction sites, loaded and unloaded equipment.
Dug trenches and poured concrete as instructed as well as using hand tools to cut and shape material as per instructions.
Ensured that all work was being done in compliance with the company's protocols.
Actively participated in safety meetings and safety training held by the architects and engineers.
Construction Worker
Performed innovative trench less technology that enables us to install underground utilities without conventional open trenching, as well as obtaining sub-surface information in areas previously inaccessible.
Implemented directional drilling plans and procedures according to company plan and drilling operations of rig site and ensured compliance to all drilling objectives.
Performed directional boring in installing infrastructure such as telecommunications equipment.
Built and installed farm sheds, owner-built homes (including bathroom, kitchen & bar), fence lines, walkways, driveways, and landscaping projects.
Worked with the contractor throughout the project from the planning stages to completion.
Construction Worker
Specializing in flooring and tile work completed in-home installations of flooring purchased through the business.
Ordered materials, measured rooms and cut flooring materials to fit spaces.
Installed carpet and padding, tile flooring and hardwood floors.
Participated in the design team for an apartment complex consisting of a seven-story office building and ninety-three apartments with underground parking for residents of a nearby commercial shopping mall.
Assisted in the construction of commercial, residential, and public works projects.
Construction Worker
Place, consolidate, and protect case-in-place concrete or masonry structures.
Position, join, align, and seal structural components, such as concrete wall sections and pipes.
Shovel cement and other materials into portable cement mixers; and mix, pour, and spread concrete.
Signal equipment operators to facilitate alignment, movement, and adjustment of machinery, equipment, and materials.
Regularly inspected construction sites for proper completion of all pre-construction requirements.
Construction Worker
Responsibilities Shipping and receiving inventory along with quality control.
Accomplishments Using my knowledge and skills to stick out more amongst others.
Skills Used Customer service, forklift, and picker/stand up forklift.
Sawed wood into various building materials and aggregates for the purpose of constructing structures.
Planted crops for subsistence purposes and cultivated green fields for future farming purposes.
Construction Worker
Moved bricks, wood and other heavy materials to site locations as directed.
Arranged construction materials for easy access and handling.
Performed preventative maintenance such as checking, cleaning, or repairing equipment.
Achieved award for excellence in construction from several coworkers by completing work on time and within budget.
Delivered accurate and timely labor and materials to maintain construction projects during peak hours.
Construction Worker
Clean or prepare construction sites to eliminate possible hazards. Read plans, instructions, or specifications to determine work activities.
Control traffic passing near, in, or around work zones.
Signal equipment operators to facilitate alignment, movement, or adjustment of machinery, equipment, or materials.
Dig ditches or trenches, backfill excavations, or compact and level earth to grade specifications, using picks, shovels, pneumatic tampers, or rakes.
Position, join, align, or seal structural components, such as concrete wall sections or pipes.
Construction Worker
Installation of all aspects of carpentry including framing/installing walls, floors, ceilings, and roofs.
Fitting and installing window frames, doors, door frames, door hardware, interior and exterior trim.
Shaping or cutting materials to specified measurements, using hand tools, machines, or power saws.
Building cabinets, doors, frameworks, floors, or other wooden fixtures used in buildings, using hand tools and power tools.
Prepared structural plans and specifications, generated construction estimates, inspected construction sites.
Wrap Up
You need to make sure your resume stands out amongst the other candidates. It is the first impression that employers have of your work experience and skills. Use the samples above to put together a resume that best suits your needs and helps you get the job you want.