High school history teachers instruct students about historical events. They prepare educational materials, instruct students in a classroom and online, assign homework, grade papers and exams, answer students' questions, assign students' final grades, and chaperone field trips. This position requires a bachelor's degree in history, and public school teachers are also required to have a state issued license. They must understand the subjects they teach, have good writing, speaking and interpersonal skills, and be patient, empathic, and resourceful.
A good resume is well-written and concise. It should be neat and easy to read, listing previous experience in a logical order.
Our resume samples will provide you with multiple examples of what you can include when writing your resume.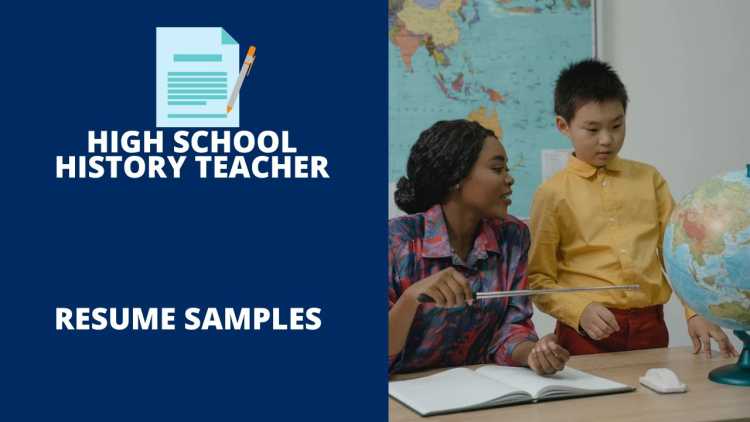 The Best High School History Teacher Resume Samples
These are some examples of accomplishments we have handpicked from real High School History Teacher resumes for your reference.
History and Literature Instructor
Created educational assessments; documented progress and developed research skills.
Developed the student's practical and theoretical expository writing skills through discussion and modeled essay instruction.
Explored World Literature through themes, literary elements and devices.
Built frameworks of literature and its influences on, or reflections of, society with World History.
Percussion: Voted "Most Outstanding Percussionist" at the university level.
Performed as a soloist in Carnegie Hall, in London's Royal Albert Hall, and in major corporate events around the world.
High School History Teacher
Worked with other teachers to created joint assignments that cover multiple subject areas.
Facilitated school-wide mentoring program that includes activities to develop students' physical, emotional, and social growth.
Participate in staff meetings and help strategize for improvement of curriculum, classroom management, instruction methods and overall school environment.
Teaching university-level history programs to over 450 students.
Coached, mentored, and encouraged student participation in team sports; developed student leadership skills with over 650 student elections.
High School History Teacher
Utilized informal and formal methods of assessment to properly measure effectiveness of teaching.
Promoted democratic values that students must have as American citizens.
Demonstrated effective communication between children and adults.
Trained teams to present the United States History Contest at the State University of New York at Cortland.
Enacted a one-week, week-long teaching program of the course "Civilization", integrating various aspects of World History since 1500 into a single unit.
History Teacher
Implemented lessons developed by a cooperating teacher in a fifth grade language arts, reading, and social studies classroom, and managed a classroom of over thirty students.
Assisted students during regular class time in order to ensure their understanding of the daily lesson.
Directed and co-led weekly boys group that targets anger management, social skills, academic issues, behavioral issues, self-esteem, and conflict resolution training.
Supported the Dean of Students Office in creating culturally relevant behavior plans in conjunction with the special education department.
Trained and instituted an after-school program for grades 5 to 6 which involved all 300 students in classes lasting from 2:00 until 5:00 PM daily.
History Teacher
Planned lessons and taught three sections of US History I and one section of World History I to 11th and 9th graders respectively.
Collaborated in weekly Department, Professional Development, and Student Support meetings with Grade Level Leads and staff.
Advised a small cohort of freshman males in Academic Help, Character Building, and Independent Reading 3 days a week.
Gained students' respect, interest, appreciation of the subject, and their cooperation and enthusiasm for their studies.
Built classroom into a positive learning environment with self-esteem, personal responsibility, and commitment.
History Teacher
Lifted students€™ history content knowledge dramatically further toward grade-level in every quarter.
Grew students€™ skills in historical thinking, writing and comparing primary source texts in 5-paragraph essays.
Prepared students to pass their PARCC exams while deepening their world history content knowledge.
Motivated students to complete assignments and achieve goals by providing encouragement and support for their success.
Selected for honor roll status after six months of service.
History Teacher
Inspire four Tenth Grade Global History classes' intellectual curiosity through lectures, discussions, and demonstrations as well as co-teach three Tenth Grade Global History resource, and inclusion classes, adapting teaching methods and instructional materials to meet students' varying needs and interests.
Integrate Engage New York and DC Standards to direct and guide lesson planning that promotes individual and group learning also, establish and enforce rules for behavior and procedures for maintaining order among students.
Assisted in the creation of a core Global History curriculum for 9th and 10th graders.
Trained in close reading strategies in order to develop and strengthen students' reading comprehension.
Placed student in honors classes based on individual reasoning, academic performance, and practical application of information presented in class.
History Teacher
Successfully conceptualized, authored and presented curriculum for new AP Comparative Politics class; continuously updates curriculum for AP American Government class.
Maintains a positive academic environment and adapts curriculum to accommodate varying learning styles.
Encourages parent involvement through consistent written and verbal communications.
Improved student's grades by encouraging participation in extracurricular activities and supporting students who have opportunities to be involved with the school's athletic team.
Provided students with a historical perspective; taught them how to understand history, respect it, and apply it as a living and personal philosophy for living on earth.
History Teacher
Prepared engaging lesson plans that promoted mastery of Common Core and New Jersey State Social Studies standards.
Differentiated rigorous instruction to meet diverse needs of scholars and foster necessary critical thinking skills in an inclusion classroom.
Develop strong relationships and communication with parents from varied backgrounds through email, face-to-face contact and phone communication.
Taught our nation's children the nature of academic learning and its impact on the world outside of the classroom.
Kept his school in first place for five consecutive years in Region Five.
History Teacher
Taught lessons in Geography, Latin America, and American History in a document-based, integrated curriculum.
Created lessons and authentic assessments for students with advanced and special needs.
Designed multi-leveled standards-based productivity HUB activities.
Maintained a clean and disciplined environment through yearly parent-teacher conferences.
Won awards from his school district for excellence in academics, discipline, grades, student leadership, and attendance.
History Teacher
Participate in intensive summer training program to develop the skills and knowledge needed to achieve significant gains in student achievement.
Simultaneously teach in summer school program run by Teach For America for students in New York public and charter schools under the supervision of a faculty of experienced teachers.
Engage in professional development activities, including seminars, discussion groups, workshops, readings, and 'learning teams' specific to my teaching license area.
Participation in workshops such as attaining awards for reading instruction through schools abroad.
Developed and implemented curricula for core subjects of geography, US History, English, and social studies.
History Teacher
Implement curriculum pertaining to Modern World History classes, in correspondence with state standards and common core standards.
Develop customized units, lessons and assessments.
Utilized various forms of technology, primary and secondary source documents, graphic organizers, Smart Board technology, class e-board and rubrics.
Gained recognition in teaching excellence and student satisfaction through local, national, and international achievement awards.
Earned National Teacher of the Year Award at the age of 22 (Honorable Mention) and Completed a "Graduate Certificate in Educational Administration".
Wrap Up
You need to make sure your resume stands out amongst the other candidates. It is the first impression that employers have of your work experience and skills. Use the samples above to put together a resume that best suits your needs and helps you get the job you want.