Assistant Teachers provide support to teachers. Their duties include grading, reinforcing daily lessons, conducting small groups, supervising field trips, preparing classroom material, and attending staff meetings. To become an assistant teacher, you must obtain a high school diploma or its equivalent. Assistant Teachers must demonstrate empathy, patience, professionalism, communication skills, interpersonal skills, listening skills, and time management.
A good resume is well-written and concise. It should be neat and easy to read, listing previous experience in a logical order.
Our resume samples will provide you with multiple examples of what you can include when writing your resume.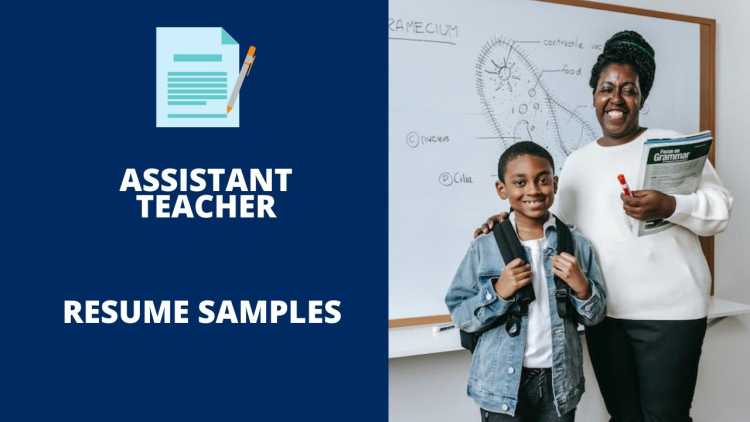 The Best Assistant Teacher Resume Samples
These are some examples of accomplishments we have handpicked from real Assistant Teacher resumes for your reference.
Assistant Teacher
Assisted lead teacher in developing lesson plans, support materials, activities and design/ layout of daily schedules based on the monthly program.
Keep in touch with parents regarding progress, health and child's adjustment to class.
Support the students individually inside and outside or during off-classroom hours in church.
Assisted in observing/assessing student's progress and behavior – keep records and consulted with educational experts to fine-tune methods used.
Taught children daily to examine the difference between love and hate.
Assistant Teacher
Assisted lead teacher in the planning and implementation of programs that meet the physical,emotional, educational and social needs of children.
Provided children with equipment and participate in classroom activities.
Encourage students to utilize appropriate health, safety and nutrition practices.
Adhered to all safety requirements for playground activities and procedures; achieved a perfect score on annual playground safety evaluation.
Unified learning opportunities with team sports by teaching children the basics of tennis, basketball, soccer, and baseball; led class in development of school spirit with homecoming activities.
Assistant Teacher
Assisted the head teacher with providing the children with a "prepared environment".
Assisted with individual and/or group activities to stimulate growth of the children in social, emotional and academic areas.
Served breakfast, snack and lunch while helping children to learn how to help themselves.
Educated, led, and inspired over 200 elementary children during the school year with sincere love for all students.
Trained to the full completion, from Kindergarten through Grade 6, 3 classrooms of children in various subjects and methods.
Assistant Teacher
Maintains up to date emergency forms, curriculum plans(TSG), individual child development, profile and other records as needed.
Reports all staffing and classroom concern to supervisor in a timely manner.
Assisted teacher with developing, weekly plans, and implement age appropriate curriculum (lesson plan).
Earned recognition for outstanding performance as an order dispenser in one classroom.
Helped to prepare over 200 student's annual progress reports by examining standardized test scores and summarizing their results into a daily report including goals and expectations.
Assistant Teacher
Assisted lead teacher in conducting increased learning experience for students in assigned area.
Performed a variety of non-instructional duties.
Tutor students independently or in small groups.
Administered students' arrival and departure, prepared instructional materials and classroom displays.
Helped students maintain high motivation levels through daily positive reinforcement by administering positive reinforcement awards at teachers' discretion.
Assistant Teacher
Assisted teacher with implementation of academic and behavioral expectations for various subjects.
Taught various classroom subjects such as Literacy, Math, Life Skills (Special Education), etc.
Created and facilitated school drama club including, but not limited to, writing school plays, organizing summer activities, etc.
Helped to promote school pride through participation in community service projects.
Researched, prepared, and delivered lesson plans for elementary students for the grade span of 3rd to 5th.
Assistant Teacher
Communicate openly with children and provide guidance during daily activities.
Supervise children during recreational activities while adhering to policies and procedures.
Encourage good health by preparing nutritional and balanced meals.
Report, discuss children's behavioral and developmental problems with school director and parents.
Assisted the principal in planning, scheduling and monitoring various projects in order to fulfill specific educational goals.
Assistant Teacher
An aid for the main teacher in the room, set up classroom before children arrive.
Teach them the proper fundamentals required for preschool.
Keep students occupied where they always have a smile on their face.
Help students pack up their belongings and get ready for dismissal.
Developed individualized lesson plans and recorded them as reference materials on a computer; updated these lesson plans weekly.
Assistant Teacher
Assisted Lead Teacher in maintaining records on each child's progress and development for the purpose of planning and compliance with Head Start Standards.
Participate in staff meetings, center activities, and staff development.
Assisted teacher in the full implementation of IEP's and inclusion of children with disabilities and special needs.
Establish a positive relationship with each child's family and share information about the child's day at the Center.
Recognized excellence by winning a variety of awards as assistant teacher.
Assistant Teacher
Assisted in planning and implementing the daily program under the direction of the teacher.
Assisted in preparing the learning environment r up learning, and preparing activities using materials and supplies.
To assist with general housekeeping tasks and maintaining a neat, organized and attractive appearance for the classroom.
To help children control their behavior using a positive and appropriate approach, to interact, initiate, and encourage the children in any activities throughout each day.
Instructed over 100 students in their chosen educational subjects for over 4 years (years 1-4 of education).
Assistant Teacher
Responsible for organizing classroom-maintaining cleanliness of the classroom.
Responsible for assisting the lead Teacher in teaching toddlers (ABC'S, 123'S, Shapes, Colors & Manners).
Responsible for assisting the lead teacher in planning activities, projects and games for kids.
Was a leader of twenty-five students in the TEA's Project Lead the Way.
Accurately documented student progress on a monthly basis and managed group projects with teacher supervision.
Assistant Teacher
Adapts classroom activities, assignments and/or materials (e.g. art projects, computer, language skills, etc.) for the purpose of supporting and reinforcing classroom goals and objectives.
Monitors individual and/or groups of students in a variety of settings (e.g. classroom, playground, field trips, etc.) for the purpose of providing a safe and positive learning environment.
Maintain classroom equipment, work area, and manual and electronic files and records (e.g. clean/bleach tables, sign-in/sign-out logs, etc.) for the purpose of ensuring availability of items; providing written reference; providing a safe learning environment; and/or meeting mandated requirements.
Arranged for parents' involvement in student's schoolwork, including after-school and weekend classes.
Created an environment conducive to learning and achievement among students by considering their needs and interests; provided guidance toward advancement.
Wrap Up
You need to make sure your resume stands out amongst the other candidates. It is the first impression that employers have of your work experience and skills. Use the samples above to put together a resume that best suits your needs and helps you get the job you want.