An Audio Engineer uses equipment to record and reproduce sound. Their duties are recording music, mixing music, recording voices, creating sound effects, setting sound levels, placing microphones, working with pre-amp knobs, and producing sounds for video games. Educational requirements to be an audio engineer are a bachelor's degree in audio engineering or fine arts and broadcasting; however, many audio engineers have learned their job through extensive on-the-job training. To be a good audio engineer you must have excellent hearing, attention to detail, patience, physical stamina, creativity, knowledge of musical styles, problem-solving and critical thinking.
A good resume is well-written and concise. It should be neat and easy to read, listing previous experience in a logical order.
Our resume samples will provide you with multiple examples of what you can include when writing your resume.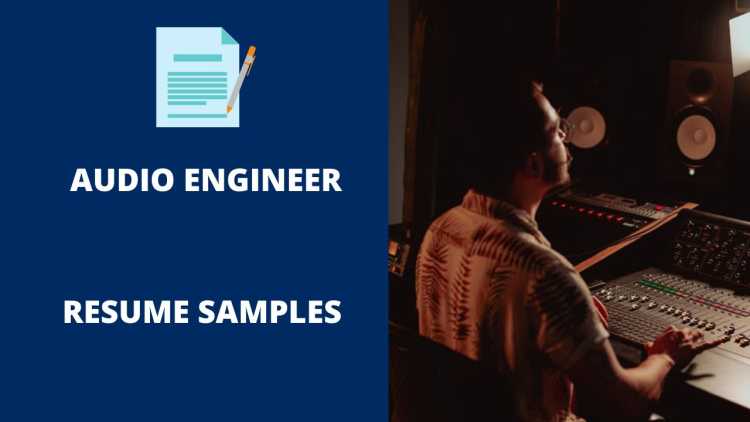 The Best Audio Engineer Resume Samples
These are some examples of accomplishments we have handpicked from real Audio Engineer resumes for your reference.
Audio Engineer
Operate machines to record synchronize, mix, produce music, voices, theatre production's.
Well-versed in recording technology such as analog tape and digital multitrack recording.
Great communication skills, strong work ethic and outstanding sense to detail.
Purchased, assembled, and installed four non-microwave components for a complete sound system in an 8th-grade classroom in less than four months.
Set up and operated a 24-hour live audio feed from the Catholic Diocese of Anchorage to their Alaska Summer Camp.
Audio Engineer
Producing and mixing church services and special events.
Events include a full band and choir as well as multiple officiants.
The 30-channel front-of-house mix is linked to a Pro Tools workstation which is used to created a live streaming mix and a live recording.
Built and installed a commercial sound system in less than two weeks.
Constructed a recording studio soundproofing booth that would eliminate interior noise that plagued commercial recording studios.
Audio Engineer
Prepares and tests equipment, including DJ equipment and microphones for each radio broadcast.
Records and manages all video and audio broadcasts using advanced programs, including Google Hangout and LIVE 360.
Posts all broadcasts on the radio's website and various social media platforms, including YouTube, Facebook, and Twitter.
Set up and used three live audio feeds simultaneously at remote locations across Alaska to simultaneously broadcast radio programs on three different stations.
Assisted in the audio post-production of national, international, and local events including the "Save The Whales" conference; interviewed featured speakers; designed and executed audio set-ups for VIPs, guests, and dignitaries.
Audio Engineer
Works with a variety of different clients representing events ranging from outdoor music festivals to musical theater, banquet dinners, high school graduations, clubs, concerts, corporate meetings, public speaking engagements, and religious services to assess the individual performance audio needs of each event, providing optimum sound for venues ranging from stadiums to intimate rooms.
Confers with producers, performers, managers and others to determine and achieve the desired sound for the production with the use of mixing consoles, dynamic processors, amplifiers, speakers, microphones, computers and more.
Produces live sound reinforcement including set-up, testing and optimization of PA system, engineering and managing all crew and equipment for the duration of the event.
Recorded interviews with guests on location; assisted in editing; used a variety of technology to improve sound quality.
Audio Engineer
Partner with Web Development Teams to enhance functionality, user experience, online brand positioning, and advertising.
Created shot lists, book talent and locations and prepare the location and set for shooting.
Produce entertainment and lifestyle news reports, music videos and commercials.
Supervise the post-production process, including editing, dubbing and color correction.
Audio Efficiently adjusted recording equipment to ensure clear reception during interviews.
 Engineer
Set up/disassemble apparatuses such as instruments, microphones, speakers, soundboards, and various other musical equipment.
Operate a Mac based console running Pro-tools HD program and other audio recording programs.
Engineer sessions for multiple artists providing a professional and comfortable setting where they can express their musical creativity.
Transcribed information over the phone and typed/edited written articles with deadlines.
Engineered and recorded multi-track sound for local bands recording their original material at a state-of-the-art recording studio.
Audio Engineer
Instructed users in the selection, use, and design of audiovisual materials, and assist them in the preparation of instructional materials and the rehearsal of presentations.
Determine formats, approaches, content, levels, and mediums necessary to meet production objectives effectively and within budgetary constraints.
Synchronize and equalize prerecorded dialogue, music, and sound effects with visual action of motion pictures or television productions, using control consoles.
Assisted in the development of a multi-channel sound system for auditorium, classroom, and high fidelity.
Recording, mixing, mastering, and editing all the media projects for any student who requested help.
Audio Engineer
Synchronize and equalize prerecorded dialogue, and sound effects for motion pictures or productions.
Meet with producers as well as performers to determine and achieve the desired sound for a production.
Separate instruments, vocals, and other sounds and combine sounds later during the mixing or postproduction stage.
Assisted in the creation and implementation of a new radio station's sound system.
Produced and engineered various sound effects to be added to a documentary recording that included locations in Hawaii, Mexico, and South America.
Audio Engineer
Demonstrated record high performance standards, including attention to schedules, deadlines, budgets and quality work.
Designed and supervised various projects including mastering sound recordings, CD productions, commercially used voice overs, video recording and editing.
Consulted with engineering personnel to resolve unusual problems and systems operations and maintenance.
Planned, directed and coordinated activities of designated projects simultaneously.
Built a professional recording studio with ZERO budget and ZERO experience.
Audio Engineer
Worked with musicians and vocalist to achieve desired sound in their monitors.
Operate consoles such as the Yamaha CL5 and QL5 for monitor or front of house mix.
Monitored levels for choir, musicians, and pastor throughout services.
Assisted in setting up Dante system for multiple room recordings for lectures.
Recorded, produced, and distributed individual audio tapes in a variety of styles: Rock, electronic, country-western, and gospel.
Audio Engineer
I work alongside another audio engineer, collaboratively editing audio from various sources, running VO sessions, and acting as a Foley artist for sound design sessions.
I have also taken on the task of updating and maintaining the company's website.
This involves digging around in the guts of WordPress, which reinvigorated my desire to learn about PHP.
Recorded, mixed, and mastered all music for the band "The Drags".
Produced and mixed guest artist compilation CDs at DRI Studios in Philadelphia.
Audio Engineer
Operate 32 channel mixing board with multiple outputs, including, wireless microphones, sound effects, monitors, and speakers.
Coordinate operations, including but not limited to lighting, audio, video, production, set-up for video/audio recording of various events for sale and distribution of CD's and DVD's.
Coordinate inventory and maintenance of audio and video equipment.
Supervised audio/visual team of 10+ for live sound and video recording of worship services and other events for weekly television broadcast on local station.
Borrowed equipment from other studios to set up additional recording space for recording purposes.
Wrap Up
You need to make sure your resume stands out amongst the other candidates. It is the first impression that employers have of your work experience and skills. Use the samples above to put together a resume that best suits your needs and helps you get the job you want.