Barbers provides a service of grooming client's head and facial hair. Their duties include trimming, shaping, cutting, tapering, and sometimes dyeing client's hair. To work as a barber, you need to have a level 2 Nation Vocational Qualification in the Barbering category. Barbers must demonstrate the ability to stand for a long time, stability in arm and hands, hand dexterity, finger dexterity, and a speaking skillset.
A good resume is well-written and concise. It should be neat and easy to read, listing previous experience in a logical order.
Our resume samples will provide you with multiple examples of what you can include when writing your resume.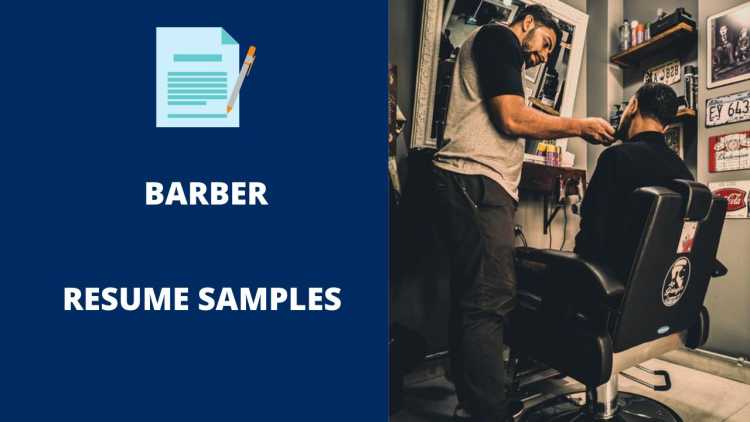 The Best Barber Resume Samples
These are some examples of accomplishments we have handpicked from real Barber resumes for your reference.
Barber
Discuss the customer's hair styling and cutting expectations before carrying out haircut.
Apply lather, shaving cream and hair softening products before and after carrying out hair contouring services.
Recommend suitable hair styles according to the face cut of each client.
Conducted a full range of services to men, women, and children; served customers while maintaining friendly and courteous conversation with clients.
Delivered outstanding customer service and courtesy by offering customized cut, color, beard trimming, and styling services to those who did not need hair cuts.
Barber
Exceptional skills in the use of barbering techniques, tools and equipment.
Immense ability to train others and to plan, assign and supervise the work of others.
Great ability to provide assistance or personal care to others.
Greeting the customers with appropriate verbiage maintaining a high-level of graciousness.
Offered friendly services in a positive manner by taking the time to discuss personal needs with clientele.
Barber
Examined hair texture and condition to determine appropriate treatment.
Set up workstation and treatment room with necessary products, equipment and supplies.
Kept current on hair products and their chemical composition, structure and properties.
Created repeat business by developing long-term relationships with regular customers.
Inspired confidence in others through daily consultation on style, cut and color.
Barber
Cut, style, comb, brush, trim hair with scissors or clippers to client specifications.
Schedule appointments, maintain records of work performed and inventory equipment and supplies.
Maintain the cleanliness of work areas, equipment and tools.
Received outstanding customer review from a client; developed an individualized commitment to provide top quality service for an exceptional cost.
Became proficient at cutting classic and modern hairstyles; received awards for outstanding haircuts.
Barber
Clean sterilize combs, scissors, clippers and other instruments.
Cut and trim hair according to clients' instructions and/or current hairstyles, using clippers, combs and scissors.
Apply lather and shave beards, or neck and temple hair contours, using razors.
Experienced with hair removal techniques including wet shaving, hot lather, and sugaring.
Awarded certificate in Barbering Artistry; learned to cut hair to a variety of standards including shears, clippers, scissor over comb, razor over comb and razor edging.
Barber
I worked as a barber providing services such as cutting, trimming, shampooing and styling hair as well as trimming breads or giving shaves.
I recorded services provided on cashiers' tickets and receiving payment from customers.
Performed clerical duties such as answering phones taking messages, scheduling and canceling appointments, record keeping, and filing all documents.
Delighted customers by providing excellent hair grooming and styling.
Enthusiastically listened to customer needs and provided solutions that resulted in new client acquisition.
Barber
Sanitized and disinfected chairs, equipment, and supplies on a daily basis.
Ensured that each customer receives outstanding service by providing a friendly environment, which included hair style selection, pricing as well as greeting and acknowledging every customer.
Handed out flyers to the general public at strategically chosen locations to promote business and increase clientele.
Raised average haircut amount by 8% each month as a result of in-depth knowledge of products and marketing.
Created signature hairstyles such as the "fro," "dreadlocks," and "tiger stripes."
Barber
Welcome clients as they arrive in the barbershop and engage them in conversation to determine their needs.
Provided suggestions to clients regarding current hair styles and popular trends.
Answer clients' questions regarding barbershop's facilities and hair care products.
Inquire from clients about hair care preferences and suggest appropriate resolutions to hair and scalp issues.
Implemented closings and accommodations for each individual customer.
Barber
Clean and sterilize scissors, combs, clippers, and other instruments.
Cut and trim hair according to clients' instructions and/or current hairstyles, using clippers, combs, hand-held blow driers, and scissors.
Drape and pin protective cloths around customers' shoulders.
Question patrons regarding desired services and haircut styles.
Researched new techniques and products while striving to maintain a professional image.
Barber
I am responsible for scheduling appointments and ensuring that time constraints and deadlines are met.
I offer clients full services in a high volume salon.
I am responsible for gaining new customers and maintaining positive client – barber relationships.
Successfully collaborated with a new stylist to build a salon that successfully combines artistry with traditional methods of hair styling.
Developed ability to deal with difficult customers by remaining calm & professional.
Barber
Excellent knowledge of principles and processes for providing customer and personal services, including customer needs assessment, meeting quality standards for services, and evaluation of customer satisfaction.
Strong ability to make precisely coordinated movements of the fingers of one or both hands to grasp, manipulate, or assemble very small objects, such as hair clippers, edgers, and other hair cutting tools.
Able to develop constructive and cooperative working relationships with others, and maintaining them over time.
Developed ability to work without direct supervision, as I was only there for appointments & could leave the establishment if necessary.
Devised interactive, participatory methods to deliver haircare knowledge for clients with varying hair types and textures.
Barber
Was the designated go-to person for any problems that occurred during my shift and filled in as manager when she was sick or on vacation.
Contacted and dealt with technicians over the phone in the event of computer and credit card processing malfunctions.
Created an environment of camaraderie and enjoyed my fellow coworkers and returning customers.
Educated, led, and inspired over 200 men, women, and children in self-defense, mind, and body health, and fitness.
Performed all services from a barber chair. Trained to the full completion of a Black Belt in traditional Japanese Jujitsu Karate.
Wrap Up
You need to make sure your resume stands out amongst the other candidates. It is the first impression that employers have of your work experience and skills. Use the samples above to put together a resume that best suits your needs and helps you get the job you want.