Big Data Architects provide support for a company's data source. Their duties include data mining, establishing data inventories, identifying data issues, establishing data pipelines, debugging foreign systems, and finding opportunities for data acquisition. To become a Big Data Architect, you must obtain a Bachelor's degree in computer science or a related field. Big Data Architects must demonstrate professionalism, communication skills, computer savvy, interpersonal skills, problem-solving skills, management skills, and analytical skills.
A good resume is well-written and concise. It should be neat and easy to read, listing previous experience in a logical order.
Our resume samples will provide you with multiple examples of what you can include when writing your resume.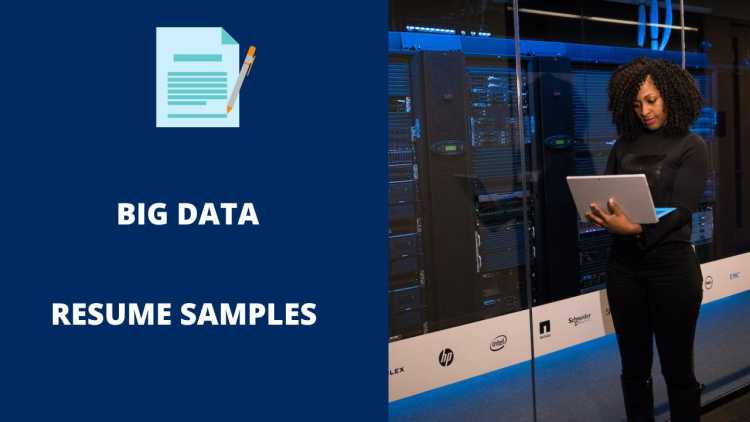 The Best Big Data Resume Samples
These are some examples of accomplishments we have handpicked from real Big Data resumes for your reference.
Big Data Architect
Delivered Multithreaded Java Based ETL scheduler as short-term solution, including several other tools such as TDE (transaction Data Extractor), TDE extract internal system's data into GA.
Using Google API for Longitude and Latitude and calculated distance between the stores to determine Neighbor hood stores.
Resolved the scaling issues from the earlier versions, by implementing Pig and Oozie based framework for New ETL.
Architected and delivered the latest version, with a new data model including highly scalable Complete ETL, including several features such as monitoring, SLA processing, Re-scheduler capabilities.
Conducted an assessment of current architecture for a large-scale, automated, unsupervised experiential learning system.
Big Data Architect
Responsible for architecture and development of end-to-end solution for datalake implementation.
Designed ingestion for deep storage(HDFS) from different sources and design and implement transformation logic (CDC, SCD, building common model) in spark and talent.
Designing the models in ER/Studio and utilizing Collibra for data governance.
Responsible for supporting Hadoop and Greenplum, ensuring their Optimum performance.
Developed data models for self-taught analytics.
Big Data Architect
Experienced in Java MapReduce programming and experience in analyzing data using Hive QL and Pig Latin.
Very good experience in various visualization tool like OBIEE, Pentaho BA Suite, Tableau, Vertika.
Mastered the ability to design and deploy Rich Graphic visualizations.
Built meaningful dashboards using Vertika, Tableau desktop, OBIEE and Pentaho BA using different visualization techniques.
Gathered an archive of historical data for senior executives, including market report summaries and quality control statistics to be distributed to all staff members.
Big Data Architect
Recommended and implemented an improved customer identification strategy for an international big-box retailer.
This eliminated information loss and improved the precision by which they could communicate with the customer.
It allows them to adjust their marketing message based on the level of certainty of the identification.
In the years following implementation, customer satisfaction has improved and the company has seen a 85% increase in its stock price.
Improved business operations through inventory tracking and analysis of customer behavior on the Web.
Big Data Architect
Worked with Business stakeholder and translate Business objectives, requirements into technical requirements and design.
Define Technical strategy and roadmap aligned to business objectives.
Defined the application architecture and design for Big Data Hadoop initiative to maintain structured and unstructured data; created reference architecture for the enterprise.
Developed project proposal that resulted in a new product line brand and extended production lead time by over three weeks.
Worked in collaboration with the project manager to make processes more efficient and effective by enhancing teamwork, integrating technology, and improving inter-departmental communication.
Big Data Architect
Independently organized and managed training of diverse set of people in classroom and through WebEx.
Passionate about teaching and knowledge sharing and hence development several unique ways through stories and examples to teach complex topic to even non-technical resources.
Performed a POC for Spark to connect to Tableau for Spark SQL based Analytics.
Recommended and designed customer engagement meter projects to determine Customer score, which can be leveraged for customer, churn prevention, customer satisfaction and cross sale etc.
Generated report visualizations using SQL and Java Server Pages.
Big Data Architect
As part of UCP project, designed a solution for finding complex hierarchies of each and every Autodesk product version history.
Developed a MapReduce program to find entire hierarchy path of a product upgrade, merges and complex split relationships.
Stored MapReduce program output in Amazon S3 and developed a script to move the data to RedShift for generating a dashboard using QlikView.
Creating prototypes using HTML, JavaScript, and CSS technologies.
Developed a website for a non-profit organization to raise funds via online auction.
Big Data Architect
Responsible for the design and development of data cleansing, schema standardization, and control path implementation technologies.
Delivered a high-quality product in 4 months, at a cost less than the annual licensing charge of commercial ETL products.
Responsible for developing an innovative, forward-looking end-to-end architecture for a high-volume multi-tenant SaaS offering, in a 50+ node cluster.
Helped compile data analysis results from the information architecture and database design into accurate and informative reports.
Successfully designed websites for various companies including small businesses in the Texas and South Florida areas.
Big Data Architect
Architected patterns for Multi-tenancy and security controls around the Data Lake in the Hadoop environment.
Worked with development teams on Cognitive Analysis using various NLP Tools (KNIME, Anaconda, Graph processing).
Conducted POC with machine learning libraries using Spark, Python libraries.
Analyze technology industry and market trends, and determine their potential impact on the enterprise and created recommendations.
Involved in performing both technical development aspects as well as basic marketing/advertising for a company that provided advertising design/development services for small businesses across the state of Texas.
Big Data Architect
Worked on Apache Spark Feature likes RDD,in-memory processing, Aggregation ingesting Oracle data thru JDBC connection.
Actively participated in software development life cycle (scope, design, implement, deploy, test), including design and code reviews, test development, test automation.
Interacting with Business stake holder and various business analyst to get the system requirement.
Recognized expertise in Big Data Analytics and Business Intelligence.
Presented as EMC's Big Data Architect at the "Hadoop World Conference of Technology Leaders" in New York City.
Big Data Architect
Built Device Analytics application end to end solution which provides ability to collect, ingest, analyze and report numerous parameters about device performance on Hadoop Cluster.
Application system has a dashboard which provides reporting on data about various KPIs and helps in diagnosing network and device issues.
Unified data lake architecture integrating various data sources on Hadoop architecture.
Conducted extensive research on various Big Data platforms, their application, and future growth.
Obtained and analyzed information from several sources, including government, business intelligence, and Internet databases.
Big Data Architect
Strategic technical interface with the aligned business units for the purpose of business technology strategy development, solution design & engineering, release management and relationship management.
Engaged with cross functional teams to implement solutions and services as part of analytics platform.
Populated HDFS, Hadoop with data loaded from SQL production systems.
Wrote Postgres scripts to extract data, created views, populate staging and populate the data mart.
Created business scenarios for designing the data application for the new state-of-the-art Big Data analysis platform that is currently being built.
Wrap Up
You need to make sure your resume stands out amongst the other candidates. It is the first impression that employers have of your work experience and skills. Use the samples above to put together a resume that best suits your needs and helps you get the job you want.