Musicians work performing music by singing, playing an instrument, or both. Their duties are practicing, self-promoting, auditioning, rehearsing, finding performance locations, and performing music for an audience or studio. There are no educational requirements to be a musician; however, an A.A. or B.A. degree is encouraged. Musicians need to be aspiring, disciplined, willing to travel, have good marketing skills, interact well with an audience, have excellent instrumental/vocal skills, and the ability to write and/or read music to be successful.
A good resume is well-written and concise. It should be neat and easy to read, listing previous experience in a logical order.
Our resume samples will provide you with multiple examples of what you can include when writing your resume.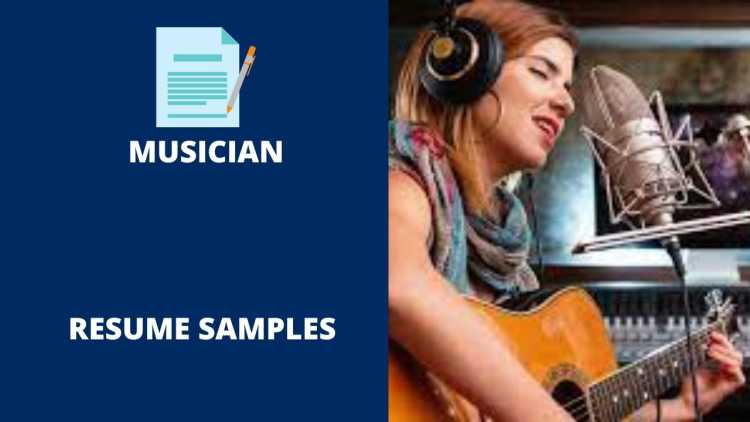 The Best Musician Resume Samples
These are some examples of accomplishments we have handpicked from real Musician resumes for your reference.
Musician
Conduct musical performances at Saint John Missionary Baptist Church for services throughout the week.
Experienced playing multiple instruments including the piano and guitar.
Also participate in events outside of church such as choir performances, youth competitions and youth outings.
Wrote and recorded songs as lead vocalist, co-writer, producer, and songwriter for four albums of original music distributed on CDs through iTunes.
Orchestrated and conducted hundreds of performances in three states for a touring 10-piece band.
Musician
Interpreted and modified music to personalize performances.
Studied scores at length to learn music in detail and develop suitable interpretations.
Arranged musical compositions to achieve a particular musical style.
Composed a full-length musical comedy with book, music, and lyrics presented at the professional theater; successfully staged six more productions around the nation.
Designed an original website with unique interactive features conceived by my client (no prior computer skills), launched the site, then marketed its traffic to her sales page with 5% conversion rates on all orders.
Musician
My job duties are to obtain information about the day's functions, events and prayer times.
Rehearse music and timelines for church services, weddings, christenings and baptisms.
Confer with presiding pastor to determine the type of music that is appropriate for each event.
Ascertain that all church instruments are cleaned and maintained on each ending event and put away properly.
Conducted 30-minute organ improvisation, including two solos and two chorale fugues, to a packed sanctuary after only ten days of preparation for a church service without music.
Musician
Performed customer service by providing satisfied customer entertainment.
Ability to exhibit communication skills when asking clients their specific requests.
Demonstrated organizational skills & team work during music rehearsals while prepping with self motivation during private practice.
Imparted upon students the techniques of interpretation and improvisation for jazz performances in public schools through classes.
Trained musicians from the College National Jazz Ensemble to play in the 12th annual All-State Jazz Band.
Musician
Professional musician for Dallas' number one band playing more than 300 shows a year.
Shows range from corporate events for Fortune 500 companies and Super Bowl XLV to private parties and weddings.
Role as musician includes keyboard, saxophone and vocals, as well as production manager, event emcee and disc jockey.
Presented concert programs of original compositions to four different cities in three countries over seven months with eight performers.
Played a variety of instruments (guitar, bass, drums, piano) and recorded music for 20+ original songs.
Musician
Music Serves as Assistant to the Choir Director who is responsible for one of the six choirs.
Responsibilities include, but are not limited to, being assigned as the primary musician, singing, teaching new songs, and directing the choir when needed.
Also serves as musician for church services.
Designed album covers for four original CDs.
Developed music for two feature-length movies as well as numerous DVDs and short films.
Musician
Professional musician in various genres locally, nationally, and internationally.
Responsible for attaining and maintaining customer relationships in the music industry.
Contracting, performing, arranging/ composition, teaching, and sound engineering are responsibilities necessary to this career.
Performed on stage with a variety of bands playing rock, blues, country, folk, and jazz; toured in Europe and Canada.
Completed course work up to the Master's level in Art (pursuing Ph.D.).
Musician
In this job, I am self-employed, I am a musician and the leader of a music group.
My duties are to make sure that the music sounds goods.
I also get the audience to get involved in the performance to make a good impression for the group.
I make sure that my players are learning their music and lyrics as well.
Played numerous instruments by mastering the fundamentals of technique and proper performance.
Musician
Collaborate with special guest-entertainers for main stage shows, providing accurate performances with little to no advanced preparation time.
Interact with guests and employees of a diverse pool of nationalities; general hospitality services as required per guest.
Emergency ship function: Abandon-Ship Traffic Director/Stairwell guide.
Composed music and performed in jazz, blues, rock, and country bands.
Created artwork utilizing such mediums as pencil, ink, acrylics, watercolor/pastels, acrylic pin-ups.
Musician
Over the years I have performed at countless private engagements.
I have taught a plethora of private students in guitar/piano/ drums/ vocal Instruction.
I have also freelanced as a sound engineer numerous times.
Amidst these practices, I have had to take on all sizes of challenges concerning writing, recording, rehearsing, producing, booking, promoting and managing.
Designed award-winning album art for various bands.
Musician
Participated in local live events with local artists in churches, wedding receptions, and restaurants.
Collaborated with a variety of musicians to provide clients excellent musical melodies and songs.
Developed strong communication skills due to being exposed to a large variety of musicians.
Collected live photographic performances from over twenty countries across the world featuring more than 60 concerts on 7 continents.
Selected as a soloist for Community Orchestra; performed before students, parents, staff, and guests.
Musician
Co-Founder, Guitarist/Songwriter of the band "Search The City" with noted record sales, fan base, touring and radio play.
Released two records, "A Fire So Big.." and "Flight" available on all digital media outlets.
Sales and marketing: Being a musician I learned how to market myself, my business and created opportunity for everyone around while pursing such a hard business to break into.
Performed classical music for Opera Night; gained positive feedback from audience members.
Wrote original compositions, lyrics, and music scores for musicals written by classmates and performed by other students.
Wrap Up
You need to make sure your resume stands out amongst the other candidates. It is the first impression that employers have of your work experience and skills. Use the samples above to put together a resume that best suits your needs and helps you get the job you want.