Videographers film and edit videos for a company. Their responsibilities include organizing digital footage, collaborating with directors, selecting appropriate equipment to shoot videos, setting up equipment, editing videos, and recording videos. To work as a Videographer, a bachelor's degree is typically required in film or broadcasting. To be successful as a Videographer, it is important to have excellent communication skills, computer skills, visual skills, physical stamina, hand-eye coordination, creativity, and detail-oriented skills.
A good resume is well-written and concise. It should be neat and easy to read, listing previous experience in a logical order.
Our resume samples will provide you with multiple examples of what you can include when writing your resume.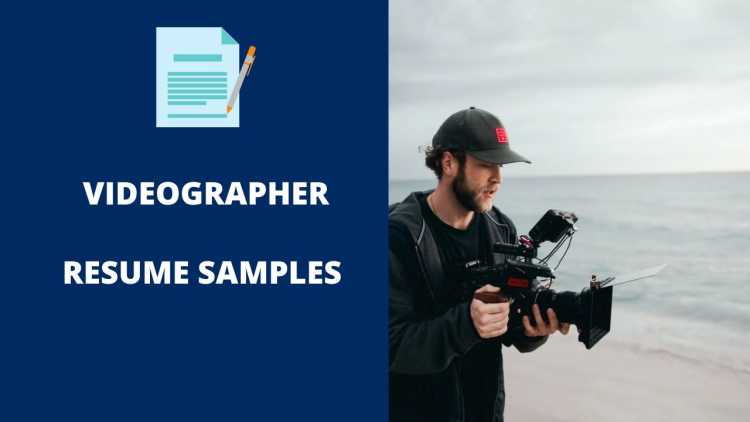 The Best Videographer Resume Samples
These are some examples of accomplishments we have handpicked from real Videographer resumes for your reference.
Videographer
Implement positive campaigns and maintain NMJC & NMJC Athletic's social media platforms – Facebook, Instagram, Twitter, Livestream, & Simplecast.
Provided support to faculty and staff utilizing web content management systems.
A wide degree of creativity and latitude while maintaining the ability to effectively work in a team-based environment.
Coordinate training and provide educational opportunities for students, NMJC staff, and local non-profits.
Produced documentary films and television programs.
Videographer
Responsible for setting up lighting and microphones for the music video covers to ensure effective recording.
Securing the video equipment needed to capture and effectively edit multiple angles for engaging content.
Operating multiple cameras on and off stabilization rigs to bring life to the final product.
Edited videos, musical videos, and commercials.
Created graphics for advertising.
Videographer
Coordinates with multiple clients and public relations teams to created videos of various lengths and purposes.
Provides the client with detailed updates throughout the creative process.
Works with public relations teams to created brand guidelines.
Films, edits, and produces videos that help to expand the client's brand to a level that is satisfactory to the client.
Certified Creative Director; co-developed campaign idea with client.
Videographer
Daily experience providing accessible, relevant, and dynamic information to a diverse constituency.
Knowledge of new and emerging communications technologies /video trends, social tools, and apps.
Ability to deal courteously, effectively, and tactfully with diverse populations including coworkers, the general public, and community organizations and groups.
Appointed to West Virginia Committee on Arts & Design; awarded membership in Professional Grant Writing Group.
Edited and co-directed a DVD movie promoting the art of Tae Kwon Do.
Videographer
Videotapes program material for production using video camera equipment.
Makes technical decisions regarding such elements as appropriate lighting, shooting angle and placement, and type of microphone.
Assists a producer/director regarding preconceived ideas and physical realities of the production setting.
Selected, directed, shot, and edited various projects for the "Miss New York" pageant.
Formulated, directed, shot, and edited over 200 hours of news-related footage in two years while working at a TV station.
Videographer
Scouts different attractions in locations to secure activities to do for each episode of the vlog.
Edits videos in a cinematic format with a 12-hour turnaround.
Promotes the daily video via social media (Instagram, Facebook, Twitter, Tumblr).
Designed, directed, shot, and edited a thirty-minute documentary highlighting the cultural diversity of the Miss America contestants.
Formulated an idea for an event entitled "21st Century Civil War" which honored families who lost relatives during World War II; created all promotional materials for the event.
Videographer
Projects include Documentaries, Corporate Videos, Feature Films, Commercials, and Music Videos.
Pre-Production responsibilities encompass interpretation and communication of client's vision and management of schedule and budget.
Production duties involve the creation of scripts and storyboards, direction of talent and camera angles, lighting, audio and camera operation, and management of crews.
Taught the basics of video production to non-professionals in order to increase creative expression through film, promotional video, and photography.
Developed workable basics of cinematography in this area by shooting and editing commercials, instructional videos, formative tutorials, and event photos.
Videographer
Collaborate with producers, engineers, freelance camera operators, and management to identify equipment needs and design standard operating procedures and workflows for the camera department including equipment inventory procedures and camera shooting/operating guidelines.
Maintain and operate broadcast equipment such as cameras, tripods, light kits, microphones, batteries, and accessories.
Actively improving the network by researching new products, shooting techniques, discovering improvements to existing technology, and building more relationships with team partners and members of the media.
Projects included extensive travel for filming and raising awareness for a variety of health-related causes.
Posed scuba diving companions and clients for headshots during red-eye flights; this resulted in the construction of thousands of photographs from the lens.
Videographer
As a Camera Technician, it was my job to find and make quick decisions on what shot is best.
I also have to quickly do as the director requests before losing the shot he desired for his vision of the recording or streamed video.
I also conducted interviews with musicians and other artists and assisted in the setup, tear down and care of the equipment.
Created music videos featuring urban artists or clients that now have online distribution for entertainment purposes.
Masterfully directed, produced, and edited over 100 video productions for clientele such as the Baltimore Orioles, Coppin State University, and the City of Baltimore.
Videographer
Camera operator for live TV, filming every Board of Education meeting and ceremony.
Edit b-roll from ceremonies replays to be posted for both digital streaming and live TV.
In charge of handling the setup as well as the video production equipment.
Artistically conceptualized and executed music videos for indie hip-hop artists. Competed for 2nd place in Best Of The Bay Video Awards.
Assisted with set design and construction during the shooting of a feature film.
Videographer
Directed videos and designed photo shoots for clients for brand promotion.
Analyzed consumer data in order to effectively target core audiences.
Created a strategic marketing plan in order to achieve maximum exposure and profit for the brand futuristically.
Created promotional content to be incorporated into the website of a start-up company.
Successfully conducted workshops that encouraged teamwork through discussions centered around the art of videography.
Videographer
Edit and compile the recorded videos to be prepped and ready to be aired on the university television station.
Live stream campus events at the request of the leaders of the other organizations on campus.
Carried out any and all tasks delegated to me by the general manager of Wildcat Media.
Employed original ideas to enhance the quality of recorded videos through original camera angles, special effects, and professional lighting.
Utilized creative writing skills to write musical lyrics.
Wrap Up
You need to make sure your resume stands out amongst the other candidates. It is the first impression that employers have of your work experience and skills. Use the samples above to put together a resume that best suits your needs and helps you get the job you want.