A Warehouse Associate works in a warehouse to fill orders. Duties include picking product, operating machinery to deliver product to shipping area, re-stocking shelves, receiving stock, and possibly operating forklifts. Educational requirements are high school diploma or equivalent. The skills you would need are the ability to walk long distances, stand in one place a long time, lift up to 50#; detail oriented, able to work in a noisy, dirty, hot or cold environment; safety oriented, customer oriented, and flexible.
A good resume is well-written and concise. It should be neat and easy to read, listing previous experience in a logical order.
Our resume samples will provide you with multiple examples of what you can include when writing your resume.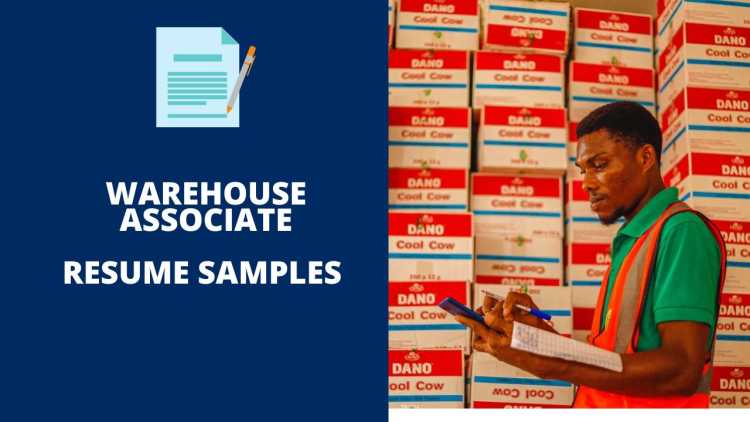 The Best Warehouse Associate Resume Samples
These are some examples of accomplishments we have handpicked from real Warehouse Associate resumes for your reference.
Warehouse Associate
Received and processed incoming stock and materials.
Maintained a safe and clean work environment while following warehouse safety protocols.
Used various types of machinery to retrieve and move heavy materials.
Met and exceeded inventory turnover rate, 98%, by a minimum of 6.25% through improved processes and procedures.
Planned, managed, and coordinated the usage of warehouse personnel for peak efficiency without compromising safety or security.
Warehouse Associate
Inspected and fill out walkie Ryder, and or high low inspection reports before use.
Count product on a pallet for precise accuracy to ensure customer needs are met.
Keep warehouse clean and in proper working order according to company procedures mandate.
Resolved conflicts between the company, customer, and supplier orders; ensuring customer satisfaction by delivering the best quality products at an affordable price.
Designed a six-month development program to tutor employees who were struggling with communication skill deficiencies; created an environment of job satisfaction which helped to improve performance ratings with the department head.
Warehouse Associate
Safely transporting freight, stock, and many other types of company materials within all company areas including storage, production locations, and loading docks.
Being a direct liaison to our warehouse supervisor ensures the completion of our daily goals.
Operating power material handling equipment to accurately select and palletize loads.
Moving pallets by hand, hand truck, electric pallet jack, or manual pallet jack.
Trained new employees in employment laws, policies, and procedures necessary for successful placement into full-time positions within the company.
Warehouse Associate
Picking Electrical Supplies from the Warehouse to the requests of the Salesmen or the requests of the supervisor in the other branches for delivery to them.
Stocking Newly Arrived Electrical Supplies to their Organized Location.
General Maintenance of the Warehouse such as cleaning the warehouse, compressing the cardboard boxes and paper for recyclable waste, taking the garbage out, and cleaning the restroom.
Organizing the stocks in the Warehouse to maintain an easier way when they are needed for pickup.
Trained to be in charge of a five-ton forklift, and performed daily tasks and delivery orders.
Warehouse Associate
Picked and packed all materials as required.
Worked with hazardous and nonhazardous materials.
Proficient in MAS 500, UPS, FEDEX Worship. Use proper material handling equipment to perform duties.
Gained a comprehensive understanding of the lot numbers in the warehouse.
Developed relationship with the company's Logistics Manager through weekly interactions where I was assigned to deadlines, budgets, and safety.
Warehouse Associate
Assisting in a warehouse for a plumbing and building and supply distributor.
Labeling shipments and loading packages and boxes on delivery trucks.
Operating forklifts, power pallet jack, combi/forklift, and other warehouse equipment.
Shrink-wrapping and palletizing and using computer system to check orders.
Accomplished by high standards 80% time from my first day on the job through the end of a 30-day probation period; received an outstanding quality award for proficiency and consistency.
Warehouse Associate
Packing and shipping fixes are sent to our clients all over the country.
The outbound team is also responsible for quality control, owning the final touches on packages before they leave the warehouse.
Training new employees, making sure they understand the values of the company and the way we process the orders.
Accomplished over 90% time during a six-week period within tight financial parameters; received an outstanding quality award for proficiency.
Managed inventory of pears, peaches, apples, and grapes to avoid spoilage.
Warehouse Associate
Performed daily warehousing duties such as shipping, receiving, material handling, picking/packing orders, loading/unloading, driving a forklift truck, etc.
Operate UPS WorldShip shipping and process system to ensure all products ship to customers in accordance with UPS requirement standards.
Accurately complete all shipping of parts on a daily basis to ensure the customer's requirements are met.
Established preventive maintenance program for warehouse supplies to avoid over-stocking, over-production, or shortages in the future.
Coordinated transportation of fresh produce by air and truck for distribution across multiple states.
Warehouse Associate
Responsible for operating the Hi-Lo picker to pull and store fabric in the warehouse.
Responsible for accurately cutting and measuring fabric specific to each order.
Responsible for receiving an average of 5 pallets of shipments daily from delivery trucks.
Responsible for accurately documenting and labeling the type, pattern, color, and measurements for all fabric shipments.
A maintained record of assets and procedures for purchasing supplies used in warehouse operations.
Warehouse Associate
Pull, pack, and ship orders in an accurate manner organize stocks and maintain inventories, Inspect goods for defects and damages.
Track inventory in the appropriate system and organize space in the warehouse and perform cleaning duties.
Notifying supervisors of problems that are not resolvable also resolve all other issues at the warehouse level.
Checked spools on work orders, restock materials as and when required, and processed and packaged goods in a time-efficient manner.
Trained employees on warehouse/logistics accounting procedures to ensure accurate records of year-end totals by using bank reconciliation numbers and detailed journals.
Warehouse Associate
Mark stock items using identification tags, electric marking tools, stamps, or other labeling equipment.
Clean and maintain stock items, supplies, equipment, and storage areas in order to ensure compliance with safety regulations and general cleanliness.
Provided assistance or direction to customers or other warehouse workers.
Do dimensions and weight of items going out via export and ensure that packages are in keeping with flight and customs regulations.
Received 100's of shipments a week.
Warehouse Associate
Select full case grocery and dairy products from warehouse pick slots using pallet jacks and/or forklift.
Move product throughout warehouse using audio headsets then stacking product on pallets and labeling each case.
When pallet full, install protective item to the product in order to prevent damage of product and move to correct dock location for customer delivery.
Organized, directed, and managed a multimillion-dollar operation within the last 18 months.
Boasted extreme attention to detail and completed every job as expected.
Wrap Up
You need to make sure your resume stands out amongst the other candidates. It is the first impression that employers have of your work experience and skills. Use the samples above to put together a resume that best suits your needs and helps you get the job you want.