Systems Administrators are responsible for managing, maintaining, and securing computer systems. They also help troubleshoot issues with the software, hardware, network connectivity, and end-user applications. Systems administrators must have an in-depth knowledge of computer networks, integrated system operations/management tools, remote access/VPN deployment techniques, server configuration management, and data security measures. To be a successful candidate you must have experience working with distributed enterprise environments in the public or private sector and your resume should outline past accomplishments such as designing new servers or implementing IT projects.
A good resume is well-written and concise. It should be neat and easy to read, listing previous experience in a logical order.
Our resume samples will provide you with multiple examples of what you can include when writing your resume.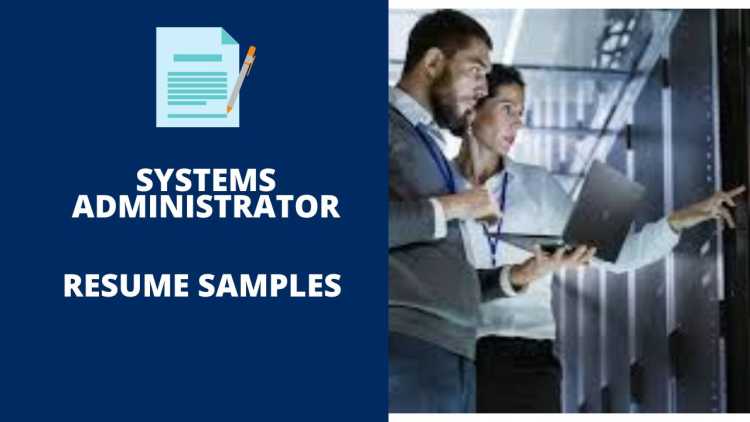 The Best Systems Administrator Resume Samples
These are some examples of accomplishments we have handpicked from real Systems Administrator resumes for your reference.
Systems Administrator
Provided systems administration support (on-call 24×7) for systems including server and workstations, upgrades, backup and disaster recovery monitoring, user account setup, and security administration.
Performed regular system backups and recovery procedures, closely following SOPs to ensure system security.
Technical, analytical, and problem-solving skills; effective task prioritization; and customer service orientation Troubleshooting: Rectified many issues by instituting best practices, backups, network operating center security, user account/permissions management, and systems/software auditing.
Realigned the office's computer network to support twice the normal capacity with no downtime and no interruption in service.
Expertly coordinated internal hardware, software, and peripheral changes, while providing a high level of technical support to end-users.
Systems Administrator
Built and manage technical services business providing on-call support to customers with RedHat Linux, Ubuntu, Centos, Solaris, VMware, Windows, and Android OS issues.
Heavy bash scripting and use of Linux CLI to install, modify, and update systems and software.
Led and/or Assist in installing, tuning, and configuring specialized servers (Apache, Database, Nagios, Mail, etc.) in enterprise environments.
Build secure server sites, develop Perl and Shell Scripts to automate manual processes.
Coordinated implementation of strategies for optimal migration from aging server technology to new, high-performance servers that increased system efficiency by 40%.
Systems Administrator
Network administration, support the network and IT infrastructure, servers, hardware, software, applications and Unitrend backup (cloud).
Implements support and maintain operational core network system infrastructure.
Provides input for the overall design, installation, maintenance, management, and coordination of applications and systems integration to the network.
Earned commendations for the outstanding quality of Internet services; consistently maintained 99.9% online access while ensuring complete customer satisfaction.
Developed and maintained 35 websites with the use of personal computers and internet accounts.
Systems Administrator
Responsible for backups/restores using Simpana Commvault software and Spectra Logic tape library.
Come up with solutions that will automate tasks, increase efficiency and make business more productive.
Execute code builds and deployment activities for development, quality assurance, and web teams.
Assisted in the purchasing and installation of an HTML code editor for corporate use.
Expanded corporate data storage capacities by 50%.
Systems Administrator
Managed and maintained backup systems, virus protection, and information security system.
Maximize network performance by monitoring logs, troubleshooting network problems and outages, scheduling upgrades (WSUS), and recommending changes to improve the foundation.
Support of LAN WAN – installing, updating, and maintaining all network devices.
Eliminated employee downtime by developing a system to back-up data remotely from a server.
Increased user satisfaction by creating job rotation schedules for employees, thus providing more face-to-face training opportunities based on their individual abilities and progressions within their department.
Systems Administrator
Complete CentOS 6. x system builds for external clients or for internal use, this includes installation of the OS using kickstart in conjunction with PXE Boot.
Use Ansible to automate system checks and configuration on new Linux 6. x based builds. Create and edit Ansible playbooks when needed.
Use regular expressions (awk, sed, grep) daily to help work with various log files and data.
Save and update system or configuration files using GIT version control, creating or deleting branches as needed via the command line.
Successfully installed a new computer network for a growing medical facility and connected over 20 computers, printers, and servers utilizing diverse cable types and installing various software packages.
Systems Administrator
Design, install and maintain two server rooms of 25+ physical and virtual servers on Microsoft Windows platform based on MS 2K8 R2/2012 R2 servers, and MS SQL 2K8 server.
Tune systems for high performance, utilizing fail-overhigh availability Hyper-V VM clusters and a storage area network (SAN) disk array.
Migrated from self-hosted email system and successfully manage Exchange server at Office 365 cloud environment, saving an annual average of over $100k.
Trained staff on the new system and also performed routine maintenance to keep equipment in optimum condition.
Developed an effective backup system with redundant equipment to ensure that the network was always functional.
Systems Administrator
Performed daily system monitoring, verifying the integrity and availability of all hardware, server resources, systems, and key processes, reviewing system and application logs, and verifying completion of scheduled jobs such as backups.
Implemented a new JIRA service desk system with a web portal for end-users and brokers.
Performed a Microsoft Azure Physical to virtual migration that consolidated out physical servers to one rack.
This migration saved the company thousands of dollars on Enterprise support, hardware, and power.
Researched, analyzed, and identified problems with compatibility issues of software programs which helped resolve installation errors.
Systems Administrator
Provided systems administration support for Windows and Linux systems including server backups and disaster recovery monitoring.
Implemented and revamp the entire backup architecture using Commvault Simpana for all Server backups which resulted in quicker backups and recovery and fewer failures.
Implemented Disaster recovery plan using Zerto Virtual Machine replication and Netapp Snap mirror for more efficient business continuity.
Managed and monitor Netapp and IBM storage systems for failures to reduce downtime and/or data loss.
Worked directly with clients, following their requests for additional computer-related services.
Systems Administrator
Implement and oversee the installation and configuration of various FreeBSD and CentOS servers.
Worked with other administrators in troubleshooting and maintaining a network with hundreds of clients, while ensuring top security.
Worked with a team of administrators and technicians to ensure 99% up-time of all systems.
Install, administer and provide support for Windows clients and applications, including backup and restoration of data, OS upgrades, security patches, and user account creation and maintenance.
Developed and installed corporate Intranet design; updated, installed, and maintained Microsoft NT Server.
Systems Administrator
The acting manager is responsible for the management, supervision, hiring, coaching, and mentorship of 4 infrastructure team members and 2 developers supporting 180+ internal employees.
Implement MSP client support onboarding, service desk workflow, project management, equipment installation/deployment, backup solutions, antivirus, DR, centralized mgmt, monitoring, etc for 30+ clients.
Build back-end/front-end systems utilizing Agile; manage service desk/engineers using ITIL best practices.
Manage/support all server platforms; Windows, Linux, CentOS, Mac, Unix, AWS/S3 & dependencies.
Selected and trained department workgroup to meet appropriate computer system requirements.
Systems Administrator
Participate in technical research and development to enable continuing innovation.
Maintain systems by conferring with vendors and services; developing, testing, evaluating, and installing enhancements and new software.
Coordinate provisioning, installation/configuration, operation, and maintenance of systems hardware, software, and related infrastructure.
Ensure that system hardware, operating systems, software systems, and related procedures adhere to organizational values.
Reviewed each employee's daily work routine for potential computer-related problems; implemented a new method of troubleshooting that reduced failure rates by over 60%.
Wrap Up
You need to make sure your resume stands out amongst the other candidates. It is the first impression that employers have of your work experience and skills. Use the samples above to put together a resume that best suits your needs and helps you get the job you want.