Database Administrators keep data safe, stored, and organized. Responsibilities include software installation and maintenance, security, performance management, modeling and design, data handling, data backup and recovery, authentication, and data ETL. Entrance-level positions need a Bachelor's degree in computer science or a related field, with a Master's opening better doors. Database Administrators must be knowledgeable of database theory, design, and structured query language (SQL). They must also understand how operating systems and storage technologies work. People good at this job are organized, analytical, creative, and business-focused.
A good resume is well-written and concise. It should be neat and easy to read, listing previous experience in a logical order.
Our resume samples will provide you with multiple examples of what you can include when writing your resume.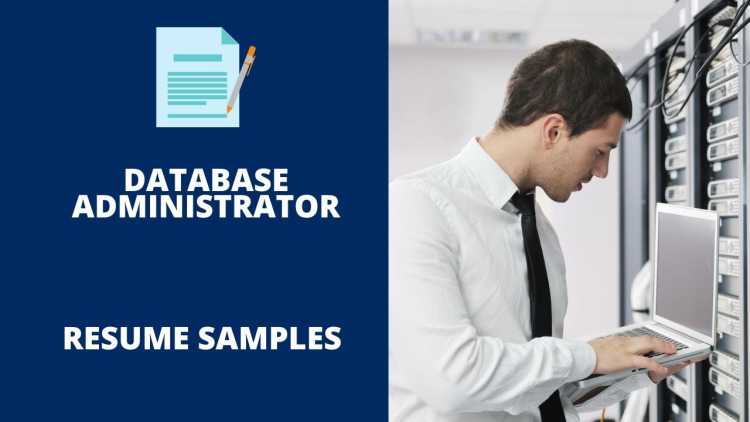 The Best Database Administrator Resume Samples
These are some examples of accomplishments we have handpicked from real Database Administrator resumes for your reference.
Database Administrator
Designed schemas by working closely with business users, application developers, and ops to gain a deep understanding of their respective domains and serve as a key point of solving their issues.
Provided input with respect to data models, design standards, ETL, integration, data retention, and security.
Serve as a key point resource for query optimization across various databases technologies.
Performed operational duties including patching, backup and monitoring, and capacity planning.
Migrated company legacy systems to a new network environment, including SQL Server and ASP.
Database Administrator
Developed tables, entities, and reports that were instrumental to the success of high-priority projects.
Developed a whole new database and moved the old information into the new one in a timely manner.
Worked with SQL, Oracle to see which one would fit in with the company's needs.
There were more than 11,000 entries moved from the old database into the new one.
Developed a more effective program which met the requirements of today's technology and the company's.
Database Administrator
Performed normal maintenance and tuning functions: area expands, page expands, index rebuilds, unloads/reloads etc.
Installed new releases and fixes via SMP/E for both IDMS and CA Common Services (CCS).
Created a SQL compatible network schema to be used by IDMS SQL to access all records in the active IDMS network database.
Tested SQL and automated procedures in the lab before migrating to production.
Created a report of all migrated files that populated nightly into a Microsoft Access database, allowing company personnel to view migration progress.
Database Administrator
Effectively manage over 2000 client and developer databases while maintaining strong security standards by maintaining schemas, user groups, and proper levels of access to databases, servers, and applications.
Utilized Salesforce process to effectively track deployed scripts to staging and production environments.
Reviewed and analyzed T-SQL code before deployment to production environments.
Improved automation of on-demand backup and restore process by optimizing efficiency, reducing cost, and saving disk space by implementing Filegroup backups and restores for development databases.
Questioned fundamental design flaws that could compromise system performance.
Database Administrator
Expertise in managing SQL Server databases through multiple database lifecycle environments, from development to mission-critical production systems.
Responsible for providing technical support for the database environment including overseeing the development, testing, staging and production.
Expertise in promotes data standards, system procedures and security policies, and best practices, the entire different environment such as Dev/QA/Staging/UAT/Prod environments and QA & release control, and access/rights certifications.
Managing SQL Server databases through multiple product lifecycle environments, from development to mission-critical production systems.
Led efforts for the first time in a year to upgrade the corporate site's security patches into patch packs, following detailed procedures provided by the vendor.
Database Administrator
Responsible for the overall US PLM system and maintenance, which includes configuration, workflows, users and data lists.
Performed monthly system checks to ensure the system is free of any inconsistencies.
Collaborate with global colleagues to resolve any issues between US PLM System and the Global PLM System.
Completed over 1,200 database requests for the Finance Department and over 500 transactions in the Central Accounting Database.
Produced, maintained, and updated information systems for all accounting departments in the company.
Database Administrator
Monitor and manage database performance to ensure the highest level of performance, reliability, and availability by tracking transaction rates, volume analysis, amount of available memory, and other pertinent data required to develop and maintain integrated databases.
Conduct on-going assessment and improvement of the database environment and the identification of problem areas.
Review database design and integration of systems, provide backup recovery, and make recommendations regarding enhancements and/or improvements.
Maintain security and integrity controls to protect database information, and manage database access levels and permissions.
Designated special requirements for Field Sales Module installation; developed and installed system using Microsoft Access.
Database Administrator
Implementing and managing company's SQL servers and databases in physical and VM environment.
Building new SQL servers. Configuring, patching, maintaining them and migrating old servers.
Managing company's HA solutions of SQL clustering, Mirroring, Log Shipping and DB Replication.
Working on daily DBA tasks includes DB Backup checking, SQL error log, Windows event log and SCOM alert checking; resolving failed SSIS Job, assigned Ticketing jobs, SQL emails and issues.
Overcame data redundancy problems after installing new software system; performed final testing of the new system.
Database Administrator
Develop and implement social strategy across Facebook, Instagram and Twitter to raise awareness of migraine facts and research.
Managed a list of comprehensive headache centers to be featured as collateral on website.
Implement new fundraising strategies and conduct day-to-day administrative activities.
Improved productivity of project team with consistent follow-through on deliverable schedules by utilizing priority control spreadsheet.
Maintained an information technology infrastructure program with efficiency and availability of 99.99%, while meeting all federally mandated standards.
Database Administrator
Database tuning, database reorganization procedures, creation of database alert scripts, monitoring scripts and backup procedures.
Database consolidation project. I've been working on the planning and implementing of reduction of the number of oracle licenses.
Disaster recovery plan. I have been working on the planning and implementing of the Recovery strategy.
Coordinated, installed, and supported enterprise-level distributed databases for a multi-million dollar credit union.
Identified and resolved computer problems with prompt and accurate customer service via telephone and personal visits.
Database Administrator
Led group of developers in generating web based database applications. Generated SOW, system requirements, design specifications, data modeling, group management and customer liaison.
Developed and maintained PL/SQL stored procedures, ETL and triggers for various academic web based applications.
Supported academic end users and senior level management with data report requests.
Coached staff to communicate effectively while meeting schedules, deadlines, and customer needs.
Managed day-to-day computer operations including the setup of new server equipment.
Database Administrator
Performed extensive follow-up procedures to obtain, update, and validate information; maintained an exceptionally high accuracy rate through data verification, attention to detail, and regular quality control checks.
Coordinated the migration of project information from an existing system to new database, enabling company to produce proposals and other project-related documentation more efficiently.
Researched database and performed queries to obtain specific employee-related data for various internal departments.
Trained staff on new software, technical applications, hardware set up & maintenance to ensure smooth operation of the system within the business environment.
An aided 500-person marketing firm with the implementation of network and database architecture including PC, printer, plotter, scanner wireless access points, and Citrix/Terminal Server.
Wrap Up
You need to make sure your resume stands out amongst the other candidates. It is the first impression that employers have of your work experience and skills. Use the samples above to put together a resume that best suits your needs and helps you get the job you want.